Home
/
Health & Science
Vaccine import ban 'could hurt' immunity effort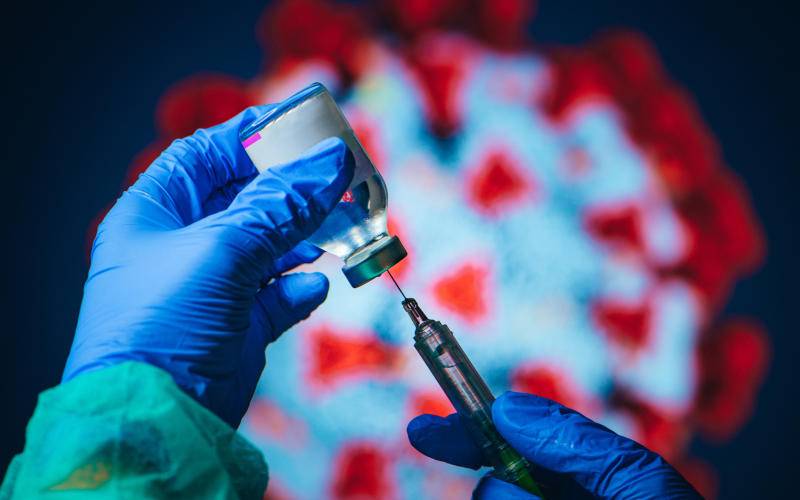 Ban on importation of Covid-19 vaccines by the government might threaten efforts to attain herd immunity against the coronavirus. This as cases of hospitalisation and fatality in the country rise.
Further, the Kenya Medical Association (KMA) wants the Ministry of Health to stick to Phase 1 of vaccination and accelerate to Phase 2, saying the vaccination programme is being conducted in a haphazard manner.
"Vaccines are our last hope in controlling the Covid-19 pandemic, and we are troubled that the high mark-ups for retailers might lock out millions of people from accessing the vaccines," said KMA president Were Onyino.
Public Health Society of Kenya chair Theresa Kinyari said the vaccination programme might also be slowed, because there is high demand, with a shortage of supply of the Oxford/AstraZeneca vaccine through Covax facility.
"Ban on importation of the vaccine will slow the vaccination programme. We might not reach the target population to break the chain and severity of infection," said Dr Kinyari.
Two weeks ago, Kenya received 75,000 doses of Russian manufactured Sputnik V vaccine, but it was later banned, having not attained full authorisation for use.
"Pre-authorisation entails scientific evidence and safety on data. That has not been cleared with Sputnik V jab," she said.
KMA raised concerns over the commercialisation of Sputnik V vaccine, on grounds it might lock out many Kenyans from accessing the jab, contrary to government's assurance that vaccines will be free or at a smaller fee.
KMA says vaccines should be approved by the World Health Organisation (WHO), and meet the global safety standards. They should also be affordable, free from profiteering and guarantee expected dosage.
"Vaccines to be imported should be those shown to be effective against the local strains of Covid-19 virus in the country and region," said Dr Onyino.
Take a quick survey and help us improve our website
Take a survey
In case public-private partnership will be necessary to boost the vaccination reach, the association wants an open and transparent process through print media for accountability.
Kinyari however maintains that the government's concern is based on the safety of vaccines, which cannot be ignored.
Approved vaccines
African CDC has maintained that only Oxford/AstraZeneca and Johnson & Johnson vaccines have been approved for emergency use in Africa. But Rwanda is among countries administering Pfizer/BioNTech vaccine.
Deputy Director Africa CDC Ahmed Ogwell said some states had bilateral agreements with different vaccine producers for the manufacture and distribution of the jabs currently being administered.
"Oxford/AstraZeneca and Johnson & Johnson are the only vaccines that we have a contract with. Others have not reached out to have them authorised," Dr Ogwell said in an interview.
Kenya is among African states that received doses of the Oxford/AstraZeneca vaccine (currently being administered) and it is among African states that will receive Johnson & Johnson jab this month, to fast-track the vaccination programme.
Ogwell said Africa CDC signed an agreement with Johnson & Johnson on March 28, 2021, to have 400 million doses for distribution across the continent starting in May.
Contract to manufacture the single-dose vaccine was issued to South African manufacturing company, Aspen Pharmacare, which will ship to African Union member states.
The jab will be acquired through Africa CDC platform in collaboration with WHO and the Coalition for Epidemic Preparedness Innovations (CEPI), GAVI and Covax facility.
"Supply of Johnson & Johnson will bridge a gap in shortage of vaccines. We expect the vaccine to be administered alongside Oxford/Astrazeneca jab, to reach all the target populations," he said.
Under the vaccination rollout in the first year, Africa CDC targets to reach a population of 750 million people.
Other vaccines
Ogwell said they were engaging other vaccine manufacturers as well. "Those who have a product already in the field, we bring them on board and discuss with them, before authorising use."
Among details looked at are clinical trial data, where trials for the vaccine were done, prices of the vaccine and delivery mechanism.
Ogwell said holding jabs according to documentation by AU has also created lack of confidence in vaccines and countries' determination to fight the virus.
A temporary ban on exportation of the Oxford/AstraZeneca has also interrupted rollout of vaccination programmes in Kenya and Africa.
Related Topics