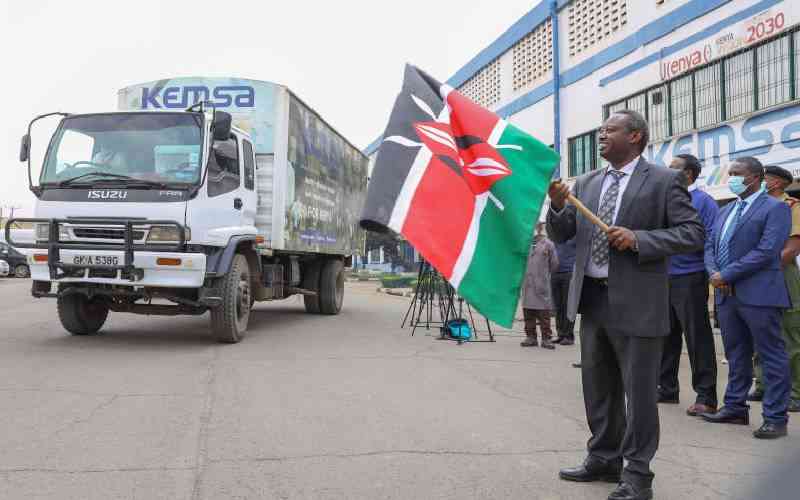 As Azimio la Umoja-One Kenya Alliance and Kenya Kwanza presidential candidates Raila Odinga and William Ruto market their ambitious manifestos on health, experts have cast doubts on how they will be implemented to benefit Kenyans.
The candidates, in their manifestos, have promised to enhance service delivery in the health sector through far-reaching policy implementation, and improvement of access to essential care.
However, health experts have poured cold water on these pledges, saying the two leaders have both been in government and may not offer anything new.
James Kamau, a health economist and Chief Executive Officer of Kenya Treatment Access Movement, says none of the candidates has explained their health allocation and implementation plans.
Kamau says the leaders should also explain to Kenyans what Universal Health Coverage (UHC) means, what is working and what is not, and how to jump-start the project.
"Raila and Ruto need to tell us how they are going to get the money. If Uhuru's government is broke, they are going to take over a broke government unless they print money," he says.
In his manifesto, Raila has pledged to ensure every Kenyan has access to quality and free healthcare as it affects a country's productivity.
The document however does not expound on funding and working plans.
The Kenya Kwanza manifesto details several pillars to enhance UHC, including having a full publicly financed primary healthcare – preventive, promotive, outpatient, and basic diagnostic services.
The team also listed mandatory insurance – National Hospital Insurance Fund (NHIF) – as the primary cover and private insurance as secondary cover, with payments made at household, not individual, level.
Each household will be expected to pay a minimum of Sh300 and a maximum of Sh3,000 monthly, raising Sh200 billion annually, against Kenya's total expenditure of Sh550 billion.
"To raise Sh200 billion required to cover both secondary and tertiary pillars works out to an average of Sh4,000 per person, Sh16,000 per household," reads the manifesto.
But according to Kamau, it is not a question of the Sh500 and Sh1,700 remitted monthly to the public insurer, but rather service delivery, that wins trust with the entity.
"In my view, reducing NHIF contribution to Sh300 sounds good for the electorate, than Sh500, yet the same government he is sitting on calculated the NHIF to show that Sh500 will revamp care," he says.
Kamau says the first step to implementing UHC is to have NHIF Bill actualised.
Charges under the NIHF law have been standardised across all private and public hospitals.
All Kenyans above 18 years are also expected to pay for NHIF.
The National Treasury has allocated the Ministry of Health Sh121.1 billion in the 2021/22 budget, a slight increase from Sh112 billion in the last financial year.
Kamau says NHIF reforms are dragged by private hospitals that inflate cost of treatment. For instance, he says, a doctor at Kenyatta National Hospital will charge Sh2,000 or less for consultancy, an amount that will sharply increase to about Sh10,000 in a private hospital.
"NHIF reforms are the best for the country, and in the East African region, where treatment is standardised across private and public hospitals," he says.
Private Hospitals Association Secretary General Timothy Olweny says although there is some progress in access to quality healthcare, the country is yet to attain equitable care due to regional disparities.
"It is important we look into the issue of how healthcare is pre-financed, where patients do not pay to get services, but have pooled resources through a private, or social insurer like NHIF, so that by the time patients access care, they do not struggle financially," says Dr Olweny.
He says NHIF should be made more efficient and responsive to its members, who might not pay "if they feel they are not getting value for their money and it would be hard to start arresting people for failing to remit money for the cover. We must develop a policy where someone is paying, and seeing the benefit."
Out of 10 million households enrolled under NHIF, only 5.6 million were active by May 2021, according to NHIF Chief Executive Officer Peter Kamunyo.
In the 2021 financial year, NHIF collected Sh61.53 billion from its members of which Sh54.66 billion was paid as hospital claims.
The UHC programme was rolled out by President Uhuru Kenyatta in 2019, piloted in Kisumu, Nyeri, Isiolo and Machakos counties and despite the hype, it has faced bottlenecks, leaving a majority of Kenyans struggling to access basic healthcare at a high cost over lack of proper financing mechanism.
To finance UHC, Health Chief Administrative Secretary (CAS) Mercy Mwangangi said it will be mandatory for all Kenyans to contribute to the public health insurer as its financier under the new NHIF Amendment Bill 2022.
Prof XN Iraki, an economist at the University of Nairobi, says UHC is a great idea as "a healthy nation is a productive nation". However, he questioned the source of funding for the programme, suggesting that the government can either allocate funds or mandate Kenyans to pay via NHIF.
"The biggest problem lies in the funding of the initiative that has not been stated in the document (manifesto)," says Prof Iraki, adding that to win the trust of Kenyans in remitting money, the government should equip dispensaries, health centres, sub-county hospitals and referral facilities.
"People do not have a problem with paying, or co-paying, as long as they can see the benefits," says Iraki. "UHC is a greater idea but must be streamlined to ensure it serves everybody, people see the benefits, and very importantly, there is no corruption and waste."
Both Raila's and Ruto's manifestos plan to have a robust local pharmaceutical manufacturing industry to address the tax regime and cost of doing business.
Dr Olweny applauds this as one way of reducing cost of healthcare.
"Private hospitals have been on slicing board, with Kenyans assuming they overcharge, but this is about availability of essential medical supplies. If we manufacture inputs locally, we shall reduce the cost of treatment, because most of them are imported, which are disrupted whenever there is a global supply chain hitch," he says.
Olweny says the government should reduce taxation on medical inputs for the masses to access quality healthcare.
Azimio also plans to establish an Emergency Medical Fund for emergency treatment in accordance with Article 43(2) of the Constitution.