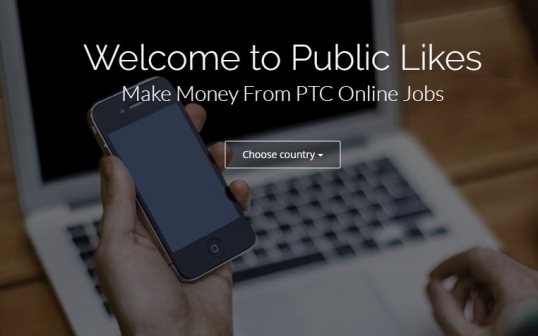 The infamous pyramid schemes are back. And they are back with a bang. They are slicker, smarter, faceless and untouchable. They prowl the anarchic cyber-world, sucking in thousands of gullible young and idle Kenyans with the promise of easy cash.
And cash they have given until, like any other pyramid scheme, they have reached the tipping point and inevitably crumbled leaving scores in financial ruins.
One such contemporary pyramid scheme is Public Likes, a website on which users earn merely by clicking on 'adverts'.
Now, Public Likes is on the verge of collapse- if it has not already.
Public Likes grabbed the attention of new investors by offering them short-term returns that are abnormally high. It is clear that the returns were not on legitimate business activities. This site, which describes itself as "social media marketing," purported to connect advertisers with potential customers.
Users of the site get paid by simply clicking on the adverts or Paid-to-click (PTC). The money they receive is allegedly payment made by advertisers for every click, or what is known as Pay per Click (PPC). It was a smart lie.
Not only was Public Likes a Ponzi Scheme, it was also part of an intricate online fraud that has seen advertisers lose close to Sh2 trillion annually in advertising revenues.
Anne* was among the first converts of this investment, which in less than three months is rumored to have attracted about 2 million users. At its height, Public Likes was among the most popular websites in the country, ahead of Twitter, Standard Digital, Wikipedia, and sports betting website Sportspesa.com, according to Alexa, a California-based company that provides commercial web traffic data and analytics.
Anne had about Sh60,000 stuck in the company before Safaricom decided to suspend Public Like's Paybill, citing numerous complaints from its users for non-payment.
She is now torn between uploading her identification details to the site as instructed by the outfit to withdraw the cash and staying away from what is fast turning into yet another scam.
Religiously clicking
Public Likes, through communication to its users, insists they have not closed down. Instead, they say they just temporarily stopped inward and outward transactions as they make certain changes. A good number of users are worried and have taken to social media to vent their anger against Safaricom.
Nonetheless, first beneficiaries such as Anne are just shrugging their shoulders. They have already recouped their investments, and added even more. Anne, in the words of financial analyst Johnson Nderi, was among the first ambassadors of this business who infused it with credibility.
Unfortunately, the Johnny-come-lately like George* who were attracted by the Sh20,000 that Anne withdrew every week are holding their breath. If Public Likes sinks it will sink with George's Sh4,500 hard-earned cash.
Both Anne and George pumped Sh4,500 into the investment to leapfrog the first level that is free. Known as the users woefully wait for three months, religiously clicking on five 'adverts' everyday to cash their earnings.
A user earned Sh10 for each ad they clicked on this level. Most people chose to immediately upgrade to the next level, Business Basic. Here they paid a one off subscription of Sh4,500 and made Sh7,500 a month from watching a maximum of 25 Ads. They would also start earning from referrals, earning Sh4 for every click made by the users they introduced.
Muniu Thoithi, head of forensics at audit firm PriceWaterhouseCoopers (PwC) is intrigued by this arrangement. "It is a strange model where users are required to initially pay the PTC site to click on ads whereas they should be rewarded for clicking on the links," says Thoithi.
Subscription fee for the Premium account was Sh14,000 enabling users to watch a maximum of 50 ads earning them Sh15,000 a month. In the upper-most level, Gold, users paid a subscription fee of Sh90,000 and earned Sh30,000 a month. Anne, who referred George to the scheme has recouped her investments.
"I knew it was a Pyramid Scheme even when I was joining, but at least you could see that they were making money from fake 'Likes,'" says Anne, noting that the issue of celebrities or even brands purchasing fake followers was real, a fact that persuaded her to buy into the business. "I just wanted to make my Sh4,500 back," says Ann, adding she also wanted people she referred to also get their money back. George was left out.
Like many pyramid schemes, Public Likes was swelling its coffers using payments from new entrants such as George who made up the bottom of the pyramid. It was income from these new entrants that would then be used to pay a few early users at the top of the pyramid such as Anne.
When George took us through the list of advertisers displayed on the website, almost all of them were other PTC websites, begging the question why other PTC sites would pay for clicks. Clearly, there were little, if any, earnings coming from real advertisers.
When Ann started out, she remembers clicking on genuine existing products, especially hotels. However, all of these hotels were not local. They might have been duped into paying for viewers that could not in any way translate to sales.
But it is also likely that these advertisers might have discovered them, shutting off part of Public Likes' revenue. This might explain why late users such as George did not see real advertisers.
According to Thoithi, PTC sites have difficulty demonstrating "value" to advertisers willing to pay for clicks by users with "genuine user interest" in the ads. "For instance, Google Ad sense, arguably the biggest Internet marketing service, does not support traffic to PTC sites," says Thoithi.
"You therefore find that PTC sites struggle to attract advertisers and thus resort to unorthodox means such as advertising amongst themselves. In some other instances, a PTC site acts as an affiliate to another PTC site, such that clicks in an affiliate will result in redirects to the primary PTC side," says the forensics expert.
Artificially increase revenue
George did not withdraw his cash because he was hoping that he could wait a little longer as the money piled up. And then the Paybill number was suspended and the company claimed to be restructuring the website.
And now the company is enticing users such as George with new and better options of making money including offer walls, videos, daily jackpot. For PTC, it will be re-introduced as soon as they are able to get local advertisers, they say.
But with their owners unknown, a factitious office and dead telephone lines, George's fate might as well have been sealed. With 88 per cent of its traffic coming from Kenya, Public Likes might have sank with billions of shillings belonging to Kenyans. If it is true that the site had 2 million users- even if only 500,000 of these made the Sh4,500 payment, this translates to Sh2.25 billion. This is 15 times more than what the government has made from its M-Akiba bond since its inception.
And now, irate victims of what is feared to be yet another scam have taken to Twitter venting their anger. Public Likes, on the other end, insists their Paybill has not been shut but that they have "only temporarily stopped all incoming transactions and outgoing transactions (withdrawals)" so that they can streamline their "operations to meet the set standards."
Safaricom confirmed that they had a meeting with the representatives of the company, but they couldn't reveal the identity of these individuals. Public Likes might also have been part of a global scam known as click fraud that has robbed advertisers of about Sh1.7 trillion annually, according to ad verification company Adloox.
Click fraud is the practice of repeatedly clicking on an advertisement hosted on a website with the intention of generating revenue for the host site or draining revenue from the advertiser.
In click fraud, a PTC site such as Public Likes is known as a click farm. Under a click farm there is a large group of low-paid workers such as Anne and George hired to click on paid advertising links for the click fraudster also known as click farm master or click farmer.
According to the New York Times "click fraud continues to be fueled by Web sites that offer to pay people to click on ads to artificially increase revenue. These networks can hide behind servers that mask the click's origin."
Google on its AdSense blog flags "third-party programmes with user incentives, such as paid-to-click services and click-exchanges" as sources of click fraud. AdSense, is a programme run by Google that allows publishers in the Google Network of content sites to serve automatic text, image, video, or interactive media advertisements, that are targeted to site content and audience.
Google itself has paid billions in lawsuits and been forced to return billions for fraudulent clicks. In 2006, the search engine giant agreed to settle a click fraud lawsuit for $90 million (Sh9 billion), pending judicial approval. Other Internet giants such as Facebook and Yahoo have also been victims of such lawsuits.
We are too lazy
"A number of factors unique to African and developing countries have contributed to the growth spurt of PTC services and sites targeting them," explains Thoithi. The first one, he says, is a high rate of unemployment coupled with growing internet penetration which has created the right circumstances for young people to engage in such activities.
"Further, there is a rapid growth of a mobile economy that enables people to work flexibly either at home or on the go without a need for a formal work environment. It is also relatively easy to refer people in your circle and increase your income in the process," adds Thoithi.
XN Iraki, a lecturer at the University of Nairobi wonders: "Why work when you can make easy money? The popularity of pyramid schemes closely mirrors our poor work ethics. It is another face of corruption." "We easily fall into schemes for a simple reason: We are too lazy to do research even with free Wi-Fi; thinking ethics are wanting."
It is also due to what Thoithi describes as "penchant" for getting free money. "Despite numerous cases of pyramid schemes falling apart and taking with them millions of shillings from unfortunate punters, Kenyans continue to enthusiastically join the next venture that purports to create wealth from the other," notes Muniu.
D9 Club, a company that describes itself as a sports trading agent, is still popular among most Kenyans even after Central Banks of Rwanda and Uganda raised a red-flag against it. The firm with a business model similar to that of a pyramid scheme, continues to operate even after being blacklisted in some countries.
Rwandan authorities were particularly ruthless on D9 Club whose face in East Africa is a Mr Magara Smart Protus. "It has come to the attention of the National Bank of Rwanda that an organisation known as D9 Club, which uses Internet chain recruitment with the characteristics of a pyramid is extending its operations in Uganda, Kenya, Tanzania and Zambia. It has also come to our attention that Mr Magara Smart Protus, the promoter of D9 Club in Uganda, has been running the operation in Rwanda," said the Governor of Rwanda's Central Bank.
MMM Global owned by known Russian fraudster Sergey Mavrodi is yet another Ponzi scheme with operations in Kenya- though it is not online like Public Likes and D9 Club. Members are promised great rewards if they donate money. They earn points in bitcoins. Member are requested to make personal help of not less than Sh1,000. You get 30 per cent on your contributions. Moreover, the more new members you recruit, the more bonuses you get by earning points.
Now, even before the dust kicked off by Public Likes settles, another PTC has mushroomed. Known as Synergy Traffic, this one is more alluring than Public Likes. Users can withdraw a minimum of Sh2,500 as opposed to Sh4,500 like Public Likes. It does not have limits of clicks per day.
Synergy Traffic- unlike Public Likes- have taken care of themselves by giving or receiving payment through Bitcoin- a cryptic currency and payment system popular with fraudsters as transactions cannot be trailed. Before fate befell them, Public Likes had plans to introduce Bitcoin as one of the modes of payment.
"It is unlike Public Likes where they rely on local payment. Hawa unalipwa na Bitcoins. Hakuna mambo na Mpesa limit," says one of the users of Public Likes who would like to join Synergy Traffic.
If Anne has heard about it, she is on her way there. "I would not hesitate to join another pyramid scheme, as long as I am the first one," says Anne. And, of course, there will always be the late-comers. Perhaps it will never end. *Names withheld to protect their identities.
Related Topics