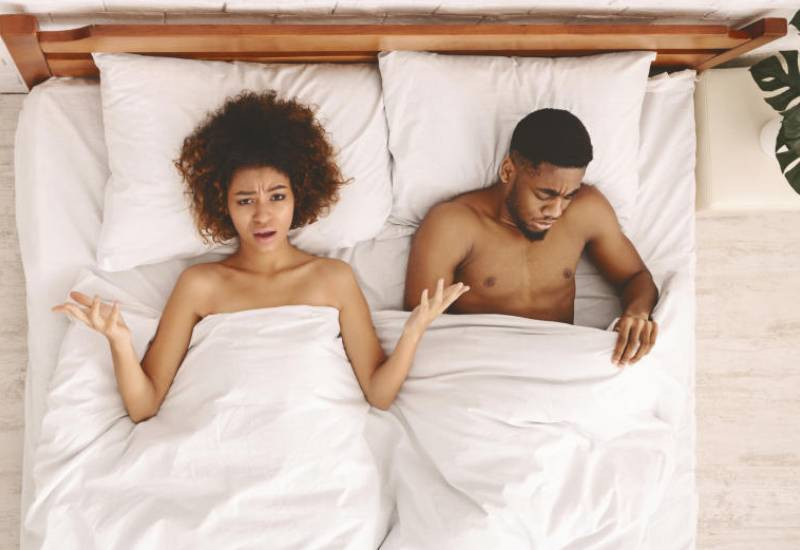 As much as people have become more vocal about sex, men still aren't given enough room to open up about their experiences, especially the challenges.
Masculinity is often rated according to sexual prowess so if a man comes out to say that he's experienced some problems, he becomes the joke of the day.
The truth however is, it's important to shed light on these sexual challenges that men go through so that anyone who is going through something similar doesn't feel like a reject or the need to hide and suffer in silence.
Here is the list of five common sex problems that men face you may not be aware of:
Erectile dysfunction
Erectly dysfunction is a common struggle that men deal with. With this problem, a man is unable to hold an erection long enough for sex and sometimes, he's unable to achieve an erection completely.
The known causes are often lifestyle-related, like smoking, but they can also be triggered by medical conditions like heart disease. There is hope because there are treatments to restore normal sexual functioning.
If this is something you experience you should seek professional help immediately to get the proper treatment.
Premature ejaculation
Ejaculating prematurely can be very embarrassing for a man. But actually, it can happen once in a while which isn't really a cause for alarm.
This becomes a problem if a man often ejaculates prematurely. This can be caused by issues like stress, depression, anxiety and other mental health problems.
Some treatment options include physical and mental exercises, which help train the mind and body to fight premature ejaculation.
Sexual performance anxiety
Women often put unrealistic expectations on men when it comes to bedroom fun. They expect a man to have nothing less than seven inches and to be a full beast in bed.
These kinds of pressures can cause a man to feel anxious about being able to satisfy their partner. They don't want to let their partner down and look like a weak man so, it affects how relaxed a man is before and during sex. Other causes include body image issues and relationship stress.
Low libido
Sometimes men feel like they aren't allowed to admit they're having a challenge being interested in sex. Men are human and they aren't always ready to have some bedroom thrills but, continuous low libido indicates that this is deeper than that.
Mental health challenges, lifestyle habits, medical conditions and medication are some reasons why men might find themselves in this situation. Lifestyle changes and therapy can help deal with this problem.
Delayed ejaculation
Needing an extended amount of sexual stimulation to ejaculate is not usually normal, and this is what delayed or impaired ejaculation is. There isn't a specific timeframe when a man should ejaculate but, you will know that an hour is a bit too long.
For some men with this problem, ejaculation rarely happens and this can cause physical discomfort and even pain. Again, this can happen due to certain medications, health challenges, psychological hurdles, hormonal changes and alcohol or substance abuse.
For treatment, therapy is often recommended, as well as medication to deal with an underlying condition. Your doctor will be able to advise you further after a proper diagnosis is carried out.
Related Topics