Home
/
How to make delicious scrambled eggs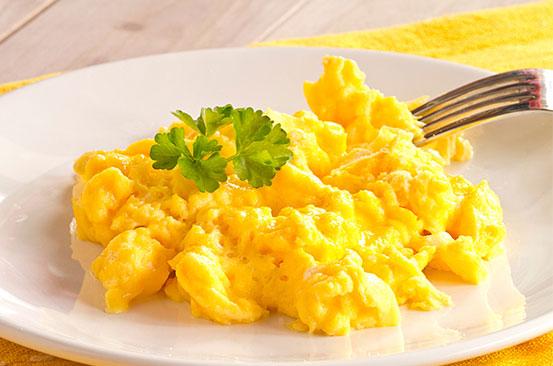 Although we may never know which came first, the egg or the chicken, you have every reason to include eggs in your diet.
A source of proteins, calcium, vitamins and other nutrients eggs are a delicious treat boiled, deviled or fried. Yum! And for those who may be on a weight loss journey eggs are one of the healthiest foods you can eat. They are nutrient dense and super filling.
Before indulging on these sweet treats of nature, remember to eat them in moderation and check for allergies or sensitivity.
So, let's get started.
Here's how you can prepare fluffy, flavourful scrambled eggs every time.
Recipe 1
Ingredients:
4 eggs
1 tablespoon unsalted butter
¼ cup of half whole milk and heavy cream
¼ teaspoon sea salt
Black pepper
Chopped herbs (optional)
Instructions:
In a large mixing bowl beat or whisk eggs, milk and salt until light and foamy with no streaks of yolks.
Place butter in a pan and spread it evenly until it starts to foam.
Add eggs to the pan and reduce the heat.
Once the edges start to set gently push the eggs with a spatula from one end of the pan to the other. Continue until they start to cook.
Fold the eggs once almost cooked and repeat.
Serve with pepper and freshly chopped herbs.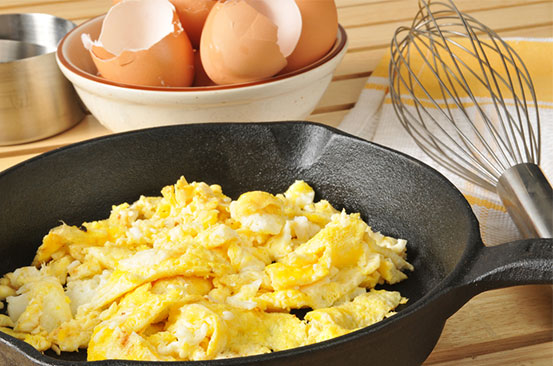 Recipe 2
Ingredients:
2 eggs
1 tablespoon unsalted butter
¼ teaspoon of black pepper
¼ teaspoon sea salt
Instructions:
Beat eggs, salt and black pepper in a large bowl until fluffy.
Melt butter in a non-stick pan over medium heat.
Pour eggs to the pan and reduce heat. Move the spatula across the pan once the eggs start to set and let them form soft curds.
Cook until no liquid is visible and the eggs are dry.
Enjoy!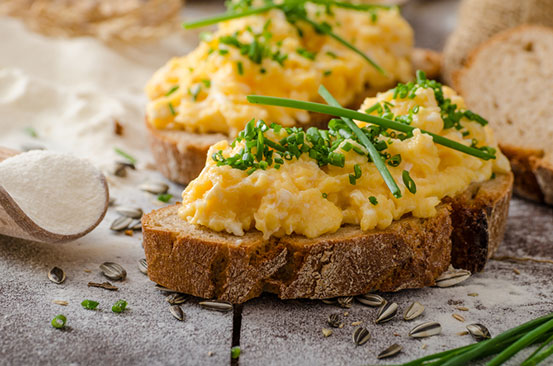 Recipe 3
Ingredients:
8 eggs
¼ cup heavy cream
1½ tablespoons of unsalted butter
¼ teaspoon of black pepper
¼ teaspoon sea salt
1 tablespoon of fresh chives
Instructions:
In a large bowl whisk the eggs, cream, salt and black pepper.
Place a large skillet over medium heat to melt the butter and add the eggs.
Cook and stir until the eggs begin to set.
After 5 minutes the eggs should be thickened with no visible liquid egg.
Serve and sprinkle some fresh chives.
Extra tips:
For scrambled eggs use a non-stick pan and silicone spatula to help you swirl and sweep the eggs easily as they cook.
Crack eggs on a separate bowl and whisk them before adding to the pan.
Eggs are delicate and cook quickly so use heat to achieve creamy eggs.
Related Topics