Home
/
Five simple green smoothie recipes worth a try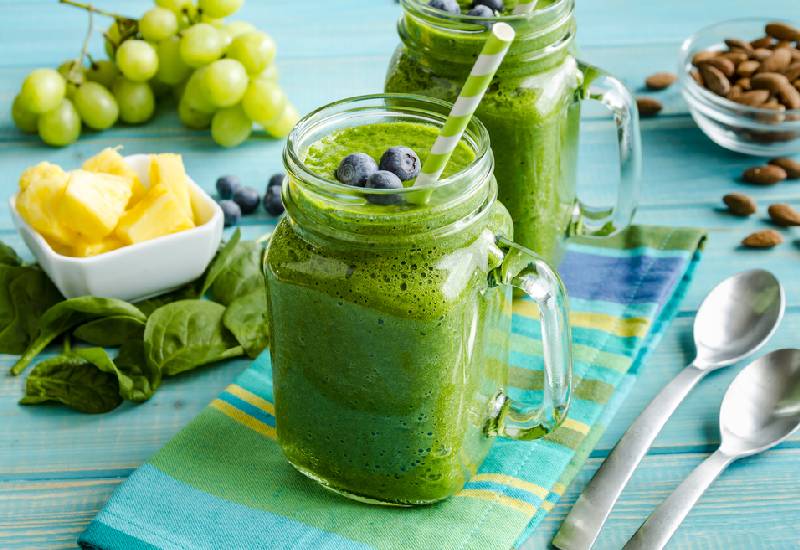 There are different ways you can kick start your morning. With a healthy breakfast packed with nutrient rich fruits and vegetables that will give you enough energy to keep you going until lunch time, or a lazy start of the day with no breakfast.
Your choice!
However, by the end of this list, hopefully, your taste buds will be tickled and you will be inspired enough to have a go at these healthy options.
A smoothie a day will keep the doctor away.
Similar to traditional fruit smoothies, green smoothies contain more green leafy vegetables like kales, spinach, lettuce, watercress and list goes on.
Whether you want to lose weight, aid your body in digestion, enhance immunity, improve your skin, detoxify, boost your brain power or balance hormones, these are but a few of the many benefits this super smoothie has.
To get you started, here are some simple green smoothies worth a try.
Pina colada green smoothie
Rich in bromelain from the pineapple it will prevent bloating while the vitamin C will give your immune system a boost and help in absorption of iron from the spinach.
Coconut milk on the other hand contains all the good fats that will keep you feeling full longer and help in absorption of nutrients.
Ingredients:
Fresh spinach ½ cup of coconut milk ½ cup of water 1½ cups of freshly cut pineapples Desiccated coconut or Flakes (optional)
Instructions:
Put spinach, coconut milk, water and desiccated coconut (if you are using any) in a blender and blend until smooth. Add pineapples and blend until smooth. Enjoy with some honey and ice-cubes.
Beginner's green smoothie
Rich in fruits, this simple smoothie will be a favorite for kids who don't enjoy their veggies.
Ingredients:
2 cups of fresh spinach 2 cups of water 2 cups of sweet banana sliced 1 cup mango 1 cup pineapple
Instructions:
Start by blending the spinach and water until smooth. Add the remaining fruits and blend until smooth. Enjoy with a frozen fruit to chill it for those hot sunny days.
Detox smoothie
Although it looks crazy green, it tastes nothing like it looks. It's extra fruity and the best part it is, it detoxifies and cleanses your body systems.
Ingredients:
1 ripe banana sliced ½ cup of fresh pineapple slices ½ cup of fresh ripe mango sliced 1 cup kale ¾ cup of freshly squeezed orange juice 1 tablespoon spirulina 1 tablespoon chia seeds
Instructions:
Place all ingredients in a blender and blend until smooth and creamy. To thin it out add some more fresh orange juice.
Tropical kale smoothie
To boost your energy levels and heal your digestive system this is the go-to smoothie.
This is also a natural cure for constipation and irregular bowel movements due to the nutrients found in kale.
Rich in fiber and more vitamins than in an orange, kale is one of the most nutrient dense foods you can find.
Ingredients:
1 cup kale or baby kales 1 orange ½ cup water ½ cup pineapple ½ cup mango 1 tablespoon chia seeds
Instructions:
Blend the kale and water first to pulverize the leafy chunks into juice. Add orange and blend. Add remaining fruit and blend until smooth. Top it with chia seeds and enjoy.
Yogurt smoothie
Incredible for digestion, this healthy smoothie happens to taste like dessert.
Ingredients:
1 cup of ripe frozen mango chopped 1 cup of ripe banana sliced ½ cup fresh baby spinach ½ cup Greek yogurt or your preferred choice ½-¾ cup of vanilla coconut milk, almond milk or preferred milk 1 teaspoon of fresh grated ginger
Instructions:
Add the mango, banana, spinach, yogurt, ginger and ½ cup of coconut milk to a blender and belnd until smooth. To make it less thick, add milk until desired consistency is reached.
Enjoy!
Related Topics