Home
/
Eight hour wait for ambulance that cost woman her baby, womb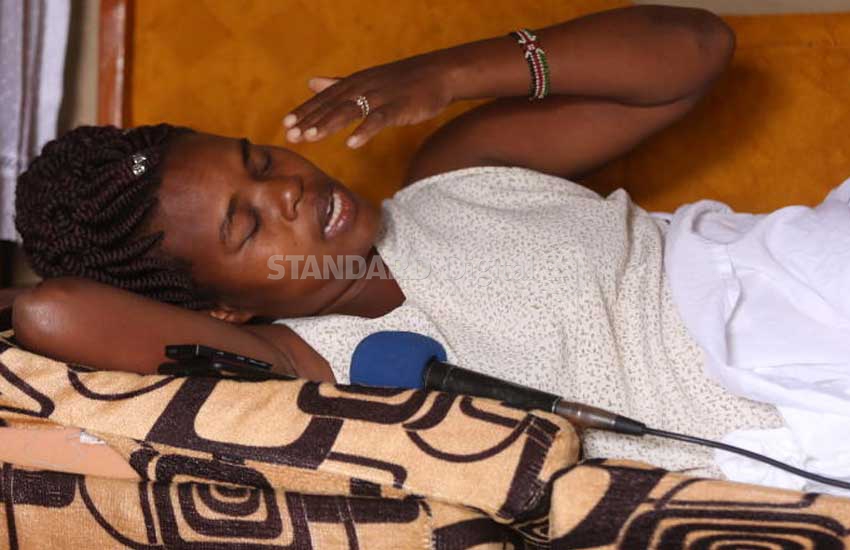 Joyce Adhiambo was looking forward to having her baby. She was expecting a baby boy.
She had been attending routine ante-natal clinics and medics had assured her everything was okay.
But today Adhiambo has no baby, and to make matters worse no womb.
Adhiambo and her husband Caleb Obiero now say that had medics at the Sigomere Sub-county Hospital in Siaya County acted in time, she would have had a successful delivery.
An eight-hour wait for an ambulance to transfer her to a referral hospital for special care not only cost her baby but also her womb. Her womb ruptured and had to be removed.
When The Standard visited her yesterday, Adhiambo was lying helpless on a seat in her mother-in-law's sitting room, reeling in pain - emotional and physical.
"I was taken to Sigomere Sub-county Hospital, where I had been attending antenatal clinics, after I developed labour pains," says Adhiambo.
She says she was taken to the labour ward but was left unattended even as she wailed in pain. "My pleas to the medics that my waters had burst fell on deaf ears."
"I was left on the bed unattended, even as the nurses walked in and out of the ward. It was a trainee nurse who responded to my cries and beckoned the medics to come to my rescue," she says.
It was after observation that the nurses mentioned that the baby was not lying in a proper position and there was need to transfer her to Siaya County Referral Hospital.
She says the nurses kept telling her to persevere and wait for an ambulance, which took nearly eight hours.
"The medics at the referral facility did not take the case as an emergency and kept me waiting for slightly over two hours before wheeling me to the theatre where they broke the sad news to me."
She had lost her baby and, worst of all her womb. The 41-year-old Adhiambo, who was discharged from Siaya County Referral Hospital last Sunday, now wants justice.
He husband insists this is a clear case of medical negligence and wants stern action taken against the concerned medics at Sigomere hospital and Siaya County Referral Hospital.
"My wife had been going for checkups at Sigomere Hospital and they ought to have kept her records and consequently handled her complication appropriately," says Obiero.
The 38-year-old father of four still cannot wrap his mind around the fact that his wife will never give birth again, yet he still wants more children.
"I am a peasant and I don't know how I will fund my wife's medication. I ask concerned government agencies to step in and help my wife get justice," he said.
Unfortunate loss
When reached for comment yesterday, Sigomere Sub-county Hospital Superintendent Dr Odhiambo Aduol declined to give details, saying he was not authorised by his superiors to speak to the media.
"Kindly get comments from the county Health executive," he said.
Siaya County Health Executive Dorothy Owino admitted that indeed the case was handled in the two facilities. She, however, was quick to absolve the health workers of blame, only terming the loss as unfortunate.
"The baby was in abnormal position. When the water broke, the arm prolapsed together with the umbilical cord. And an obstetric emergency that led to the demise of the unborn child," said Owino, adding that appropriate action will be taken.
Love is…
Related Topics