Derrick Oluoch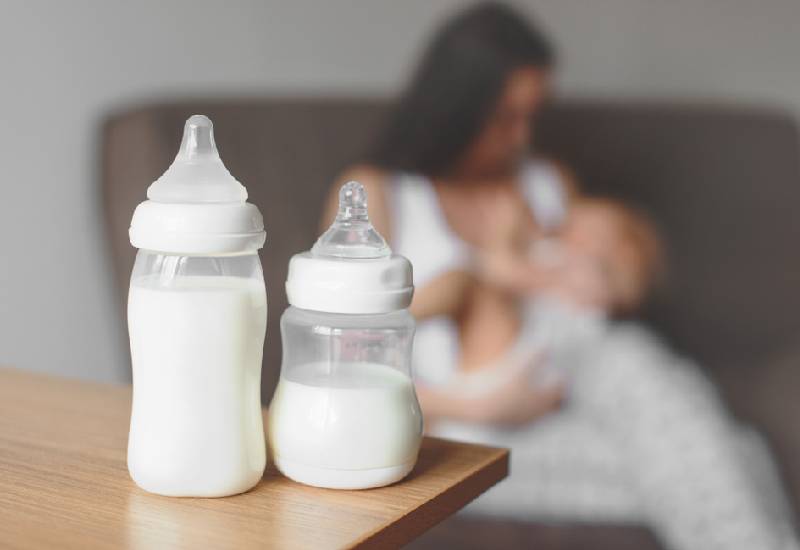 A lot of mothers have to deal with unbecoming comments about breastfeeding from time to time. Even though breastfeeding is totally natural, there is stigma surrounding it. Some feel pressured to breastfeed, or not to breastfeed, as the society views mums as 'not maternal enough' when they don't breastfeed their babies.
Not even celebrities are spared when mothers are being shamed for breastfeeding in public. Mums have to endure the dirty looks, comments and even being told to step out of eateries for merely feeding there little ones. All in all, no mum should be made to feel guilty about breastfeeding.
Here are some celebrities who put their biases aside and shared their breastfeeding decisions
Chrissy Teigen
American model and TV host Chrissy Teigen has been in the spotlight trying to normalize breastfeeding despite at some point admitting that "it's very loving and sweet, but it's not easy."
For instance, in her push to normalize breastfeeding, she shared this photo of her breastfeeding her little girl and her daughter's doll at the same time. She captioned the post:
Kourtney Kardashian
Being one of the stars in the Keeping Up with the Kardashians reality show, Kourtney has encountered many critics than we can count.
However, it is a stroll on her Instagram comments section on a post she shared of herself pumping breast milk that gives the idea of just how harsh people can be towards such a noble act.
Commenting on public breastfeeding shaming during an interview with People, Kourtney maintained her stance: "if someone sees a little something something, don't look if you don't like it."
Mila Kunis
Hollywood star Mila Kunis hasn't been speared either for breast feeding in public. In an interview with Vanity Fair, Kunis revealed that whenever she was nursing her baby at public spaces, she found herself on the receiving end of criticism for not covering up. "People actually looked at us in a shameful [way], and we [with her husband Ashton Kucher] were like, 'Oh my God,' because it's so not a sexual act."
Kate Hudson
American actress Kate Hudson also opened up about the complicated life of working mums who are wives and mothers at the same time
"Motherhood doesn't slow us down. I'm looking to shed 25 lbs. I'd like to try new workouts and eat as healthy as I can. I wanna do all this and keep up milk production, raise my kids, work every day, make time for my man, have girlfriend time, and stay sane."
Olivia Wilde
Actress and model Olivia Wilde has repeatedly shared her views on breastfeeding. In an interview with a magazine sometime back she said: "Breastfeeding is the most natural thing. I don't know; now it feels like Otis [her son] should always be on my breast."
Nicole Trunfio
Model Nicole Trunfio empowered mothers when she posed for a magazine cover calmly breastfeeding her baby. She opened up0 about the comlications she endured to get to that evel of confidence when it was time to feed her son. She has this to say on the social stigma that mums face when breastfeeding in public areas:
"Everyone has their own opinions about it. Some think that it's a private moment that you should share only with your child. Some think it's a cultural thing. But I think mainly; it's the sexual side of it. A woman's body is so sexualized. So a woman can be in lingerie on a billboard with her breasts protruding out of a bra, but a mother who's fully clothed and being discreet can't breastfeed her child?
I think breasts need to be seen as non-sexual things. They need to be seen for what they're there for: feeding a child. In society, we've made women into this visual thing that's used to sell. As a model, I can say that I use my body for that. I use it to sell products: clothing, lingerie. But we need to find that balance as a culture. Hopefully, one day, when a woman is breastfeeding, she won't be met with embarrassment and judgment."