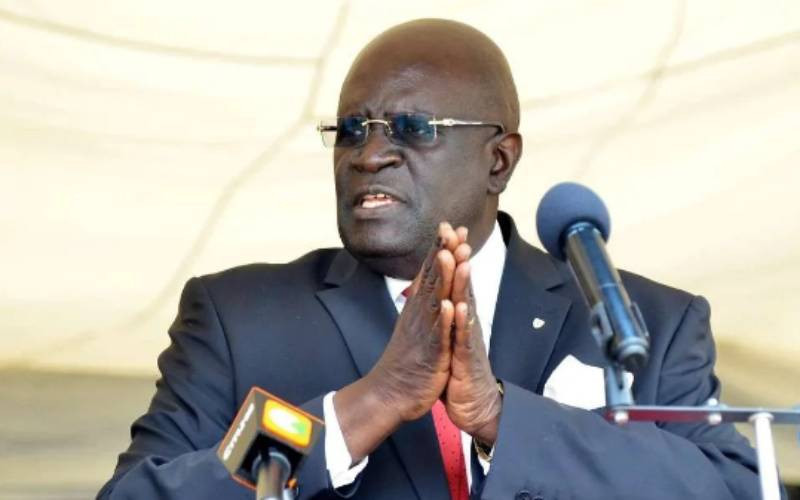 Prof. George Magoha collapsed at his Nairobi home at around 3pm on Tuesday, January 24, and was taken to the Nairobi Hospital, where he was pronounced dead.
Magoha died at the age of 71.
His friend Prof. Walter Mwanda, who is a medical doctor at the Kenyatta National Hospital (KNH), said at the Lee Funeral Home on Tuesday night that he received a call from Dr. Barbara Magoha, the widow of the former Education Cabinet Secretary, informing him that Prof. Magoha needed urgent medical attention.
Mwanda said he rushed to the ex-minister's Nairobi home, and together with his (Magoha's) family members, took him to Nairobi Hospital, where he was pronounced dead shortly after arrival.
Below is Mwanda's narration as told to journalists outside the Lee Funeral Home in Nairobi, where Magoha's body was moved.
"This evening, I received a call from Dr. Barbara Magoha, the widow of Prof. George Magoha, my friend.
"I was at a clinic at the Kenyatta National Hospital seeing a patient. Upon receiving Dr. Barbara's call, I called a colleague to take over [my doctor duties].
"I rushed to my car, and as I was driving, away from the KNH, about four kilometres, she (Dr. Barbara Magoha) called again and asked me whether I had a blood pressure machine. I told her I would get one.
"I rushed back to my clinic and got a blood pressure machine.
"As I was about four kilometres to Magoha's home, his wife sent me an SMS and asked me to get an ambulance.
"I was too close to their home. At the time, there was heavy traffic. Nonetheless, I managed to drive to Magoha's home.
"At the gate, I met some attendants, who ushered me in.
"I also met his son [Dr. Michael Magoha] at the door. He took me to where Magoha was.
"He was seated. He greeted me and said 'oh, you have come'. [I told him yes]. I then began taking his blood pressure [reading]. It wasn't recording. At that time, he slipped off from his sitting position.
"We immediately carried him to his waiting car. His wife and my driver followed his car. They were ahead of us by about 200 metres. They, however, reached at the Nairobi Hospital about ten minutes earlier than us.
"From the information that we have received, he had what we call a collapse. He was resuscitated back by his son, who is a medical doctor.
"One hundred metres to the casualty wing of the Nairobi Hospital, he collapsed again. He was rushed to the casualty ward. Attempts were made to resuscitate him, but the doctors were unable to revive him.
"[It appears] he was waiting for me [to see him before his untimely demise] because he had [recently] told me some things about his personal life."
Confirming his death on Tuesday evening, the CEO of Nairobi Hospital James Nyamongo said in a statement: "It is with great regret that we announce the sudden and untimely demise of Prof. George Magoha this evening at the Nairobi Hospital."
A member of President Uhuru Kenyatta's Cabinet told The Standard in confidence on Tuesday evening that the former minister had been ailing, and would occasionally be excused from Cabinet meetings.
Prof. Magoha is survived by his spouse Dr. Barbara Magoha and his son Dr. Michael Magoha.
The former minister's younger brother Prof. Richard Nyabera Magoha also passed away on December 6, 2022.
Prof. Nyabera, a father of three, was based in Texas, USA, at the time of his death.
About Prof. George Magoha
Magoha served as the Vice-Chancellor (VC) of the University of Nairobi (UoN) between January 2005 and January 2015.
Besides being the VC of the UoN, Magoha served as a professor of Surgery at the institution's College of Health Sciences.
After exiting the UoN as Vice-Chancellor in 2015, Magoha was appointed the chairperson of the Kenya National Examinations Council (KNEC) between 2016 and 2019.
On March 1, 2019, the then-president, Uhuru Kenyatta, nominated him for the position of Cabinet Secretary (CS) for Education, and was sworn into office on March 26, 2019 after being vetted by the National Assembly.
Magoha replaced Amina Mohamed, who had been transferred to the Sports docket.
Magoha served as the CS for Education until his replacement by Ezekiel Machogu in President William Ruto's administration on October 27, 2022.
Magoha, a urologist by profession, served as the chairperson of the Kenya Association of Urological Surgeons (KAUS) from the 1997 to 2013.
He undertook his primary education in Yala, Siaya County and Nairobi before joining Starehe Boys Centre and Strathmore College for his high school education.
He then proceeded to the University of Lagos in Nigeria, where he studied Medicine. He furthered his studies in Surgery and Urology at Lagos University Teaching Hospital, University College Hospital, Ibadan, Royal College of Surgeons, Dublin, Ireland and Royal Postgraduate Medical School Hammersmith Hospital, London, Department of Urology.
Prof. Magoha established his career in surgery at the Lagos University Teaching Hospital as an intern and rose to the position of Senior Resident and Clinical Lecturer in Surgery.
He also served as a lecturer in the same hospital and as a Consultant Surgeon in various leading hospitals in Lagos, Nigeria.
Prof. Magoha joined the University of Nairobi as a lecturer in Urological Surgery in 1988 and rose through the ranks to become a full Professor of Surgery in 2000.
He served in various administrative positions at the university, rising from chairperson of the Academic Department of Surgery in 1999, Dean of the School of Medicine, Principal of the College of Health Sciences, Deputy Vice-Chancellor in charge of Administration and Finance to Vice-Chancellor in January 2005.
Prof. Magoha published more than 60 peer-reviewed publications and supervised to completion more than 40 Master of Medicine (Surgery) students.
He was a member of many professional bodies in Urology and Surgery including British Association of Urological Surgeons (BAUS), Société Internationale d'Urologie (SIU), among others.
He was actively involved in research in male erectile dysfunction, prostate, testicular and penile cancers, circumcision and HIV/AIDs.
On the University of Nairobi profile, Magoha listed his interests as reading international affairs, walking and jogging, listening to classical music, reading history and gardening and tree planting.
Related Topics