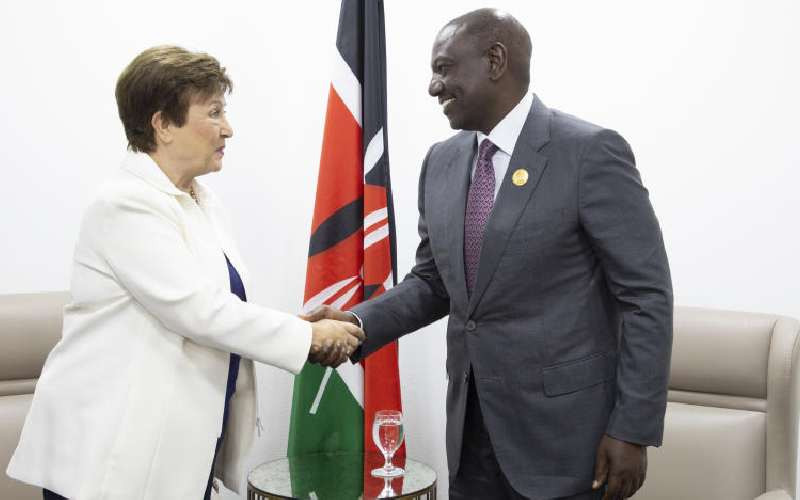 President William Ruto has said climate change has left the government with tough choices; providing food aid to populations ravaged by famine or funding critical services such as health and education.
Ruto, speaking to CNN in Sharm el-Sheikh, Egypt, where he is attending the 2022 COP27, said the government had diverted money allocated for healthcare to food aid, as the country reels from the worst drought in four decades.
"We have to allocate funds meant for hospitals, drugs, and education to be able to feed the population. For the first time in the history of our nation, we have had to feed wildlife, and it is something that we have never seen. The reality of climate change is here with us," Ruto told CNN.
President Ruto said he was concerned that despite the suffering of poorer nations such as Kenya, wealthier nations were reneging on commitments made at the Conference of Parties (COP).
But he also said he was encouraged that loss and damage funding was on the agenda. He called this a step in the right direction.
"More and more leaders are beginning to appreciate that it is time for action. The world is getting to understand that loss and damage is not a conversation, it is a reality and people are living it," said Ruto.
COP26 established the Glasgow Dialogue to formulate funding arrangements for measures to prevent, mitigate and remedy loss and damage associated with the adverse impacts of climate change.
In his opening statement at the conference in Egypt, Ruto stated that the climate crisis was a "living nightmare" in Africa.
"We are living the reality of climate change and its ravaging effects on our population, livestock, wildlife, and humanity on our continent," he added.
He expressed optimism yesterday that a conference on African soil would see the "implementation COP". "As Africa we have waited for the promises to be kept, the continent will keep pushing," he said.
"We will be on this until the world wakes up until the developed nations wake up to the reality because it will catch up with them shortly, it is just a question of time," the president said.
Related Topics