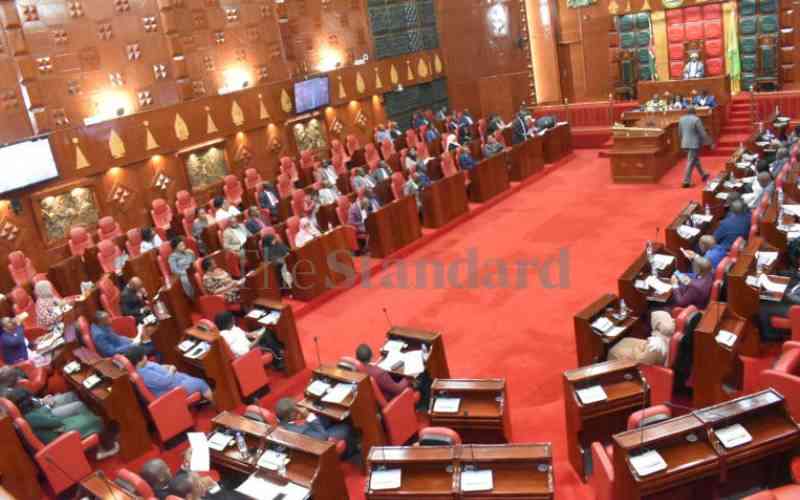 The Nairobi County Assembly has approved the first supplementary budget for the year 2022/2023.
The Sh39 billion budget is a big win for ward representatives who will now access car grants and mortgages, cumulatively, to the tune of Sh651 million.
From the amount, each member will pocket Sh5 million to be repaid in about 48 months' time.
Wilfred Odallo, chairman of the finance, budget and appropriation committee said the budget reflects governor Sakaja's manifesto to ease transportation in the city.
"We wanted to align ourselves to the issues of car loans for the members and they will now have access to car loans and mortgages," Odallo said after the budget was approved.
"Contractors will also be paid because we have added a lot of money to the issue of pending bills. We have actually realigned everything according to the Governor's manifesto," he added.
In light of the manifesto, Sh125 million was set aside for the purchase of electric public transport buses so as to ensure reduced smoke emissions, resulting in a healthier ecosystem.
At the same time the assembly reduced publication of the appropriation bill from seven days to one day, in what they described as for the best interest of Nairobi residents.
The health sector received an additional conditional grant allocation of Sh15.9 million under the Danida Universal Health Care (UHC) programme, which will be used to improve services in health centres and dispensaries across the county.
To improve infrastructure on city roads, the department of public works, transport and infrastructure was allocated Sh100 million to go towards construction and maintenance of roads and drainage.
For education, youths and sports, the committee added Sh100 million towards building stadiums, and reduced the technical and vocational training development allocation by Sh34.7 million meant for civil works.
Other areas that got a lion's share of funding include the emergency fund that got an increase from Sh100 million to Sh300 million, while administration headquarters got a boost of Sh149 million.
"In ensuring prudent fiscal discipline intended to safeguard the interest of those who trade within the county, some Sh1.37 billion will be allocated within the finance and economic sector to settle pending bills," Odallo told the house.
Related Topics