Home
/
Money
The do's and dont's when traveling for business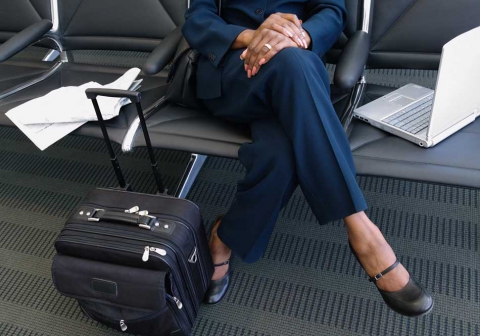 DO: Stay professional
1. Do make the effort to understand local customs. Do a quick Google search to be sure you're aware of the culture of people you'll interact with. Don't assume anything – for instance, the 'thumbs up' gesture is offensive in Bangladesh, while in Bulgaria, nodding your head up and down means 'no'.
2. Do maintain professional boundaries. Even if you're travelling with your colleagues and not your boss, maintain professional distance. Don't get overly familiar just because you're away from the office. Avoid sharing personal information about other workmates even if you see yourself as sharing a 'common enemy'. Slip-ups in social settings have a way of coming back to bite you.
3. Do invest in a proper suitcase. Get rid of that backpack you've held on to for years and buy a small suitcase that can hold your things – preferably something in a colour that's not too garish. Also, don't lug around a heavy bag as most business travel is limited to a few days.
What was the most embarrassing moment of your life?
4. Do carry appropriate clothes. Just because you have a business trip at the Coast doesn't mean you get a free pass to dress skimpily. When on a business trip, you represent your company, so stick to dress code guidelines.
5. Do keep your receipts. For reimbursement purposes, keep all your receipts safe and take them to your boss at the end of the trip. If there are other expenses that you didn't receipt, note these down, but don't round off; if you spent Sh450, don't say it was Sh500.
DON'T: Be unprepared
1. Do not get drunk. It is okay to plan for fun activities outside of work, but limit what you do in front of your colleagues. Do not overindulge on alcohol or throw parties in your hotel room.
2. Do not be late. Always get to your departure point early. This gives you adequate time to fix any last-minute oversights, and prevents you delaying everyone else in your party.
3. Do not over pack. Keep your luggage to the minimum and only carry what is required. If your company has policies regarding luggage during travel, read them and do what's required.
4. Do not go crazy with your per diem. Per diem is money allocated for you to spend each day. If your company offers an unlimited amount on what you can use, don't take it as an invitation to be extravagant.
5. Do not be unprepared. Before you leave, ensure your hotel room has been booked and you have all the necessary travel documents. Share your itinerary with someone else in case you run into any issue, and know your emergency contacts.
Related Topics