Home
/
Money
For Hustlerls, location really matters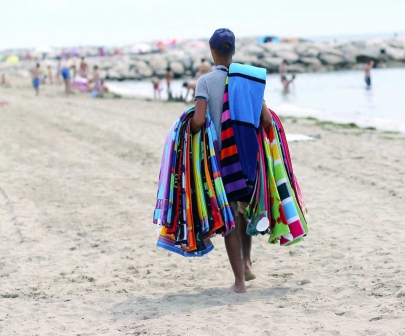 Fuata nyuki ule asali seems the hustler's unwritten motto. Hustlers know where to locate their businesses and get the highest returns. They don't use the sophisticated models that involve simulations – they just observe where people conglomerate and know money is not far off.
That includes traffic jams. Ever noted that hawkers and other hustlers emerge any time there is a big jam? Along Thika Superhighway, they are busy selling sugarcane, water and other wares at Ruiru, where the weighbridge and bumps cause a snarl-up. In Juja, they gather opposite JKUAT, where another jam slows down traffic. Further on at Weiteithia near Mangu High School, another traffic jam attracts lots of hustlers who operate day and night. Along Mombasa road, they gather around Nyayo roundabout and along Uhuru Highway where traffic is perennially slow. This behaviour is replicated outside the capital.
Hustlers also take advantage of other crowds, such as those that attend weddings, graduation ceremonies and funerals, to sell their wares, from drinks to snacks, photographs and flowers.
They know how to ride on the weather too. Five minutes of rain and umbrellas will fill the streets. When it is hot, cold mineral water becomes easily available.
What was the most embarrassing moment of your life?
Beggars (are they hustlers, too?) know where to locate themselves and even the time they're most likely to get the highest returns. They emerge in the morning and evenings when there is traffic – mid-morning into the afternoon, they're nowhere to be found. When night falls and crowds dwindle, their numbers drop. They also gather outside religious centres in the hope that people will put into practice the godly values they've just been reminded of.
Surprisingly, even big firms like supermarkets and advertisers closely mimic hustlers. They set up where there are lots of people; near bus stations or big office blocks. Hustlers, like advanced businessmen, know that business is about people – the more the better.
That is why big economies have high populations. The US has more than 300 million people, while China and India have populations higher than 1 billion. This has put population control enthusiasts in conflict with entrepreneurs who see a high population as better for them – one owner of a private school told me he smiles any time he sees a pregnant woman.
Purchasing power
The truth is that a higher population means higher demand – but only if the population has purchasing power. That is why lots of businesses concentrate around Nairobi; there is higher purchasing power, loosely translated as higher income per person.
Hustlers are clever guys. Knowing that purchasing power matters so much, they segment the market, offering different prices for the same item. After all, they know where different income groups live.
They exploit a simple fact: few people will spend a day looking for the best price. If you live in Westlands, you can't make a trip to Eastlands looking for a lower price.
Hustlers exploit this lack information (if you want to appear learned, call it information asymmetry) by consumers to make money. Even sophisticated businesses use the same trick. When you find a big sign written 'prices slashed', how can you tell they're really down?
It keeps surprising me how hustlers' behaviour mimics that of great corporations. Some argue that we should not be surprised – even the biggest firms bear the footprint of the hustlers who started them.
Related Topics