Home
/
Money
Our hobby is a money-maker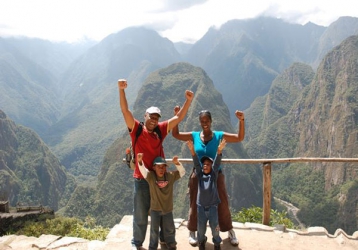 Would men be able to handle childbirth better than women?
?
For many people, having fun means putting work aside and just relaxing. But for a group of five young former schoolmates, what started out as a fun idea to tour the country has turned into a side business.
And unlike other businesses, it didn't require capital or a business plan to start – it just needed a passion for adventure.
The group met in 2010 while studying French at Alliance Française in Nairobi.
"We would go for class trips over the weekends to places like Ngong Hills, Mt Longonot and Hells Gate just to have fun," says Justus Machio, one of the group members.
"After some time, we realised that the five of us were doing most of the planning for these trips and suggesting locations."
This was okay while they were still in school, but after they finished their course, it required much more effort.
"After finishing our studies, people became busy with their jobs and some even moved out of town. The five of us decided to form a small travel group and keep up with our adventures. But we soon found that we had friends interested in coming along," says Justus.
Travel options
The group decided to turn this interest in travel into a side business. They formed Tusafiri Africa Safaris, a company that organises trips within and outside the country. They use Facebook and Twitter to market their packages.
"We can have up to 30 people registering," says Justus.
The team has since started organising trips for organisations, with prices dependant on the activities requested, budget and number of people expected.
"Our aim is to offer interesting and affordable travel options to individuals, groups or companies while at the same time keeping up with our passion for travelling and having fun," says Simon Karani, a member of Tusafiri.
"We do this at least twice a month, and per trip, we make at least Sh20,000 in profit, which is good enough for us since we also take part in the fun."
Aside from English and Kiswahili, the group can communicate in French, Spanish and Arabic.
"This has made it easy for us to accommodate diverse people on our trips," says Simon, adding that to make their hustle easier, they have divided roles among themselves.
"We have people in charge of logistics and tour co-ordination, finances, ICT support, and public relations." Simon is in charge of logistics.
"We have travelled to numerous locations within Kenya and across the borders into Tanzania and Uganda. With this has come great experience and knowledge of the East African region, enabling us to structure better and better packages for our clients," adds Sally Muiruri, who's in charge of marketing.
The group is hoping its packages will encourage travel and exploration of the rich cultural and environmental diversity that Africa has to offer.
"So far, we have organised one-day trips, city tours, camping excursions, school and corporate group trips to great destinations, and with this, we believe we have created unforgettable memories in the minds of our clients," says Sally.
The challenges
Tusafiri's charges depend on the location, length of stay and distance covered.
"The biggest challenge we have is car hire, especially during peak seasons. You can book a vehicle from a car hire firm early, but on the day of travel, you're told there is no vehicle. Sometimes we are given a car that does not meet the standards we want," says Justus.
"Since we're growing and getting busier, we're looking into getting our own cars. We are still in the early stages of discussing this, but it's where we are headed."
Related Topics