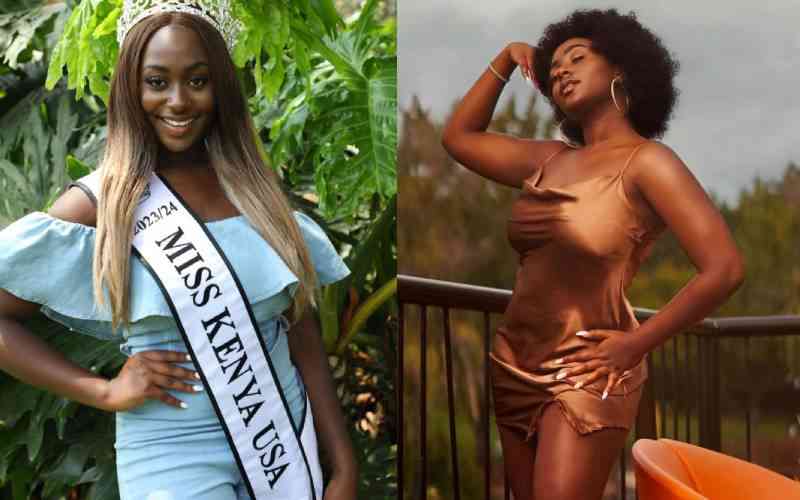 Sharlyn Kagereki has been balancing many roles since she could remember. From taking care of an ill close family member to experiencing domestic violence, she is a survivor.
The 19-year-old has a younger sister who developed meningitis at the age of four, and this meant she had to be her sister's keeper. Growing up, Sharlyn had to take on a significant role in her upbringing, as much of the attention was understandably centred on her sister and her disability. To cope, she felt the need to strive for perfection.
In August, she achieved a remarkable milestone by winning the prestigious title of Miss Kenya USA. This pageant celebrates the beauty, talent, and passion of Kenyan diaspora individuals born or raised in the US, and Sharlyn proudly claimed the title of Queen.
"Most of the contestants were born in the US and are first-generation Kenyans, but I was born and raised in Kenya until the age of 11 when I moved to Washington State. I started practising 'cat walking' around the house when I was three. Modelling did not come easy for me due to my height, but I was determined. When I moved to the US, I seized an opportunity to intern in Idaho. That experience paved the way for me to participate in prestigious events like Africa Fashion Week and LA Fashion Week. I refused to let my height hold me back because I had grown accustomed to being overlooked in my early years. I had to fight to be seen."
She explains the difference between pageants and modelling and why the height recommendations are not the same.
"In pageants, your voice and your passion for a cause matter most. I wanted to be a voice for my sister Vivian, who lost her ability to speak due to meningitis misdiagnosed back home. After two separate misdiagnoses, she was finally diagnosed with viral meningitis, by then, she had lost her speech and suffered paralysis on her left side. Vivian spent over three months in the hospital, and when she finally came out, it was like meeting a whole new person," she says.
While her peers were busy counting Instagram likes, Sharlyn was dealing with a very grown-up reality that her peers could not relate to.
"It was like taking care of a new baby, doctors say she has the mental state of a three-year-old, but we have seen her improve over time. She is now 16," she says.
On being a glass child Sharlyn speaks fondly of her mum, describing her as strong and a non-quitter.
"She has been through a lot in her life, and I can describe myself as a glass child'," Sharlyn says.
According to The Evening Standard, Sian Hewitt says "glass children are said to be the siblings of kids who had/have disabilities."
The report notes: "They are called glass children not because they are fragile or easily shatter, but because caregivers tend to see straight through them and neglect their needs more because they have to be so focused on the child who has a disability. Experts say a glass child is typically emotionally neglected; experiences severe pressure to be problem-free and perfect; takes on parental responsibilities within the family at a young age; and has an overwhelming need to make others happy."
Sharlyn says her younger sister understandably got all the attention, and this pushed her to seek perfectionism to make things easier for her struggling mum.
"I felt like I could not make any mistakes. I had to make sure I was doing everything right. I had to grow up quickly to take care of everyone including a little sister that came along who is now five. I can see she is also a glass child like me. I try my best to advocate for her. I am her voice. I want her to enjoy her childhood," she says.
The Miss Kenya USA says that her motto is 'End The Stigma'. She advocates for the need to educate more people to end the stigma.
"I am working with Heshima an organisation, which works to provide dignity for children with disabilities in Nairobi, Kenya. I am also working with NONDO (Northern Nomadic Disabled Persons' Organisation) to advocate for the rights, inclusion, and participation of persons with disabilities from nomadic communities in all spheres of life. We want to send mental health experts to all these communities to counsel and help them deal with the stigma they face."
Related Topics