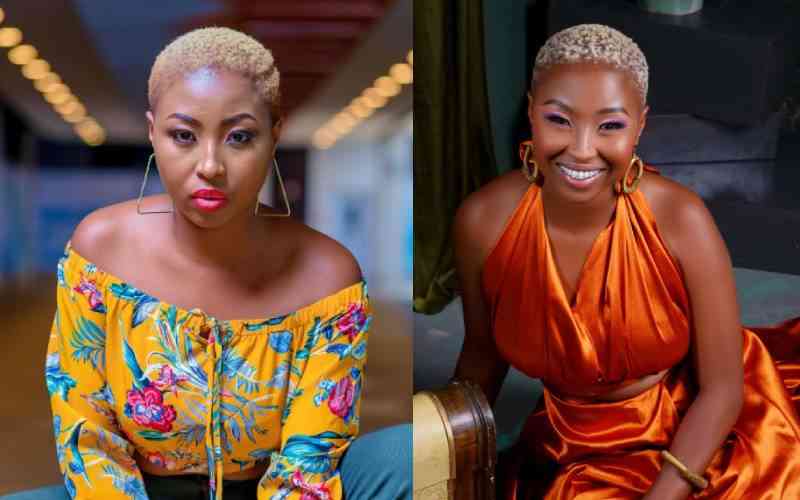 Singer Vivian Wambui, popularly known as Vivian Kenya, is back with an inspirational single Rhythm and Flo. A collaboration with dancehall king Wyre.
The song has nothing about the girly love she exudes in hit songs like Do It (with Otile Brown), Chum Chum, and Feel Me.
Here, she is taking fans through a spiritual journey, confessing that even though life is challenging, God will right things.
In the past three or so years, life has not been easy for the singer who kicked off her singing career in 2013 when she released her debut single My Dream featuring Jaguar.
What was meant to be a happy-ever-after following a public proposal, and a colourful customary marriage with her producer husband Sam West was her turning point.
And almost a year after she came out to share her tribulations, and a revelation that their marriage was on the rocks.
On the day of this interview, she is upbeat as we reminisce about her 10 years in music.
It is a ride through Main Switch – where she recorded My Dream, Woman in Love and Over and Over – to producing with Cedo, the days that birthed TerenTeren, Charm, Chum Chum, Chingi Changa and Attention Glory.
It was at Main Switch that she met Sam, in 2017. To her, he was a godsend, a visionary who would help her become the dream music star she had always wanted to be.
"When I was still working with Cedo, Pacho Entertainment wanted to sign me, but I knew that that was not the direction I wanted my music to go. I had prayed to God to get a courageous producer. Someone who would bring out the kind of artiste I wanted to become. Sam showed up immediately, and I felt that he was that person. It was an answered prayer. We agreed to work together," says Vivian.
She adds, "You see, the problem with most recording stables, when they are dealing with a female artiste, she is never in charge of her music. Everyone else owns it. Everybody can decide what direction your career is taking but not you. They remove you from opportunities. It is like there is a high level of oppression.
"You have to consistently assert yourself and be comfortable not adhering to everything. I wanted to liberate myself. I thought this move was the right one towards this freedom. To me, Sam was a saviour."
Vivian recalls the events, the redefining moments that served her both joy and pain.
"The truth is that neither I nor Sam was ready or mature enough for this. In all honesty, even at the time he was making a public proposal on live TV, I was not ready for marriage, and that does not mean I am negating the whole marriage. I was just trying to set up my career as I had come from another relationship just as he had. Dating and marrying him as my producer compromised opinions and decisions. It was a bad idea. I was floating," she says.
She admits she somehow got into a bubble, thinking her union with Sam would work. And Sam was ready to let her shine.
"The situation was difficult. He was my producer and manager and now my husband. It would have worked if we had thought it through. Ours was more of an image thing than a real relationship.
"We had brokenness from our families, and other life issues, which we brought into the relationship. In public, we were all fine yet in private things were messy. I have come to learn that couple goals are dangerous," says Vivian.
The singer says that she is trying to build her life from nothing. She has a lot of questions, and constantly asks herself what the purpose of marriage is, whether it is indeed about sacrifice, and whether one can put their career on hold to build a marriage.
Of course, hers started on a high note.
And days and months after, neither party gave any sign that there were cracks and dark clouds in what seemed to be a match made in heaven.
Then come last year, and Vivian announced to the world that it was over.
"I am not here to place blame on Sam. I am sharing my story to tell the world the truth about my life as I move to the next phase. I made mistakes and I sometimes feel like there was a spiritual force behind this. I must also admit that it is rather tragic to be delusional over logical things," she says.
"To be honest, many people, including family members, did not say much about the situation. They let us make final decisions for ourselves. Separations can be deadly," she says.
But all is not lost. Vivian, who has just joined a Psychology and mission school in her quest for inner renewal is ready for a new beginning, even as she admits that letting go of her relationship was gradual.
"My marriage ended, and it was a nightmare. I am not afraid to start again. Now, I know better. It does not matter who wants to judge me. I take personal responsibility and show up for myself. I am learning to honour myself. As much as I have survived this season, there are things I decided not to fight. And these are lessons I will teach myself," she says.
Related Topics