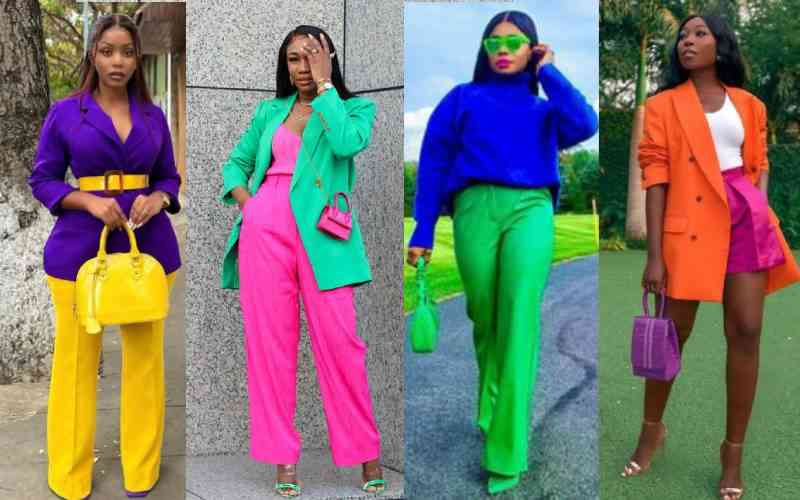 Although colour blocking may not be a new trend on the fashion scene or a new rule in the books, it is surely one of the trends that are hardly explored when it comes to pairing outfits.
Colour blocking, especially for minimalists who only work with neutrals and monochromes can be very daunting but it doesn't always have to be.
Nothing expresses your individuality and fashion prowess more than colour.
If you have trouble mixing your colours, here are ways you can colour-block your way to a stylish outfit:
Master the colour wheel
The first step to colour-blocking your way into a stylish outfit is understanding your colour wheel.
Basically, colours that are opposite on the colour wheel can be colour blocked.
As a beginner, you can work with two colours first before diving deep into three or four colours.
Bold versus subtle shades
When you hear the word colour blocking most people think bright and loud but this doesn't have to be the case when you love things quiet.
You can work with one bold colour and pair it with a subtle one. For instance, yellow can work well with brown without making you look extra.
Work with prints and patterns
Since prints and patterns already do the work for you by mixing different prints and patterns, all you need to do is pair it with one solid colour and you are good to go.
The only thing you should remember is to work with pieces of the same colour scheme.
Work with coloured accessories
Another easy way you can colour block without looking extra is by using coloured accessories.
Although they are simple, they are likely to make your outfit pop and make a statement. This can especially work with statement belts and handbags.
Be a copycat
Fake it till you make it, they say. Besides style has no copyright and nobody will sue you for dressing like your favourite celebrity or fashion icon.
Learn the tricks and steal some inspiration on how you can mix your colours, you may not be an expert but you will sure look good.
Related Topics