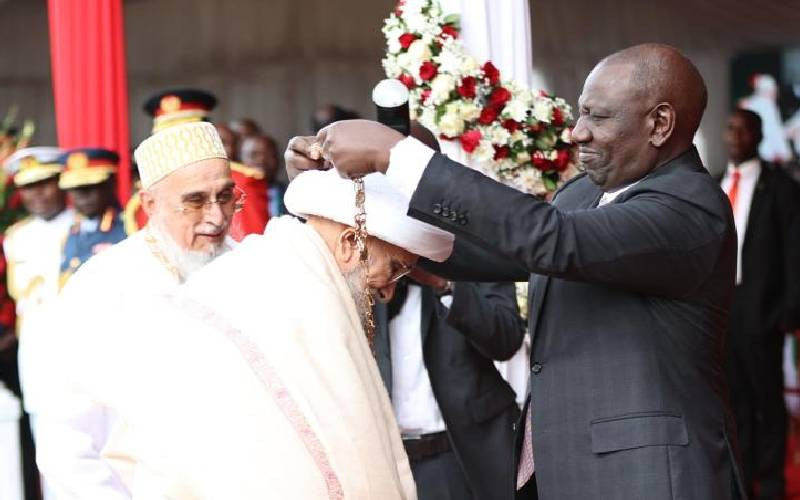 His Holiness Syedna Mufaddal Saifuddin, the leader of the worldwide Dawoodi Bohra community, was among 460 people who were feted by President William Ruto on Jamhuri Day.
Saifuddin received the most prestigious award of the Order of the Golden Heart for his philanthropic contributions across the world, including in Kenya.
He was among the leaders invited by President Ruto to this year's celebrations on Monday.
Speaking during the ceremony at the State House, the president thanked Saifuddin for supporting the government's low-cost housing initiative as well as the ongoing drought relief efforts.
"We are collaborating with the Dawoodi Bohra community to build low-cost houses to address challenges facing low-income earners, especially in the informal settlements," said Ruto.
Bohra community has established affordable houses in Athi River and Rongai.
The President acknowledged the role of Saifuddin in philanthropy across the world and his leadership role in fostering inter-faith dialogue.
Saifuddin joined the list of eminent personalities who have previously received the highest award in Kenya for their exemplary work.
Others include Uganda President Yoweri Museveni, former President of Liberia Ellen Johnson Sirleaf and the Aga Khan Shah Karim al-Husayni.
Saifuddin was previously presented with the Chief of the Order of the Golden Heart award during the inauguration of Aljamea-tus-Saifiyah's Nairobi campus in 2017, the third campus of the Dawoodi Bohra community's educational institute.
The award was in recognition of his efforts for the cause of education and literacy. The campus, inaugurated by former President Uhuru Kenyatta, offers higher secondary, undergraduate and postgraduate studies to more than 900 students from 24 countries in various disciplines.
In efforts to restore indigenous tree species, the Bohra community's spiritual leader donated 76,000 seed balls to Kenya in 2019, which were planted near the Amboseli National Park to mark his 76th birthday.
The East Africa region has more than 10,000 community members and Kenya is home to about 5,500, mostly concentrated in Nairobi and Mombasa and a smaller population in Nakuru, Malindi, Lamu, Kisumu, Eldoret and Kitui.
Saifuddin is expected to meet the community members and deliver sermons in the course of his visit.
Related Topics