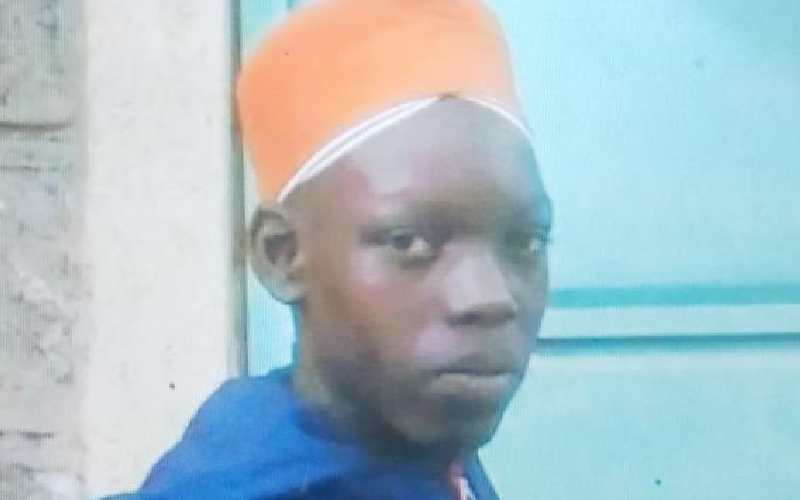 A family in Nakuru is pleading for justice one month after their kin went missing in mysterious circumstances.
On Tuesday, the Nakuru Human Rights Network (NAHURINET) wrote a letter to the Directorate of Criminal Investigation (DCI) and the Office of the Directorate of Public Prosecution (ODPP) calling for a speedy investigation into the disappearance of 23-year-old Brian Stingo, a butcher in Nakuru City.
Brian went missing after he was picked by a friend from his mother's house in Manyani -Makuti estate in Nakuru East constituency at around 7pm on Sunday, July 24, 2022.
According to his mother Mary Asami, Brian said he was going to sleep and left in the company of his friend Tyson Nganga.
"He did not show up on Monday. I called his phone but it was off. On Tuesday, it was still off. In his house but found the door locked from outside. I inquired from the landlord who said he too had not seen Brian from Sunday," said Asami.
The following day, she traced Brian's other friend, Frank Ouma and informed him of Brian's disappearance. Ouma and two other youths went and found Tyson sleeping at his house.
"He confessed that they had gone together to fish at the Lake Nakuru National Park where Brian drowned in the lake," said Ouma.
Tyson was taken to Bondeni Police Station where the mother was issued with an OB-19/27/7/2022. According to Asami, Tyson only stayed in the cells for 5 days but was later released and no charges were preferred.
"The investigating officer said that Tyson had told police that Brian went with a fisherman from Naivasha and drowned while he went to check his fish net. He said he did not know the fisherman from Naivasha," said Asami.
Police also disclosed to Asami that the suspect took them to the lake on July 31 in the company of KWS ranges where they combed the scene but nothing was found.
"I was very aggrieved but managed to visit the Red Cross office in Nakuru for help. They came with divers in the lake but they could not find the body. I was referred to Nakuru Central Police Station where she was referred to the DCI office who referred me back to Bondeni Police station," said Asami
Asami claims Tyson brought her the clothes Brian was wearing when he left home and claimed they were left in his house.
Nakuru East Sub-county police boss Martin Wekesa said that the evidence gathered so far does not link Tyson Nganga to the disappearance of Brian Stingo.
"Apart from him being the person who recovered the victim's jacket and a pair of slippers from the lake, we don't have any other evidence linking Tyson to the victim's disappearance," said Wekesa.
He said that the case is still open and in case any new evidence comes up it will be admitted.
Nakuru Human Rights Network director David Kuria, in his letter, has asked DCI and DPP to find out why police were not willing to extract more information from Tyson who is the prime suspect.
"Our concerns are why police were not willing to extract more information from Tyson who had Brian's clothes and phone. Why are the police not willing to investigate further because Tyson is walking free after release by police? We want this to be investigated," said Kuria.
Related Topics