Three more persons reported missing in Mombasa, Kisumu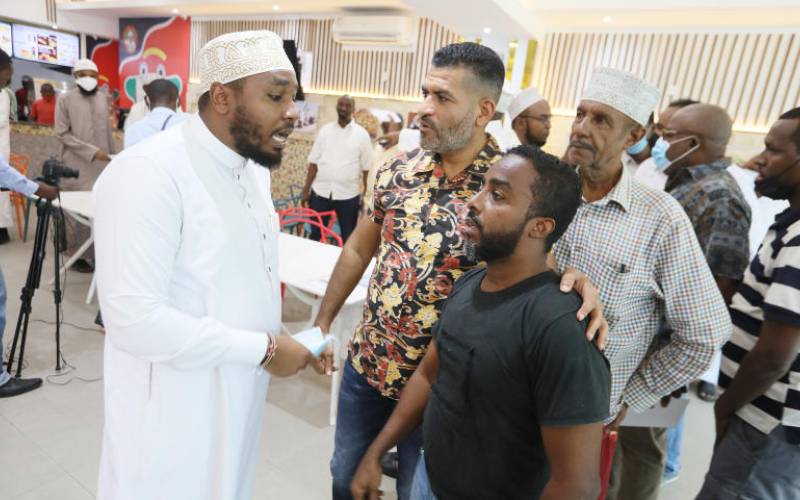 Three families in Mombasa and Kisumu have been thrown into confusion after their relatives disappeared under mysterious circumstances.
This is even after Haki Africa, a local human rights lobby group, reported a sharp increase in the number of cases of forced disappearances to 40 in the last 10 months. Haki Africa said there were 18 such cases documented last year.
And following the latest disappearance, Mvita MP Abdulswamad Nassir, Mombasa Senator Mohamed Faki and Haki Africa yesterday accused the police of having a hand in most of the instances. In the first case, a 22-year-old Mohammed Abubakar was arrested by people suspected to be police officers shortly after leaving a local mosque in Majengo on October 14.
Abubakar was a diploma student at Umma University in Mombasa.
His cousin, Abdulrahaman Abubakar, said his whereabouts had remained unknown.
"His mother has gone on a hunger strike to protest her son's arrest. The whole family is deeply disturbed by reports that he is missing," said Abubakar. Mohamed was termed a youth motivator and musician who composed motivational songs. Relatives said a KCM 694M vehicle was used in his arrest, but a search at the National Transport Safety Authority did not show who owned the car.
Mr Faki said Mohamed was a Muadhin (an imam) at a mosque in Ganjoni. "We are in a pandemic that has piled pressure on families. When a member of a family goes missing, it damages their social well-being," Faki said.
In another case, the family of a 16-year-old high school student at Sheikh Al Farsy Girls reported that Sylvia Said had been missing for the last 10 days.
Her elder brother, Patrick Said, said Sylvia had not returned home and was not in school. "We reported the matter to Nyali police station. We are appealing for anyone with information on her whereabouts to report at any police station or Haki Africa," he said.
Nassir said: "For how long shall we be telling security agencies to style up in their work and ensure they follow the rule of law when executing their operations?"
He added: "The majority of cases go unsolved. In the absence of a body, forensic evidence or even witness accounts, the people and groups responsible go unpunished. Enough is enough."
Elsewhere, relatives of a Kisumu based trader Tony Ratos, who had gone to Kilifi to visit his elder sister Margaret Royal, have been searching for him since October 10. His vehicle is also missing. His wife Anna Hombe said: "He was driving alone to Kisumu when we lost communication around Mai Mahiu area. We do not know where he is."
Margaret said in the search, one group travelled from Kilifi to Nairobi while another team started the journey from Kisumu to Naivasha. "We do not know what might have befallen our brother," she said.
Hussein Khalid, executive director of Haki Africa, said they were taken aback by the many forceful disappearances, particularly those involving Coastal communities.
"We are living in fear of children being abducted by people said to be police. Many do not return. We appeal to Interior CS, Inspector General of Police and the Director of Public Prosecutions to take charge and ensure an end to these disappearances," he said.