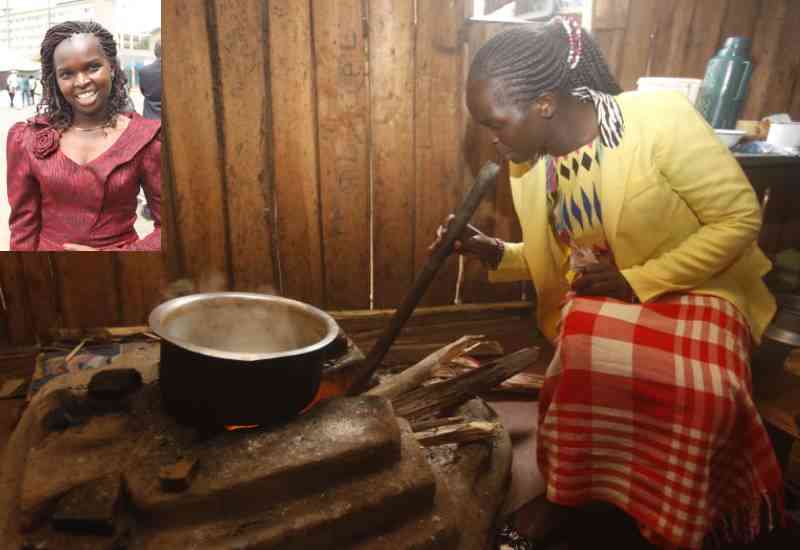 Bomet County Women Representative-elect Linet Chepkorir aka Toto's journey to parliament has not been rosy. In a recent interview with Jeff Koinange, Toto revealed that she took on odd jobs before she joined politics.
The 24-year-old Chuka University graduate sold mitumba clothes, chips mwitu and also worked as a house-maid prior to the elections. She said:
"I graduated last year having pursued Procurement at Tharaka Nithi University college. I was employed in Bomet town, I used to sell mitumba clothes for a month, and from there I went to sell chips, I used to earn two hundred shillings per day. From there I was a maid for a month then I thought of vying for Women Rep."
The self-motivated leader depended on donations from well-wishers to fund her campaigns. She revealed that she has been a leader all through her school life and still wanted to join politics after school.
"I was born a leader and I knew that after graduation I was going to vie for this position."
Toto garnered 242,775 votes in a county that had 376,985 voters. Her rivals Dr. Alice Milgo and Ms Beatrice Chepkemoi garnered 43180 and 4639 votes respectively. During the interview, Toto revealed that one of her political agendas includes supporting women and people with disabilities.
"We have won! Thank you residents of Bomet for giving me the mandate to contest for the woman representative seat. I am a testimony to God's greatness. God bless you, I love you," read her post on Twitter.
Toto is the youngest politician to join the 13th Parliament at only 24 years old.
Before joining politics, Toto had just completed her Bachelor's Degree in Business Administration at Chuka University.
"For a long time, women and youth have been condemned when seeking elective positions. It is a narrative we are seeking to turn around to enable both the rich and the poor to compete on an even playground," she said.
The third born in a family of seven, she has not exactly had it easy in life and has had to work her way to the top.
Her political journey has not been a bed of roses either, having been called an intruder the first time she attended her political party's meeting.
She was denied entry to William Ruto's (UDA presidential candidate) home in Karen when the security detail thought she was an intruder.
She was simply dressed in a yellow hoodie and wore a simple hairdo to match her green dress and rubber shoes.
"After about an hour, I was allowed in after I showed them my passcode to the meeting, electronically generated for members who had paid the UDA aspirants fee of Sh6,000," she said in a past interview.
"In this journey, many people will discourage you, and many others will laugh and scoff at you; but I choose not to listen to them because they make me lose focus. I go for what I want because I believe I can," she said.
While in office, Toto promises to tend to the needs of her people.
"A big thank you to all who voted for me. I intend to show you that your vote has not been wasted. I will uphold all the responsibilities and ensure that the trust that you have bestowed upon me is not broken," tweeted Linet Toto.
Related Topics