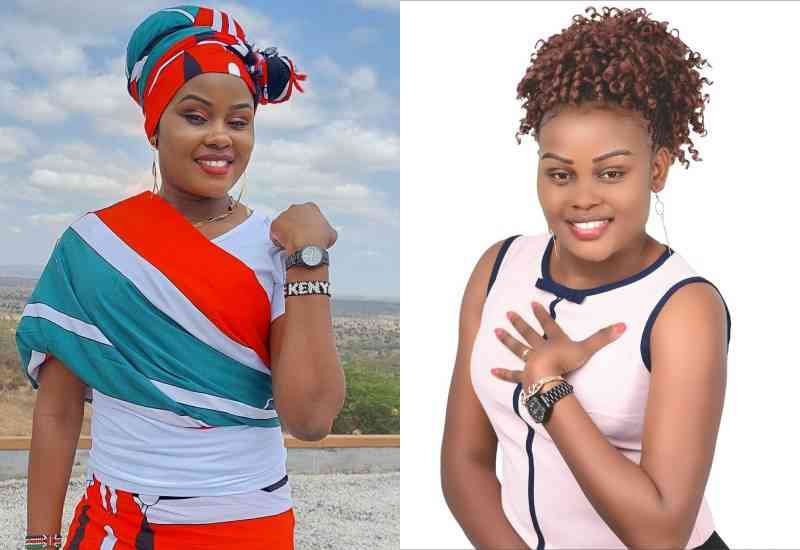 A fast-rising gospel artiste, Zipporah Eric became known by many early this year thanks to her Swahili single Kukwamuka.
The hit had the zestful and gushy stroke of Rose Muhando, one of her favourite gospel icons, and quickly became a fixture among choirs in mainstream churches.
The hit, an inspirational song that speaks of personal breakthroughs after steadiness and tenacity, opened doors for her. Her calendar got fully booked for months over as she crisscrossed the country performing in public events and exclusive functions.
Saturdays were specially set aside for invites by women groups, commonly known as 'Chamas'. And as the political fever hit the country, political aspirants started sourcing for her services to perform in their political rallies.
That is how she landed a deal with Makueni Governor Mutula Kilonzo Jnr for whom she composed campaign songs, besides attending his campaign rallies.
She says landing the political gigs is out of God's favour.
But the Nairobi-based singer did not get it all on a silver platter. She lost her father when she was still a toddler and was brought up by her mother.
The family barely had enough. Singing was a pastime activity in the 'shamba' and grazing fields where she spent most of her time rearing the family herd in her native Makueni home.
"Life had no luxury to offer. After my mother discovered my love for singing while I was in Class Three, she took a plastic jerry can and cut it into a drum, chopped sticks, and told me to carry the plastic drum wherever I went.
"It was my music instrument in Sunday school and at all the gatherings where I would fearlessly showcase my singing talent. Basically, I was this school village entertainer who never thought of life beyond the village borders," she says.
"After high school, I asked my mother to let me go seek a job in Nairobi. My first stop was at the Mukuru kwa Reuben informal settlement. I learned tailoring and would get casual jobs as a tailor in the neighbouring Industrial Area zone. This was in 2008.
"While there I joined the local Gatoto AIC church and became part of the praise and worship team. After a while I moved to AIC Mathare, then Zion, this is how I moved from Mukuru kwa Reuben to Huruma," Zipporah remarks.
"Growing up, I had admired the singing talent of Rose Muhando, Faith Kithele, Faith Mulu, the Kasangas, and Zipporah Muoso. After coming to Nairobi, I had access to TV and that was the first time I could see them on videos.
"I wanted to get to that status where my music could impact masses but didn't have the connections nor the finances to turn my life around," she says.
At church, little did she know that a man called Eric was interested in her. "One thing led to the other and in 2010, we held our wedding in Machakos," she says.
A year on, her first project, an eight-song album, Nishike Mkono, was released. In 2012, their firstborn, a baby girl came.
Unfortunately, her husband was rendered jobless. They had no finances to meet their basic needs and were evicted from their house. Desperate to make ends meet, she was forced to move back to the village.
"At the point, I was at the crossroads. I regretted having gotten married while I was still so young as this situation presented such a dark future for me, someone who had grown in suffering and who had hoped to get stable and liberate my family," she says.
"Our neighbours got tired of us asking for favours and some family members were also giving up on us. My mother-in-law understood the pain and agreed to be taking care of the baby as I went to sing in crusades to make ends meet. At some point, a got a call for a three-day crusade ministry in Mlolongo, Machakos, where I was paid Sh30,000. This was the breakthrough point," says Zipporah.
She put the money into her music video projects and released my third album in 2017. "It was a testimony that God will always come through," she says.
She returned to Nairobi and released her breakthrough project, Kavilu Kathime in 2020.
It is this fame that saw her bag recording and singing contracts during the political campaign seasons.
She used the opportunity to make business deals, build her music empire and give back to the community.
Ironically, Zipporah says that as her music and financial breakthroughs came calling, some of her fellow gospel musicians tried to weigh her down. She says there were rumours that she had separated from her husband and was even using questionable powers to rise to fame.
"Participating in campaigns through campaign songs was my patriotic duty. The truth is that God uses your talent to open doors for you and so music has now given me honours before kings. Thanks to all these blessings, I went back to where it all started and helped construct a church in Makueni where we used to attend Sunday school under a tree," says Zipporah.
"What I have learned through time is that every career provides opportunities and most of the time, the opportunities end up with those who are calculated and those who know when and how to connect from one end to the other. It does not matter whether you are trying to make it from the village or the city. God can meet you anywhere you are," she says.
Zipporah has over the years won awards, scooping a Groove Award in 2015 with a follow-up win of the Kenya Gospel Music Award.
Related Topics