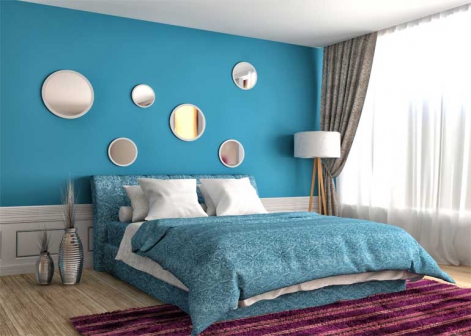 Sex and the City 2 was not just a movie, it was a movement. Everything on the movie set from the furniture, décor, fashion, lifestyle, romance, love and squad goals was something you wanted to try at least once. It remains an iconic movie and one that you can watch over and over again.
We particularly love Carrie's bedroom and closet. You might not live anywhere close to 66 Perry Street but you can bring it closer to home. We show you how to create a Carrie Bradshaw inspired bedroom. However, at the end of the day, you have to add your stamp and personality to the décor. Play around with the colours you like to get the same look.
Blue walls
Consider painting your room all blue if it receives a lot of natural light. Paint your baseboards or skirting and ceiling a brilliant white. Blue walls are a perfect backdrop for art and a gallery wall. There is over 50 shades of blue to pick from. If blue is not your colour, pick another colour that you like. You can also consider doing wallpaper or painting the wall behind the headboard only.
White headboard
A bed with a white headboard is a staple for this look. Drape it in neutral coloured bedding and white pillows.
READ MORE
Gallery wall
Carrie had a gallery wall behind her headboard. You can create a gallery wall from different sizes of picture frames preferably white frames. Frame random prints and silhouettes. If you cannot find all white frames, consider spraying the frames you have white. Alternatively hang art that you like in place of the gallery wall.
Work desk
A simple table and chair can act as a work desk cum nightstand with a lamp and a few books or mementos.
Glam desk
Carrie was a glam girl, this is evident in her love for fashion, Manolo Blahnik shoes and make up. Your work desk can double up as your glam desk. However if you have extra space, place a dressing table with a mirror and a chair parallel to the wall on one side of your bed.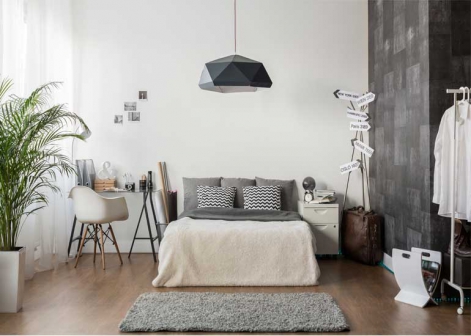 White drapes
Drape your windows in long flowy white curtains and sheers to harmonise your blue walls.
Ottoman
An ottoman at your bed's footboard will complete this look.