Home
/
Interior décor
Incorporate black in your decor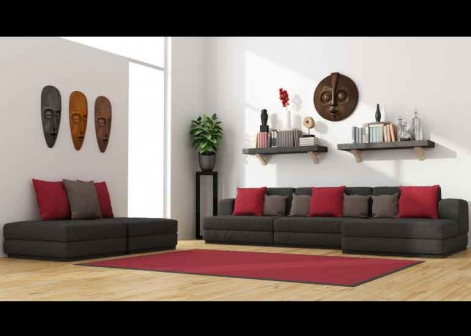 Black conveys different messages in different cultures. But that does not mean that we should completely steer clear of it. There are ways to incorporate it into our décor without creating a spooky dark feeling often associated with it. Here are a few ideas on how to go about it:
Get the look
Select a sleek furniture or furnishing in solid black or a less intense charcoal black colour. Black pieces require immaculate finishes hence no room for scratched pieces of furniture as black always depicts strength and dominance and is unforgiving for shoddy finishes. Your furniture can be a leather sofa seat that anchors a sitting room, or a black dining table that draws family members and friends to the eating area. Or it can be a black elegantly flowing curtain or even a set of black plates or coffee mugs.
Contrast
To succeed, your black piece will require a game of contrasts, which is achieved by placing your black piece against a contrasting colour so that it stands out. A black faced clock on a yellow wall looks fantastic as would a black-based painting or black-framed mirror. If the space is used primarily by men, then the black sofa can be placed against a light grey wall to provide tonal variation and soften the edges. However, use either geometrical patterns, black and white zebra-patterned cushions or brightly coloured scatter cushions to help the black sofa to pop.
Black also works wonders in kitchens with good lighting as it would in a bathroom sink or bathtub and is a classic look, especially if you want the room to look more masculine. Lift the look with chrome accessories, which fill the room with high-shine glamour and bright coloured towels and bath mats for that polished finished look that says indeed black is beautiful.
Related Topics