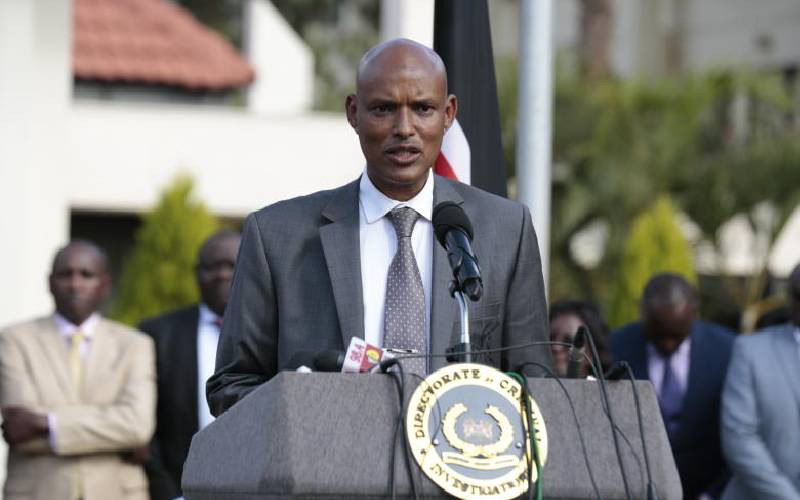 The Directorate of Criminal Investigations (DCI) is probing what it has described as alleged forged results of last year's presidential election, days after the opposition claimed that a whistle-blower had handed them "authentic" results of the election.
In a letter to the Independent Electoral and Boundaries Commission (IEBC) CEO Marjan Hussein Marjan dated January 25, Director of Criminal Investigations Mohamed Amin wants the commission to furnish it with certified copies of result declaration forms that would aid the investigation.
Amin said he had received numerous complaints about documents alleging to have the official result, documents that may or may not include one shared by the opposition Azimio coalition party.
"For the purpose of lawfully processing the complaints referred above in line with our mandate, we hereby request that you furnish us with certified copies of Forms 34B that were used to tally, verify and declare the result of the presidential elections of August 9, 2022," Amin wrote.
The investigation opens an avenue for revisiting the 2022 election, amid calls that President William Ruto sets up a commission of inquiry to look into events at Bomas in the run-up to his announcement as the winner.
The proposed scope of the commission would be larger than that of Justice Aggrey Muchelule's tribunal investigating suspended IEBC commissioner Irene Masit's conduct, that has unearthed damning revelations against former commissioners.
The DCI boss did not respond to our queries on whether they were investigating the Azimio "whistle-blower" account, which had suggested that last August's election results were manipulated. Nor did he confirm the authenticity of the letter.
A dossier by the alleged whistle-blower said 59 per cent of constituency results could not be verified. Forms 34B, the kind Amin wants the IEBC to produce, are the statutory result declaration forms at the constituency level, leaving little doubt that the DCI could be investigating Azimio's account.
The dossier suggests Raila garnered 8,170,353 (57.3 per cent) votes against Ruto's 5,915,973 (41.66 per cent). The official IEBC figures show that Ruto got 50.49 per cent of the votes against Raila's 48.85 per cent.
Amin said the complaints allege the falsification of documents and "outright forgery". "Illustratively, they have pointed out various alleged irregularities, including glaring inconsistencies in the watermarks featured in the forms labelled as 34B and which are being passed off as documents emanating from IEBC," he said.
In the letter, Amin said he would be investigating the alleged forgery and falsification of documents.
"Further, the Directorate will undertake investigations in relation to provisions of sections 22 and 23 of the Computer Misuse and Cybercrimes Act, 2018," he said.
The law says a person who knowingly publishes false information in print, broadcast, data or over a computer system will be fined Sh5 million or jailed for 10 years.
Related Topics