Home
/
Parenting
The pain of being a deaf mother in Kenya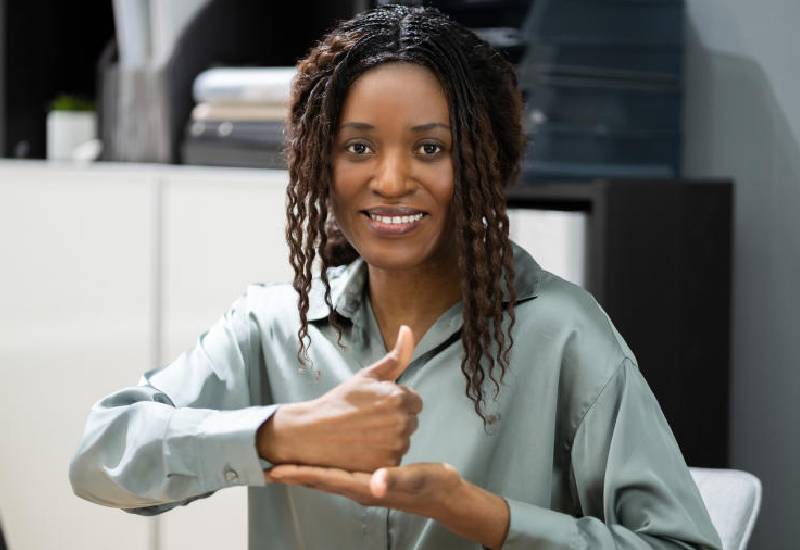 Maria Likuyachi, who was orphaned as a baby, is believed to have been born hearing but became deaf at infancy.
Now 35 and a mother of two, Maria, who has a certificate in catering and dressmaking from the Mumias School for the Deaf, had to quit her job because her pregnancy demanded frequent hospital visits, which consumed most of her time.
"I discussed it with my husband and we saw it fit that I quit my job to take care of the children," she says.
Pregnancy is a challenge for most women, but an uphill task for women with hearing disability.
According to Maria, the challenges of being a deaf mother start with the expressing how the pregnancy is developing and explaining how you're feeling, but the worst was during delivery.
"The nurses just gestured to me to sit. They would show up periodically and test to see if I had dilated," recalls Maria. "I didn't understand what they were doing," she says, as the maternity facility in Nairobi did not have a sign language interpreter.
"I felt that the nurses were not giving me the proper care I deserved. One just told to me to just walk around," continues Maria. "They could write down what I am supposed to do but the words were too technical. They would also write down the instruction in Swahili but I don't understand the language."
Maria is amazed at how she gave birth as there was no nurse to guide her.
"A nurse could slap me in the name of telling me to push, and this made me angry. I could see how they were talking to the people who could hear, they were just talking to them nicely, but for when it came to me, they would slap me. They inserted fingers to check if I had dilated without them letting me know what they were doing. I just wanted them to treat me nicely. I wished I could be talking and ask why they were inserting fingers."
For her second baby, Maria went to a private hospital in Eastleigh, Nairobi where they understood she had hearing challenges and treated her better.
But more challenges came when the baby developed an unknown condition at two years. She recalls the child would cry while touching the stomach but she and her husband were clueless about the child's complaints. "My husband is also deaf. We took him to a hospital but they also couldn't detect anything, but every time his tummy was touched, he cried."
The baby later died. It was discovered he had constipation that had accrued over time.
"Since we couldn't hear, it was our neighbour who alerted us that the baby was crying a lot. The baby's tummy had become so swollen it had become black," Maria tearfully narrates.
For her third delivery, she tagged along a family member to the labour ward to help with communication. The relative would write down what the doctor was saying, but still it was a traumatic experience.
"The nurse and the doctor would slap me hard when telling me to push. The nurse didn't know what to say and would pinch me in the name of telling me to push the baby. I cried a lot."
Taking the child to for post-natal clinics was another challenge. I had to write down how the baby is feeling, and the doctor would interpret to give a diagnosis through writing.
Without an interpreter, even the next hospital appointment would also be in writing. "Sometimes nurses thought I was mad explaining in sign language. I have missed a doctor's appointment because the doctor did not write it down," and the nurses would still talk to her even after reminding them she was deaf while doctors would carry out tests without telling her what they are for.
Maria is not alone.
Catherine Kinya, 26, a mother of one, also couldn't hear when her baby was crying. Neighbours resorted to throwing stones on the roof to notify her but she still couldn't hear. "The noise traumatised my baby who couldn't sleep at night. The neighbours didn't know how to communicate."
Kinya has since moved in with a good Samaritan who saw how she was struggling with motherhood and when the baby wakes up at night she attends to the baby. She also tags along for clinic visits and helps with translation.
Related Topics