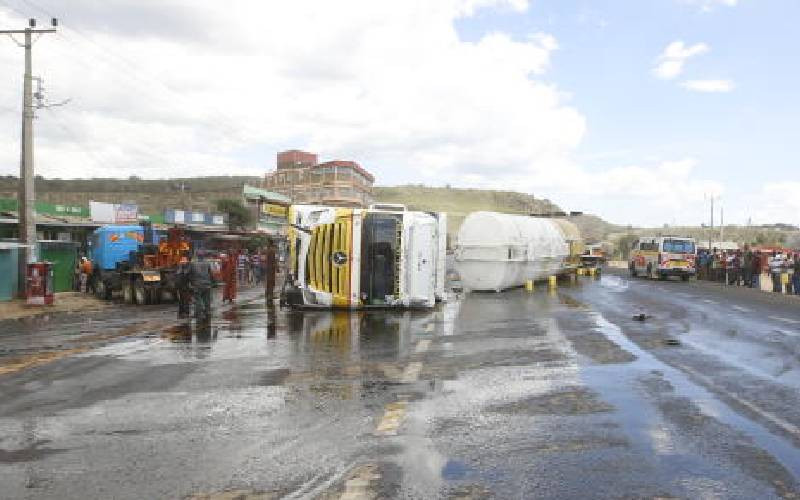 A Nairobi-based businessman has filed a civil suit at Milimani's Labour Court seeking compensation of Sh24.5 million from a company he claims fitted a tanker on his truck in 2020.
According to court papers filed in the court, one Mohamed Abdi Madow is seeking the said amount in an incident where a tanker that was built by the Bhachu Industries detached from the truck in Congo while transporting fuel.
Madow, a transporter argues that he took the lorry to the said company and paid more than Sh 600,000 as payment for the fixing of the tanker on his truck but the company allegedly used substandard materials to make it leading to the cause of the accident in Democratic Republic of Congo (DRC).
The businessman said the company was to manufacture a 24,000-litre fuel tanker which was to be fitted on the said truck.
"On February 18, 2021, I purchased and loaded into the tanker fuel worth Sh2,632,547.16. Upon setting off for the 80km trip to deliver fuel, the tanker dislodged and dislocated from the vehicle's body spilling the bulk content it was carrying," Madow states in the court documents.
He said, as a result, his truck is still detained in Congo and effort to get compensation from Bhachu Industries has been futile despite numerous promises to repay.
He said the company had initially agreed to pay him compensation for the damage and loss he incurred only to renege on the agreement later.
"Negligence and poor workmanship made the tanker to dislodge from the vehicle. I travelled back to Nairobi and lodged a formal complaint with the tanker manufacturer followed by a series of meetings where the company agreed to compensate me with Sh1 million being the cost of procuring the fuel tanker but later changed their mind and said they would pay only Sh200, 000," he said.
Madow said this forced him to engage the services of an advocate who then sent a demand note to the company.
He has listed his financial loss as Sh2.5m being the cost of purchasing the vehicle, Sh800,000 as the cost incurred moving the tanker from Kenya to DRC and acquiring the Congolese number plate, the cost of spilt fuel valued at Sh2,632,547.16 and loss of income for the 2-year contract at Sh16,800,000.
Related Topics