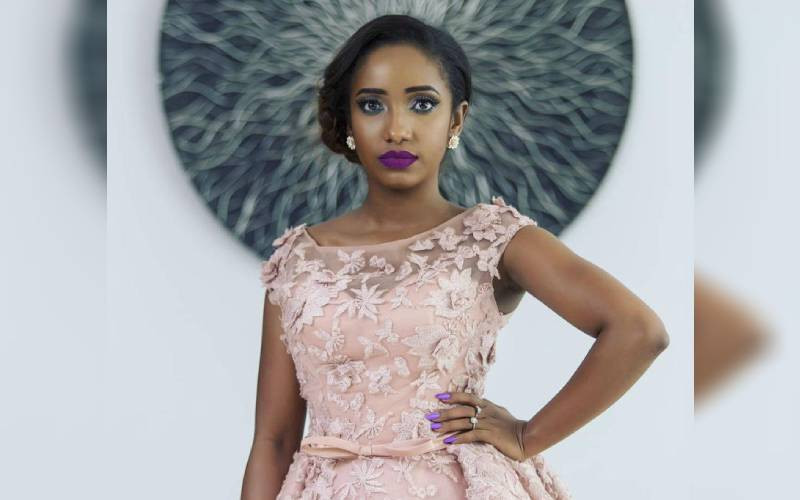 Anita Nderu quit her mainstream job to become a content creator. The wife and mother shares her self-discovery journey
WHO IS ANITA NDERU?
I am a 32-year-old lady who has worked in the media industry for the last 10 years. I resigned from mainstream media in 2021 and now work as a content creator. I am a mother, and a wife and I am passionate about saving the environment and having good vibes.
ON CLIMATE CHANGE, WHAT DO YOU HAVE TO SAY ABOUT COP27?
I think we need to take the 27th annual UN meeting on climate seriously because it brings governments together to accelerate global efforts to confront the climate crisis.
I think it is the assumption that it is someone else's problem or another country's problem; or that someone else will figure this out or fix this that we are not going to save the environment.
For example, I feel single-use plastics should be banned, in as much as it may be making money for some industries. There needs to be a way to go around that. Kenyans must take recycling seriously, and climate change too.
WE MUST SAVE THE ENVIRONMENT
The weather in Kenya has changed. People may not have noticed that what used to be our 'Summer' and 'Winter', is no longer that. Initially, we could predict when it would rain, but not anymore. Today, when it is hot, it is ridiculously hot.
California in the US is constantly burning. My aunts who live there have to be evacuated when the fires start. Deserts are also growing bigger; it is not a first-world problem; it is a global problem. I tell myself that I have to do one thing today to help save the environment.
We own a car, but we drive an electric vehicle, which uses zero fuel. My husband is obsessed with saving the world and there was no way we were going to buy a car that requires fuel.
YOU PLANNED A BIRTHING PROCESS WITH A PLAYLIST...
I had a birth plan, which I handed over to the doctor before the baby came. Unfortunately, I did not get to listen to a single song. Labour was such a shocking experience; I was unable to process anything else. The birthing process is humbling.
I wanted to give birth naturally, but it was impossible because my baby's heartbeat was high for a long time. It turned out that the umbilical cord was placed against the face hence every time I contracted during labour it pushed her face, and so the medics opted to do an emergency C-section.
HAS MOTHERHOOD CHANGED YOU?
I feel like I care more about the world now that my daughter is growing up in it. I care more about being a happy, healthy and better individual. I care more about the environment around which my child is brought up, whatever we use with her and for her. I feel like I care more now about doing better, seeing better, being better…
WHAT DOES SELF-DISCOVERY MEAN TO YOU?
My 20s were a shamble of experiments. Then, I did not know who I was. When you are in your 20s allow yourself to make mistakes because that is when it is trial and error in a bid to see what best works for you.
What I like about the 30s is that I now know what I like and who I want to be. We are here for a certain amount of time and every day I make a conscious decision about how I want to look like.
My time is my money. I value my time more than I did as well as the people around me. I value myself more, my mental health included.
ANY MISTAKES FROM YOUR 20S?
Oh, where do I start? There are many. To start with, I did not value the people who were closest to me enough. I was always looking for something that I already had, but I did not know I had it. I had a squad that was down for me.
Also, not being able to stand up for myself was a big mistake. I found myself in situations where I would say yes because I felt like I did not have a choice.
HOW DID YOU END UP IN THE MEDIA?
It was not easy. This happened 400 auditions later! I did so many auditions when I was a teenager, and when I was about to give up, something came up - I finally got called for an audition on pop culture.
And around December 2010 I got a job at NTV. I later became a digital content creator. I felt that content creation was the best way to express my creativity because I like to cook and overdress.
HAVE YOU HAD ANY UNREALISTIC EXPECTATIONS?
Sometimes human beings expect others, themselves even, to be perfect; like they should not do any wrong. People expect that of you, they forget you are human.
As a role model, society expects you to be perfect and you are thinking, "I am I not living my authentic self because of what people will say?" I said this is too much pressure.
YOU RECENTLY POSTED UNFILTERED PHOTOS…
That is how I look. I do not want any single girl out there to think the way you can be beautiful is to be plastered in make-up. I look good in make-up and I appreciate it, but I also like when my hair is a mess, and I am a beautiful mess. Let make-up compliment you, but not change you.
Related Topics