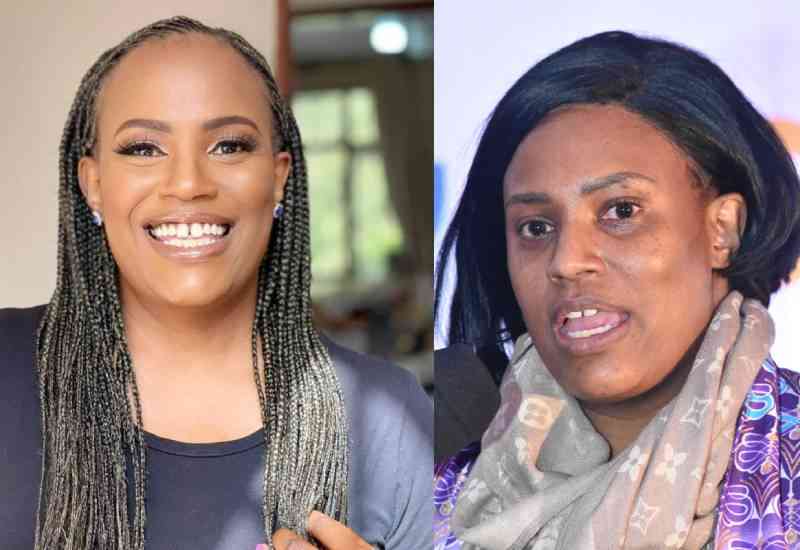 When we meet up with Nana Gecaga for the long-awaited interview, she is getting ready to attend an event later that evening. The rather pleasant Kenyatta International Convention Centre (KICC) CEO is getting her makeup done by renowned make-up artist Kristeen Kuria.
"She is the only person who is allowed to touch my face. She is a good friend of mine and I trust and love her work," says Nana.
Nana has two outfit changes for the evening event, which she gladly shows to us. A lover of blazers, she has both a multicoloured and gold blazer to pair up with her outfits for the evening.
"I am going casual today,"' she says.
A mother to three boys; Jomo, Kenya-Uhuru and Udi, Nana is full of life and likes to describe herself as an outgoing person and an easily accessible one. However, she warns that she is nervous in crowds.
She has amassed quite a large following on Instagram and she engages with her fans from time to time, whenever she can.
"I post on Instagram from time to time and I actively manage my account", she says.
"I used to have a Twitter account but I faced the wrath of KOT and well, I opted out. I will be back though but for now, I have given it a rest", she says.
Rather than the bubbly lady who keeps everyone in cheer, Nana, has had disappointments with social media after someone started using her account to con people.
"Someone asked me why I had a rate card. Why they had to pay to come and see me in the office? I get very upset when I get misportrayed. If I stand here and I shout out through the window and hurl abuses, let me carry that cross because I have chosen to do that," says Nana.
But when somebody has decided to take it upon themselves to misinterpret who I am and especially to take advantage or disadvantage people, I do not tolerate that at all."
Nana says that the said person had taken her platform and used it for evil, at one time asking her friend to pay Sh70,000 for a meeting connection.
A lover of art, she has paintings of herself in her office and explains to us that she has more of them in her house as well.
When she retires Nana plans to make time for the things she loves doing the most.
"I plan on spending most of my time with my sons because I do not exactly get enough time to do that. I will make the most out of it. I got to spend quality time with them during the pandemic as we were working from home but at least now, I will get to do that often. I am excited as well because I will get time to hang out with my friends and my family at large", she says.
Related Topics