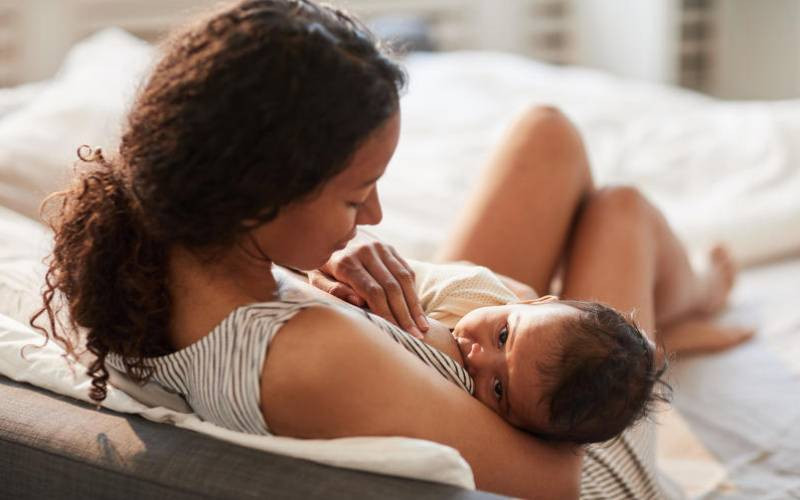 When babies do not feed directly from their mothers' breasts during the first six months after birth, it puts them at higher risk of contracting a number of fatal diseases most significantly, diarrhoea, according to the World Health Organisation (WHO).
Diarrhoea, according to the WHO, is the leading cause of death among infants in developing countries and Kenya is no exception. WHO recommends exclusive breastfeeding for the first six months of life but, sadly, according to United Nations Children's Emergency Funds (UNICEF), no single country in the world fully meets recommendation standards.
UNICEF data shows that diarrhoea kills around 525,000 children under five years every year. This translates to more than 1,300 infants dying each day, with a lack of exclusive breastfeeding during the first six months cited as the main cause.
Ombuna Fred Matwa, a health expert working at Kisii Teaching and Referral Hospital says that infants under two months old are 25 times more likely to die of diarrhoea than infants who are exclusively breastfed up to the sixth month.
According to the Ministry of Health and WHO, breast milk is free from contamination as compared to breast milk substitutes, for example, formula, and therefore it's better for mothers to feed their babies breast milk to prevent diarrhoea.
Diarrhoea is three to four times more likely to occur in infants fed formula than those fed directly from the source (breast milk) due to unhygienic conditions that are unfavourable for infants, data shows.
According to Lucy Chege a certified nutritionist and a founder of Nutrition Therapy by Lucy, exclusive breastfeeding prevents diarrhoea among infants by eliminating the risk of a child consuming contaminated food and water at a point in her/his life when his/her digestive system is not fully developed. In addition, breast milk contains secretory antibodies and other immune factors such as immunoglobulins and enzymes such as phagocytes that protect against gastrointestinal pathogens.
"Infants are at a great risk of diarrhoea when they are given foods other than breast milk because they are more likely to be exposed to food and water-borne pathogens and lose out on protection of breast milk's anti-infective properties," Ms Chege says.
She also discourages the use of bottles as a form of breastfeeding babies because the teats from which the children feed are made of silicon. Silicon, she says, does not have the same texture as the breast nipple and this causes what is known as nipple confusion -- when the baby refuses to breastfeed.
"Bottles are not easy to clean because they have multiple grooves and often hide bacteria and microorganisms, contributing to frequent diarrhoea. Mothers, caregivers and babysitters who have no choice can use a cup and spoon as an alternative to feeding bottles," Ms Chege explains.
Ms Chege advises that mothers should try their best to breastfeed their infants and discourages feeding the baby with formula and other substitutes unless it is inevitable for medical reasons or in the case of the death of a mother.
"Exclusive breastfeeding rates are less than 50 per cent globally because many women face obstacles due to a lack of knowledge about its benefits and lack of sufficient support from key family members and communities. Instead, they turn to breast milk substitutes which contain pathogens resulting in diarrhoea and no matter how formula manufacturers try to mimic breast milk, no one has met the 100 per cent standards and benefits of breast milk," observes Ms Chege.
According to Mayo Clinic, it may be difficult to tell when one's baby has diarrhoea because healthy thriving breastfed infants naturally have frequent watery bowel movements which are not considered to be diarrhoea. However, one may suspect that his/her baby has diarrhoea if the bowel movements are much more frequent than normal, are frothy, explosive, are a different colour, contain mucus or blood and are smelly.
WHO lists major signs of diarrhoea as dehydration, cramping, loss of appetite, loss of bowel control nausea, fever and chills.
According to the Centers for Disease Control (CDC), exclusive breastfeeding is protective gear and prevents diarrhoea from occurring in young children.
CDC explains that improving access to skilled exclusive breastfeeding counselling as part of comprehensive breastfeeding policies and programmes in health faculties will prevent infants from dying due to diarrhoea. In addition, strengthening links between health facilities and communities and encouraging community networks that protect, promote and support breastfeeding make an impact.
In Africa and East Africa, more than 80 per cent of child deaths are due to diarrhoea, according to UNICEF, hence calls for vulnerable countries to take preventive measures to avert this preventable public health concern.
"By failing to invest in breastfeeding, we are failing mothers and their babies and paying a double price in lost lives and in lost opportunities. Breastfeeding is the most effective and cost-effective investment nations can make in the health of their youngest members and the future health of their economies and societies," UNICEF Executive General Anthony Lake says.
One study of 150 infants, published in the Journal of Bangladesh College of Physicians and Surgeons found that around 27 per cent of breastfeeding babies experienced frequent bouts of diarrhoea compared with almost 72 per cent of those who were formula fed.
Related Topics