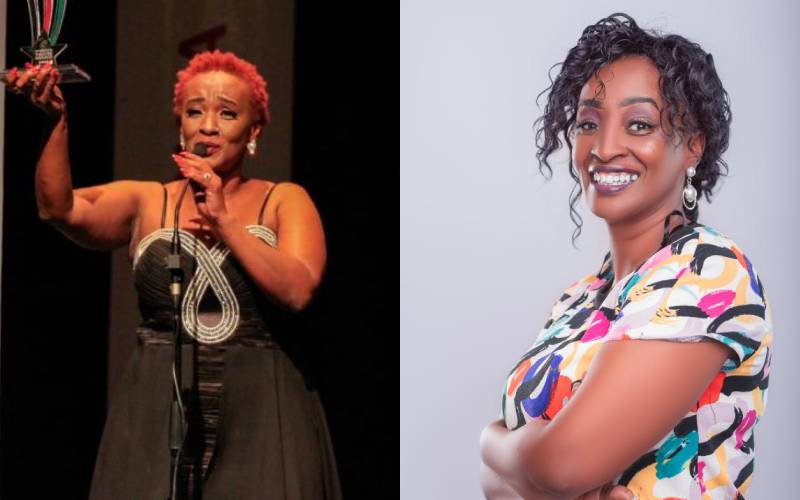 Actress Jamie McCall once said, "See it, learn it, do it ALL." Esther Kahuha is an actress, thespian, and stand-up comedian, which exemplifies this wise quotation. She is known for her long-time role in Nation TV's "Wingu la Moto," a part that she has played for over four years. She enthralled audiences with her role in KTN's "Mshamba," later from 2015 to 2018. It is through acting in Kenyan TV shows that she made her debut in the entertainment scene.
Yet her life started out quite differently. Enrolled to study Early Childhood Education, Kahuha had no idea she would turn out to be an actress-cum-standup comedian, or better yet, an award-winning one. She stumbled upon the chance to act through her cousin when someone dropped out of a production without warning. She auditioned and got the part, her first of many at Kenya National Theatre.
"I became a set-books actress, travelling around the country doing 'The River and the Source," she says.
Her first big break came when there was word that a big production, the first in Kenyan television that would rival the prominence of 'Tausi', needed actors. Kahuha auditioned and got the part as Waridi in 'Wingu La Moto', a Swahili soap about greed, deceit and forbidden relationships.
As fate would have it, her role was of a mother to an 8-year-old and the production was hard-pressed to find a child actor. They ended up casting Kahuha's daughter, then 6-year-old Cindy Kahuha.
"I had Cindy early, when I was just 19 so having the opportunity to work alongside my baby girl was a rare experience. We basically grew up together and had a pretty tight bond." She says. Following "Wingu La Moto", she had a 10-year hiatus then joined Mshamba in 2015.
Kahuha received a well-deserved nomination for the Riverwood Awards' Best Supporting Actress in a TV Series in 2017, cementing her place in the Kenyan acting scene.
However, she felt her heart did not belong entirely to TV. Constantly seeking new challenges, she opted to leave "Mshamba" before production ended.
After her 13-year stint as a TV actress, she went to the theatre where her heart belongs, at Heartstrings Entertainment.
"Theatre heals. Theatre is my safe space," says Kahuha, adding, "I am in my full element when I am on stage. I feel free and my true self."
In 2019 she began her theatrical journey, performing plays every month. Some of her notable stage performances include "Bridegroom for Sale," "If the Shoe Fits," "Let Sleeping Wives Lie," and her latest triumph, "Master Key" in July 2023.
At the insistence of director and friend Dennis Ochieng of Heartstrings Entertainment, Kahuha yet again decided to jump into the deep end and try her first-ever standup act "Heartstrings Hot Seat."
"Everything that could go wrong, went wrong. First, it rained and everyone on the team was late. Then, we found the audience already seated. Since I had to dress in the car, my zipper broke and I had to pin up the back of my dress," she says.
Kahuha narrates the disastrous start of her first standup show, where she fell face-first on the ramp towards the podium. With all eyes on her, she had two choices; slip quietly away or follow her fear. That night was one of the best performances she ever delivered, the chaos notwithstanding.
"Standup isn't just telling jokes. It is storytelling," says Kahuha. She fell in love with the art because for once in her career she had autonomy over her art. Her act was her own story.
In 2018, she got yet another chance to prove her prowess by performing at KICC on one of her biggest shows yet. Kahuha says she felt the pressure of the challenge but had no doubt she wanted to do it. The "Black and White Comedy Show" was a hit and left the audience in stitches.
Kahuha's latest show is Manmade Woman, 2022.
"I was given the idea for the name by Eric Omondi. I have worked with him in some of his skits and I found the name quite catchy," she says. When asked what Man-Made Woman means, Kahuha says even the Bible says 'And man was not made for woman, but woman was made for man.' She explains that women behave in certain ways as a reaction to something a man did or said.
"Men insist they cannot find a submissive woman, but if you see a woman who is well loved and cared for, she willingly submits," says Kahuha.
Man-made Woman won the 2023 Kenya Theatre Awards for Best Comedy Production and she also scooped Best One Woman Show. Following the success of the first show, there will be the second Man-made woman show, today, on the 9th of September at the Kenya National Theatre. Kahuha intends to share her experiences on motherhood.
The riveting title of the show is designed to be just that simple. According to her, she is not a feminist, at least not the toxic ideal that we now call feminism. One of her bigger projects this year in December is in fact a women-only show. It will feature three women; one is 25, the other 35 and herself, at 45 years old. The standup comedy show will be all about telling women's stories, not so that men feel shut out, but to entertain and educate them as well.
On her secret to balance, she says there is none.
"You cannot balance work and parenting. You just have to do your best in both but let go of the idea of perfection. No career woman can get it all, all the time. I have missed a child's event here and there, and I have cancelled shows for important events in my kid's lives. Just make sure you do not miss everything," she says.
Kahuha does not pretend to know it all. At 45, she feels confident that her life is exactly as God intended. Her relationship with her 25-year-old daughter Cindy Kahuha, best known for her role in Kina, is as you would expect; loving but evolving.
"Being a very young mother, and a single mother is not the easiest. I felt like I grew up while raising her, and now that she is all grown up, I feel very attached and find it difficult to let go," she says.
Related Topics