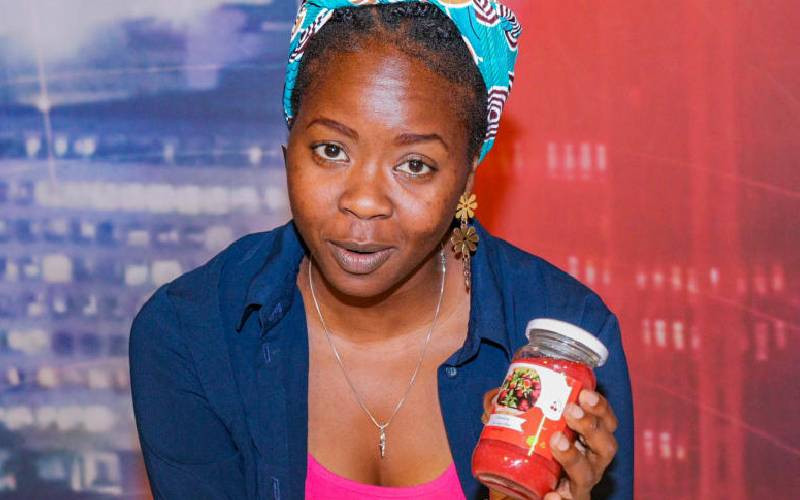 There is a false belief that organic foods are expensive and some are tasteless. This is the mindset that Terry Gathu, the founder of Ella Organic foods in Nairobi, sought to change with her unique offering in the market.
"Many people assume that organic food is expensive but that is not true in the long term. By buying organic foods you are investing in your health. Yes, you will buy that cheap jam but you will suffer the effects of eating unhealthy food. In the long run you will spend that money you think you are saving, in a hospital," she says.
Having seen its potential, Ms Gathu who has a background in food science and nutrition, decided to start adding value to fruits like grapes and mangoes by making organic jam.
RISK TAKER
She started the business in 2018 as a part-time venture as she was still employed. She later quit in 2022 to run her startup full time having seen its potential.
"I believe you can make so much memory through food. I chose organic because of the health benefits of organic foods," she says.
She was a quality control analyst at Weetabix, a skill that has really helped her run her business professionally.
"A quality control analyst is a scientist that analyses the food from the beginning; from the process of production to making sure that they are the right temperature and if the product is per the quality of the company. This skill has come in handy in building my business structures," she says.
After many false starts, Ms Gathu now has a production house that is rented and with three full-time employees. Her customers are health-cautious individuals and organizations like hotels, hospitals and schools.
Where she gets her fruits
Since she does not grow the fruits but contracts farmers in Naivasha and Embu that grow the different fruits. Because she deals in organic produce, she ensures that her farmers do not use any chemical products on their crops like pesticides.
"My farmers know that I only deal in organic and they adhere to that stringent requirement. To ensure they meet my quality standards when they supply the fruits, I analyse them and if they pass the quality control, we sort and clean them, then take them through the production process. I do not use chemical preservatives so I tell my customers if they open the jam they need to refrigerate," she says. Though she has broken even, she faces some challenges.
Farmers lying about organic products
Organic can be two ways, from raw materials or during production when you do not use chemical preservatives. However, Ms Gathu says sometimes it is hard to find genuine farmers who grow organic fruits.
"There a few tests that we do to make sure that the produce was grown without using chemical fertilisers. Some farmers lie that the fruits are organic but when you test them, you get traces of chemicals," she says.
Farmers who are honest are certified and get the 'organic mark of quality'.
To grow organic fruits, instead of using chemical fertiliser the contracted farmers are expected to use organic fertilisers like compost. To fertilise the soil, they use decomposed organic material such as leaves, vegetable scraps and other organic kitchen scraps.
Other sources of organic manure include animal waste from cows, chickens or poultry.
One can also use bone meal which is cooked or smoked bones that are ground into powder form. It's a great source of phosphorus for a vegetable garden. Another idea is blood meal which is a powder made from dried animal blood, used when high amounts of nitrogen are needed. Another challenge is the standardisation of organic products.
"When I go to retailers they always ask if I have a Kenya Bureau of Standards (KEBS) mark of quality. But KEBS does not have a body that certifies organic food products. KEBS requires me to have my products on the shelves for a whole year before I get the quality mark. But they have agreed that if my products are of a good standard, they will certify them," she says.
Lack of capital has been a huge hindrance when it comes to scaling up the business.
In a month, she can supply 150 jars of jam if she supplies to hotels, but less if she supplies to the market. Apart from Jam, Gathu also processes organic yoghurt by contracting farmers that feed their cows organic products.
"I have the probiotic and the Greek yoghurt. It is medicinal it helps with your gut. It is very plain but for people who like flavours we flavour using our jams," she says.
Future plans?
"I also want to explore other markets like hospitals. It does not make sense that when you are admitted in hospital you are brought for food from outside that is unhealthy," she says.
Related Topics