Home
/
My Man
Men only: You can't grin and bear it if you have a toothache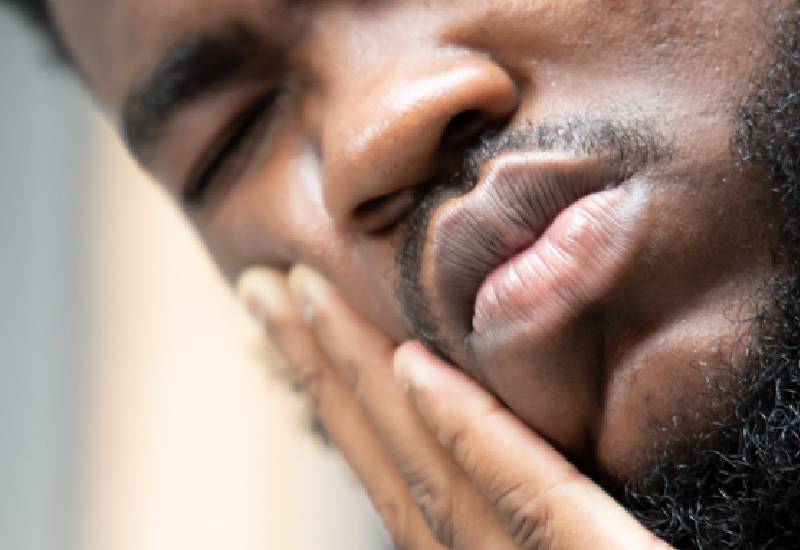 Wednesday at about 2am.
I was awoken by the most excruciating tooth pain. Outside, the world was still, with only the sound of rain beating a tattoo on the streets. In my head, all was thunder, as my teeth got struck by lightning.
Those folks with perfect teeth will never know how the agony of a toothache is the world's worst!
In the past, I have waged incisive battles against the infantry of incisors, the callous cavalry of canines and the merciless militia of molars with vanguard actions of vodka and brutal maneuvers with painkillers like Brufen. But through six long hours of excruciating agony, I realised that, this time, the war was lost.
By 8am, I'd made my way over the South B bridge, no pun intended, to the dental facility at the South 'C' Bliss clinic, where as soon as Tooth Army realised I was at the place of dental reinforcements, they pretended to chill, as in the agony dramatically subsided as soon as Dr Udaya shone a light into my mouth. But that's what they do – those who know, know!
They lie doggo, and ambush/attack after midnight. Teeth like to fight a guerilla warfare against humans.
In the past, with biting humour, I've always joked that my 'dental cup is three quarters full, so that makes me an optometrist!' (Wish I'd cracked this one, on Wednesday, to the one at the Bliss optics' room next door).
There are great geeky jokes that I like, kwanza those ones with clever word play, like one I once heard from my tax lawyer friend Andy (who used to work at the NSE) on his 40th birthday when he said:
'When you turn 40, it really makes you sit back and take stock of your life. So I did; and the next day the bottom fell out of the market, and now I'm selling at eight and a quarter...'
But teeth are no joking matter, when a quarter of them are either gone, or well on their way to Dental's Inferno – three extracted, three with deep cavities and two broken.
As Chinua Achebe said, I was no longer at ease (and as the Bliss dentist hissed, at least not with teeth).
I now have five dental appointments with Dr Udaya over the next ten weeks, all for Monday mornings.
(i) For the scaling and polishing of teeth
(ii) XLA – Extraction of root stumps
(iii) Two root canals, followed by composite build up
(iv) Composite restoration of teeth 22 and 23.
(v) Prosthetic Rehabilitation of the (long) extracted three teeth, complete with crown and bridge.
That fifth procedure happens on the tenth of May, and it is my birthday gift to myself. Because, although I've always smiled, it is with the self-confidence and gap grin of bwana Bugs Bunny.
And although it is funny, let me say teeth issues not only cause pain, but sap the confidence of lots of folks.
If you have crooked teeth, for example, that's only considered cute in Japan (where they also chew frogs and snakes, as a delightful delicacy). My late mom, when she went to sijui Asumbi in Luo Nyanza after lower Primary in Kisii, got her two lower teeth removed to fit into their beauty standards (a deep regret, because she got 'falsies' later to cover up, lol). But, generally, a great smile can literally bring success.
Senator Barack Obama was loved as a presidential candidate for his 1000-watt smile, as compared to Senator John McCain's grimace, and four years later, Mitt Romney's tight lipped one.
Tiger Woods got a lot of brand endorsements, not to mention ladies' numbers, not just for his genius at golf but for his endearing flashlight smile.
Julia Roberts enchanting smile in the 1991 classic 'Pretty Woman' almost won an Oscar, and 12 years later, they actually made an entire movie (banking on that smile) called 'Mona Lisa Smile.'
Dr Udaya also gave out a 'medical recipe' for whitening one's teeth in Seven Easy Steps:
(a) Swill with sunflower oil
(b) Brush with baking soda
(c) Buy mouthwashes with hydrogen peroxide
(d) Eat strawberries/pineapples
(e) Don't drink coffee, red wine or soda
(f) Floss
(g) Good dental hygiene
Related Topics