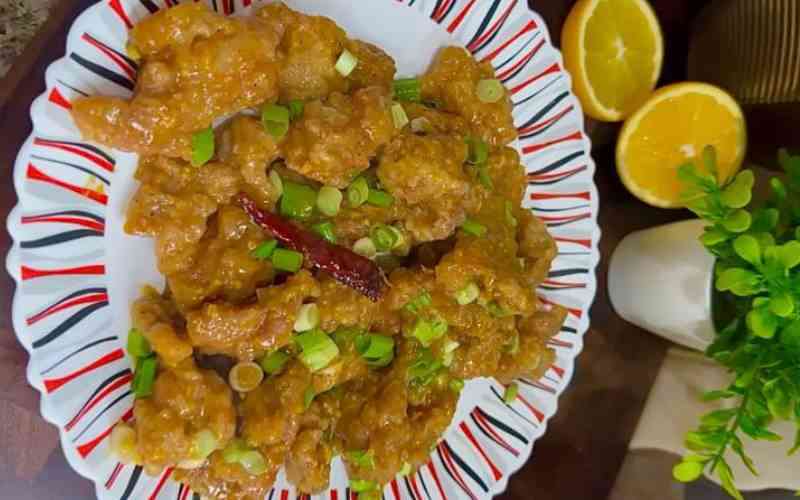 This orange chicken recipe will blow your mind, so simple to make and delicious.
Here is what you will need:-
Juice of 3 freshly squeezed oranges (about 250ml)
Zest of 1 orange
1 teaspoon salt
1 tablespoon ketchup
1 tablespoon vinegar
1 teaspoon sugar
1 tablespoon cornstarch/cornflour
Mix everything in a bowl and set aside to use when sautéing the fried chicken.
For the fried chicken
500g boneless chicken strips
Salt to taste
1 teaspoon bicarbonate of soda
2 tablespoons water
1 egg
100g cornstarch
For sautéing
2 tablespoons of oil
1 teaspoon garlic ginger mince
3 red chillies (optional)
Spring onions to garnish
What to do:-
In a bowl, add the boneless chicken, go in with the salt add bicarbonate of soda, 2 tablespoons of water, one egg and cornstarch, mix well until everything is combined deep fat fry the chicken until nice and golden and crispy on the outside.
In a separate pan, cook the orange mixture until nice and thick, set aside in a nonstick pan add some oil, sauté garlic and ginger mince in the green chillies, then go in with the fried chicken.
Now add the thickened orange sauce bring it to a simmer garnish with some spring onions and you are ready to serve this delicious orange chicken.
Enjoy!
Related Topics