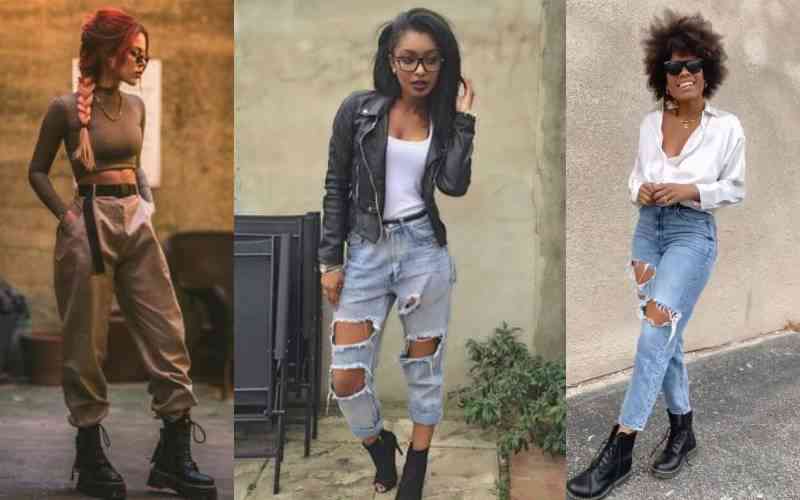 You will probably be surprised to learn that looking dishevelled and grubby is an aesthetic people are trying to achieve. Grunge was popularised by cool rock and punk artistes and dates back to the 80s.
Thrifting was a big part of grunge fashion and the pieces used were durable, dependable, and clothes other people did not want.
The pioneers of this style were anti-consumerism and all they wanted to do was create music and not care about anything else. Thanks to this new generation's fondness for thrifting, love for comfortable pieces, and subculture, grunge is now more popular than ever.
The whole point of grunge is to look cool without trying too hard or even not trying at all and achieving this timeless look is simple.
GRUNGE BASICS
Flannels are essential to grunge and tossing an oversized flannel or tying it around your waist is the easiest way to achieve this look. Finding second-hand rundown flannels through thrift shops is as grunge as it gets.
Distressed, baggy jeans are laidback, easy, and vital for grunge. A nice pair of worn-in jeans are so easy to find and affordable.
Combat boots are a key element of the grunge aesthetic and incorporating them with your baggy jeans, a slip dress or a skirt will have you looking effortlessly cool.
A pair of beat-up Converse sneakers can also do the job of making you look like you could care less about how you look and yet look so cool doing so.
Layering is the perfect way to nail the grunge aesthetic; mastering it will make you look foolproof. Pieces you can layer with are oversized zip-up hoodies, flannels, a graphic tee over a long-sleeved top; distressed denim jackets, scarves, and coats.
Layering gives you the chance to mix and match, creating calm, distinctive, individualised looks that are typical grunge.
Grunge is more than wearing black or grey and sweaters are a great way to integrate some colour. Just find a fuzzy, oversized, grandpa sweater or whatever your preference is for a personalised grunge look.
Washed-out T-shirts are casual, low-effort, and mundane, making them perfect grunge pieces. You can give your look some edge by wearing graphic or band tees.
Accessories like beanies, sunglasses, tights, chains, chockers, rings, or belts let you experiment and customise the look to your personal preferences.
Related Topics