Home
/
Fashion and Beauty
Tips on how to grow back your receding hairline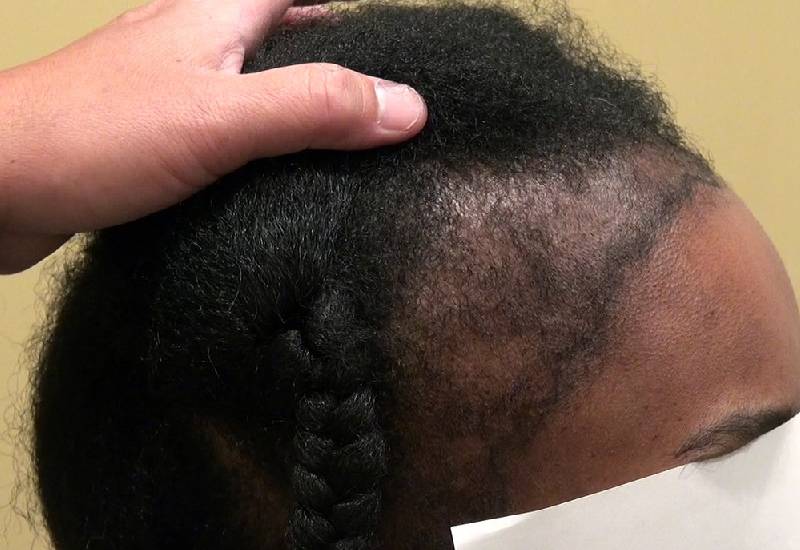 As you grow older, your hairlines tend to grow weaker and you need to give it more attention to keep it safe from breakage.
Your hairline is likely to thin from aggressive braiding and hairstyles, little or no hair care and sometimes poor nutrition.
As mentioned earlier, the older you get the more difficult it is for your hairline to also grow back once damaged.
Here are some tips that can help you protect, grow back your thinning hairline and maintain healthy hair:
Know what you are dealing with
Every woman knows and understands how important it is to treat their hairline with care and when your hairline thins, you should understand what you are dealing with first.
Identify what is causing the thinning, how serious it is and how much attention should you give the problem.
This way you can know exactly what to avoid and what to go for to speed the healing process.
Improve your diet
In order for your hair to stay healthy and grow back again you should work on your diet and eat foods rich in zinc.
Your follicles will need pampering and zinc helps in repairing damaged tissues and accelerating tissue growth.
Some of these foods include eggs, legumes, cashews, lamb or you can simply take zinc supplements.
Reconsider protective hairstyles
Once you are on the route to recovery, avoid any form of friction that is likely to weaken your hairline further.
Some of the things you need to avoid include brushing your hair too hard, going for big and tight braids and sometimes tight buns.
Instead, let your hairline rest, simply plait your natural hair into simple lines to avoid unnecessary tugging or pulling.
Work on your hair care routine
Most ladies leave all the heavy lifting for their hairdressers during appointments forgetting that all through the week their hair will still need to be oiled and moisturized.
One of the many reasons why your hair is likely to break is because it lacks moisture and this can be remedied by simply applying moisturizers and oil to your hair at least twice a week.
Get a wig
Last but not least, maybe this might be the time to rock that wig you have been ignoring for months.
Wigs are easy to manage and will help in the healing process since you won't have to braid your hair or continue tugging your hairline.
Besides a wig will also give you a new and different look for months as you grow back your hair.
Bonus tip: Sometimes shaving your hair and starting over is the best solution especially when the damage is serious and likely to take months to repair.
Related Topics