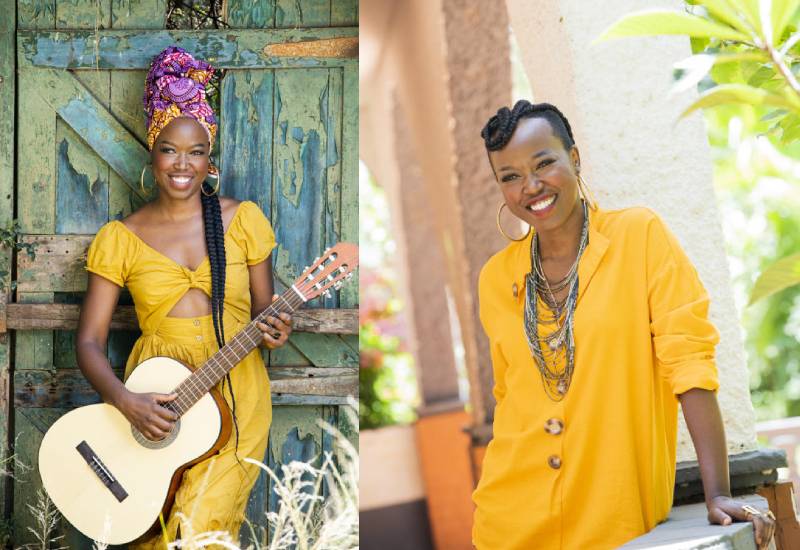 Anchored on a long stool, Nina Ogot defies the anxiety you would expect with artistes recording an interview. She is composed.
It has been almost 10 years since we had such a sit-down.
For an international artiste of her stature, one who has been globetrotting staging concerts and releasing new projects, this interview is a rather heartwarming homecoming.
It is only months since she completed a successful tour in Germany and Austria, a summer Afro-European adventure that comprised eight musicians hailing from Africa and Europe.
Memorable, she says.
She has mastered the art of fusing traditional sounds from the Kenyan culture with modern instruments and international styles of music and with endearing sounds from her numerous project.
As the technician tunes the microphone, we reminisce on how it all began back in the day when acoustic music was finding its way into the local music scene, the renaissance Alliance Française Nairobi and the making of her debut album, Ninairobi. Nina, yes, Nairobi.
Nina is wearing a fitting pair of blue jeans and a long-sleeved orange top, trendy Adidas sneakers and head wrap.
It has been a journey for the Kalasha award-winning star, who also doubles as an actress. For her, it is a journey that has seen her change tunes on the way as her career grew.
The best is yet to come, she says.
"You know what? After 13 years of doing music, I finally dared to perform in Kisumu. That was like my homecoming tour after months abroad. And what a blast we had," says Nina.
That was in April this year. Her band was a quartet featuring a guest guitarist from Belgium, Raffaello Visconti on the lead guitar and Nairobi's well-known drummer, Biron Orore and bassist, Michael Munene.
It was the first time she serenaded her hometown with one of her latest songs, Dala, a Dholuo word meaning home.
"My recent tour in Germany saw me tour 20 different venues. Out there, every show is different. Usually, my band is mixed with 50 per cent Kenyan acts, which is important in keeping that Kenyan identity in my music. I have a French girl on the saxophone, a Belgian playing riff and a full horn German. I have been an ambassador for the Treasurers of Kenya group that also helped put this together," says Nina.
Nina confesses that her new album, Dala, which comes after her previous projects Ninairobi and Yote Yote, oozes an international flair.
Ninairobi, Nina's first album was inspired by her desire to put content out there. It was her take off project that was mainly inspired by her trying to express herself as a musician and discovering herself also as an artiste.
She says that good history allows one to look back and see where they have come from and what they can do better.
"Each album has been different. The first one was a simple album with me and David Otieno in his studio. My second album was Winyo and myself, and we found an excellent producer locally who also produced the album locally. This album was the next step and I wanted it to be more global and that informed the decision to have it done internationally. Dala is an acoustic album and has a good blend of culture," says Nina.
"I lived abroad for four years. During that time, I interacted with different cultures and kinds of people. One thing I realised is that even though you are having a good time, or say, even when you are not having a good time, you always have that feeling that you miss home. The first track to this new album, Dala, carries the message that you want your home wherever you go. It is in the resounds in the music and attitude as well as every other component therein. When you are an artiste you are a person also. So the art you reflect on is just about you. How you express yourself, as you grow continues to grow and mature also."
To many, Nina needs no introduction. She is a singer, songwriter and guitarist born and bred in Kenya's capital city of Nairobi. She is a powerful melodious vocalist, a trendsetter who has broken the ceiling to take African acoustic music to the world. She is a star.
However, aside from music Nina has had a lifestyle so unique, probably intriguing, and probably admirable.
An award-winning actress, Nina still adores the big screen. And that is a story for another day. She is a French teacher who has taught in international institutions. With a good command of the Queen's language, she has been able to open doors for herself on many fronts as an English lecturer.
She has also hosted radio and TV programmes, one of them a wedding show on one of the leading Kenyan TV stations for years - The Wedding Show.
Yet the vibrant host of a wedding show is one who detests weddings with a passion.
With her private life well-guarded, Nina's marriage has remained one of the most kept secrets in celebrity circles.
After years in a relationship, one day, together with her singer boyfriend, Winyo, they walked into the Attorney General's office and signed marriage papers. That is how she tied the knot.
That is how she always wanted it to be; a quiet, private and personal affair.
She is indifferent about the whole fuss surrounding weddings.
She wades into the subject with gusto, breaking down the facts about lavish weddings in a manner that can deflate many people's egos.
I tell her it is ironic that she got married at the AG's chambers after hosting people's weddings, with no invites and no friends present.
"Yes, AG's chambers, why not? This is my opinion, and it does not reflect the world's views. When I was little, I never saw myself having a grand wedding. I think the way we did it was true to us because we never wanted to do anything huge or fascinating. There are certain things like health, or relationships that are a bit personal. They are kind of better kept silent. At the good old AG, you are the two of you, you understand what you want, just the two of you, and your parents. I think weddings are overrated," says Nina.
"I ask, why are we wearing this white dress. Culturally, what does this mean or reflect? Is there no other way to do it? People spend fortunes on this and after a year or two, you are either divorced or you are struggling to pay bills. Sorry to burst people's bubbles."
The mother of an eight-year-old girl says intermarriages have demystified traditional wedding norms and things cannot be the same again.
"I have foreigners marrying Kenyans. They do not necessarily understand why a cow holds such significance in a marriage, or why they are paying money? There are so many things and it is not just about the white dress. If I ask you for 20 cows where will I keep them? We live in apartments these days, where will you keep those cows?" poses Nina.
Nina is determined to keep her privacy and draw a boundary between her public singing career and being a wife and mother.
Eight years since she and Winyo officially got married, she has been careful to keep that part of her life hidden.
Her second instalment, Salama, a number she has done with Winyo stands out. It is a moving love ballad of two lovers labouring for each other's romance, a distance relationship that keeps them yearning for each other.
It is such a hopeless love Cupid state. And in deep contrast, in her new album, Yu Wapi shades a pale image of this couple that had a grand traditional wedding.
Now, everyone is probing where the bride went after all the pomp. Rafiki, another sentimental masterpiece in this new project says more. Music and matters of the heart remain intertwined in this adorable icon's life. She always plays her cards close to her chest.
"My journey has had its ups and downs and I do not think that is unique to me. I think every artiste out there should expect it to be an up and down journey if you have done it for the long-term. But I find it productive. I feel I have stood my ground and carried myself the best I can.
"Anything I experience today; the good things have come maybe from the hard stuff. The hard stuff is staying true to your path. It might be a long journey, but I feel I have stayed true to my course," she says.
"You need a really strong spiritual centre. That is what guides your decision and what gives you purpose. If you do not have a purpose you will certainly throw it into the trash. It is that faith and the belief that you want to make a difference that keeps you going. My love and passion for art keep me going."
What a résumé. Dala. We are home.
Related Topics