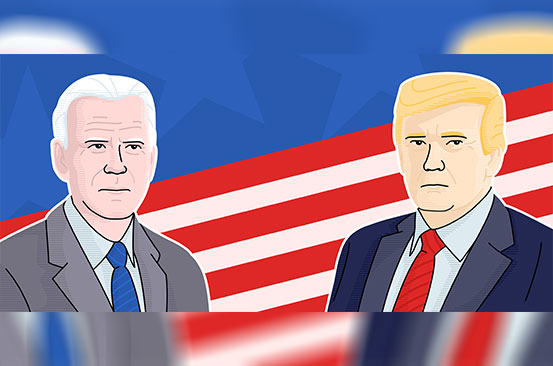 Wednesday morning found me and Chelsea, my 9-year-old daughter, standing in the drizzle outside our apartment block and waiting for the yellow shuttle van to ferry her off to school.
She had been up since 4am to keep me company as we watched the early results of the Trump versus Biden show.
I am reviving a US election night tradition I had with my late kid brother since the year 2000, where we'd wake up at 3am to watch American elections; and I still have the photo with him from Nov, 2012, standing beside the TV as Obama gives his victory speech.
Our fourth election vigil in 12 years.
In that photograph, Benjy has a wry smile on his face. He also has just 9 months and 4 days, left to live!
It's Thursday morning as I write this – and the results of the American election are yet to be known. To you reading this days later, I hope Biden took both Arizona and Nevada to become president.
Georgia would be a huge bonus, while Pennsylvania, with its 20 electoral votes, would be a gift from the gods.
READ MORE
Allow me to elaborate why I think Joe Biden will make a far better president than Donald Trump.
First of all, Joe Biden was raised in a working class family in Delaware, which makes me think he will understand the working class families and their concerns far better than Mr Trump.
Trump's dad was a real-estate titan in New York, and young Donald learned to eat with silver forks. Not that I have anything against cutlery; in fact, quite the contrary.
But I believe Joe when he said he cares for the little guy from Scranton. We need to take care of jua kali.
Secondly, just before he turned 30 in 1971, Biden became the youngest member of the US Senate, which tells us everything about the scale of not just his ambition, but his daring imagination.
Just think back to what you were up to at 29.
In that same year, in 1971, as Joe got into the Senate, Trump was busy getting into nightclubs.
Here he is, in his own words (Art of the Deal):
'One of the first things I did was join Le Club, at the time the hottest club in the city. Its membership included some of the most successful men in New York, and most beautiful women in the world. It was the sort of place where you were likely to see a wealthy 75-year-old guy walk in with three blonde broads from Sweden.'
Thirdly, Joe Biden knows what tragedy is – which is why everyone talks about his own compassion.
Even before he had been sworn into the Senate, Joe lost his young wife and daughter in a Christmas car crash – and then spent weeks thereafter working mornings, and staying at the hospital to be with his little boys, Hunter and the brilliant Beau Biden (who died of brain cancer in 2016, at only 46).
Trump has also lost two wives!
He divorced Ivana Trump during his mid-40s crisis to marry a Miss Miami called Marla, who was like 19. Then divorced her a few years later to hook up with his Slovakian/Slovenian trophy wife, Melania.
It is also better, I think, to have a president who has devoted almost half a century of his/her life to public service; as opposed to a selfish man who has dedicated all his life to self-aggrandisement.
As Trump was doing the last years of the popular TV show 'The Apprentice' where he fired people as the climax of every show, Biden was doing the first years as the presidential apprentice to Barack Obama, and due to his long experience, was in charge of many of the hiring decisions in the White House.