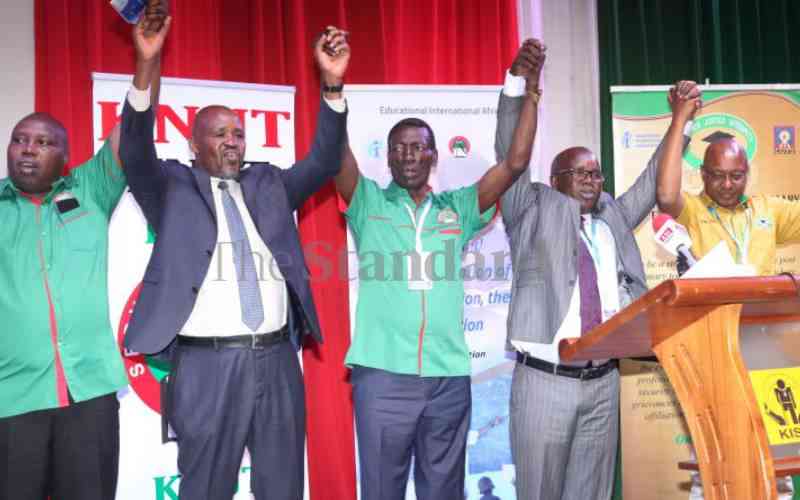 Education stakeholders say that inconsistency in policies, underfunding and teacher shortage are hampering delivery of quality education.
Kenya National Union of Teachers Secretary General Collins Oyuu said these factors were responsible for the clamour for privatisation in the sector.
"Underfunding, inadequate public school infrastructure, teacher shortages, stagnant capitation and the current unfortunate debate to privatise university education are among the major issues the sector is grappling with," Oyuu said.
Oyuu said these factors have contributed to the clamour for privatisation and commercialisation.
He was speaking during the release of a report titled, Rapid Assessment Results on Privatisation and Commercialisation of Education in Kenya.
Knut and Education International launched the research findings at Kenya Institute of Special Education (Kise).
The report revealed that four per cent of schools in middle and low-income urban settlements consist of public schools while the remaining portion is taken by private or Alternative Providers for Basic Education and Training (APBET) schools.
"These are areas which are densely populated but with an acute shortage of school infrastructure which is a recipe for privatisation and commercialization of Education,'' Oyuu said.
Kenya Union of Post Primary Education Teachers Deputy Secretary General Moses Nthurima said it is time the government addressed the matter urgently.
"We are asking the government to go through the report and do what they are not doing. We are losing education to the private sector where the majority of poor Kenyans are not going to access it," Nthurima said.
Kenya Union of Domestic, Hotels, Educational Institutions, Hospitals and Allied Workers (Kudheiha) Secretary General Albert Njeru said, urged unions to stick together and oppose the move to privatize education in the country.
"If we are not going to stand united on this matter, If we don't begin now, the issue of commercialisation is going to backfire on us... the individuals who have been entrusted with education. The issue will come back to haunt us,'' Njeru said.
The stakeholders noted that most of the land which had been set aside by the government was either grabbed or converted to different uses.
The report attributed this 100 per cent transition policy which led to overstretching of resources. This is said to have made parents look for alternative modes of giving quality education to their children which give room to private schools to mushroom.
The study was conducted in six counties including Nairobi, Kakamega, Mombasa, Nakuru, Uasin Gishu and Kisumu.
The report also points a finger on the decision to domicile Junior Secondary in primary schools that disadvantaged public schools.
It indicates that the inability of public schools to offer competitive facilities to education has given private schools an edge making parents opt for them.
Other factors include scattered public schools which makes it impossible for many students to access public schools. This has forced parents to look for alternative modes of education, ending them in private schools.
In addition the union cited stagnant capitation to learners in both basic and higher learning institutions as a setback to accessing education in the country.
This they say has forced school administrators to commercialize education by requesting parents to chip in to bridge the deficit.
''We are therefore calling upon the government to revise and increase government capitation to public schools which has never been reviewed for a long time in a country where inflation is at its highest,'' Oyuu said.
He said, the unregulated supervision through poor quality assurance has also made it possible for the upsurge of private institutions at the expense of public schools.
Poor working conditions which is brought about by overcrowding in schools, low teacher student ratio that has been perceived to affect quality of service provision.
This has forced parents to divert to private schools for quality and conducive environment for their children.
The report says, unless the government revamp public schools to make them more attractive to parents, learners and workers, the trend will continue.
Kenya Institute of Curriculum Development CEO Charles Ong'ondo supported the findings but challenged the unions to engage more and find solutions to the challenges.
''This is a bold step for re-engineering yourselves so that you can move from the realm of being associated with fighting for more food but not for professionalisation of teaching and learning,'' Prof Ong'ondo said.
Related Topics