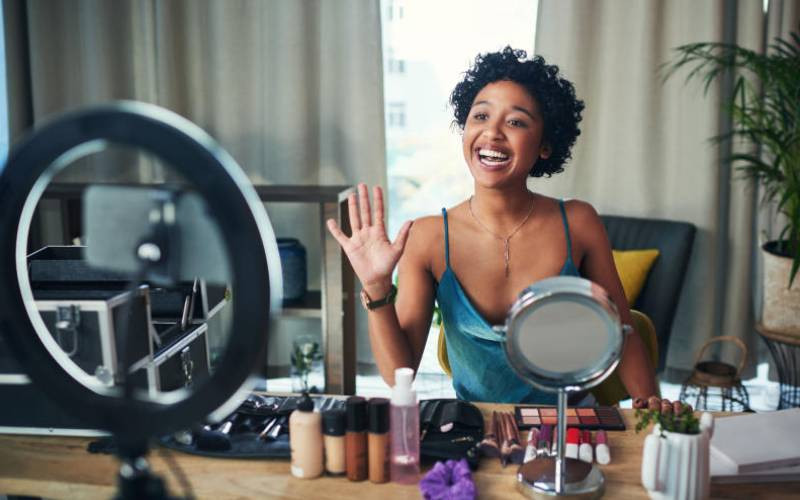 Content creators will pay a five per cent withholding tax on their revenue as outlined in the Finance Bill 2023, an amendment to the Treasury's earlier proposal of 15 per cent.
The government is keen to get a piece of the cash Kenyans are making online, as increased internet uptake spurs business opportunities.
Although online creatives might not necessarily view themselves as 'business' people, the substantial income that they make has put them on the taxman's radar. So how do content creators make money?
It is important to note that different social media platforms have their own ways of monetising content.
TikTok, Facebook and Instagram do not directly pay content creators for their content; at least, not in Kenya. On TikTok, for instance, the users make money through different revenue streams. These include sponsorships, fundraising drives, product sales and accepting tips directly. They can also make money through direct brand endorsements.
TikTok is projected to reach 2 billion users by 2024 and has attracted a massive number of Gen Z users and entrepreneurs, who use it for its marketing potential.
Content creators also profit from YouTube streams, Skiza Tunes, Performing in shows, and events.
Comedian and content creator Mulamwa told The Standard that the avenues for creating revenue for content creators are endless, however, limited to the above-mentioned streams.
For YouTube streams, content creators are paid based on the advertisements that appear on their content, basically, brands pay YouTube to place their adverts on different content on YouTube.
"Depending on where the ad was watched the most, YouTube then pays the content creator," said Mulamwa, adding that "the more views on the content, the more money paid to the content creator."
This however does not mean you are paid an equivalent of the views on your video, but, the number of viewers who watched the ad on your video.
According to comedian Mulamwa, content creators make roughly Sh60,000 for every million views. This, too, is subject to the number of ads watched fully and those skipped.
"TikTok does not pay, all the other platforms except YouTube, do not pay. The rest only pay through endorsements," Mulamwa explained, noting that to get endorsements, content creators need following and likes on their videos.
He said brands look for content creators with a huge following to spread messages.
Other ways content creators make money is through donations.
In the proposed finance Bill, content creators were slapped with a 15 per cent withholding tax, which was reduced to 5 per cent after the first reading. Content creators have however maintained their stance that the proposed Bill is outrageous and ambiguous.
"The tax should be well defined, the avenues are so many, and so they should define to us, what exactly they are taxing. It is too wide, also, where are the taxes going and how will it help artists and content creators?" Mulamwa expressed his concerns.
The initial proposed 15 per cent tax is a retention tax, whereby, the payer of certain incomes is responsible for deducting tax at source from payments made and remitting the deducted tax to Kenya Revenue Authority.
If content created by content creators becomes Subject to Withholding Tax, content creators will then be required to pay the tax, however, content creators do not necessarily make money from content created but, from brand endorsements which are already subject to a 5 per cent withholding tax.
Therefore, if approved, the only revenue stream content creators can be taxed from is YouTube.
Early this year, TikTok launched TikTok Creativity Programme which will allow users with substantial following to make money.
This programme replaces the Creator Fund which allowed users from the US, UK, Germany, Italy, France and Spain to earn money based on how well their videos perform.
Other requirements for users in the said countries to earn are such as being 18 years and above, having at least 10,000 authentic followers, at least 100,000 authentic views, be compliant with TikTok's terms and community guidelines.
Related Topics