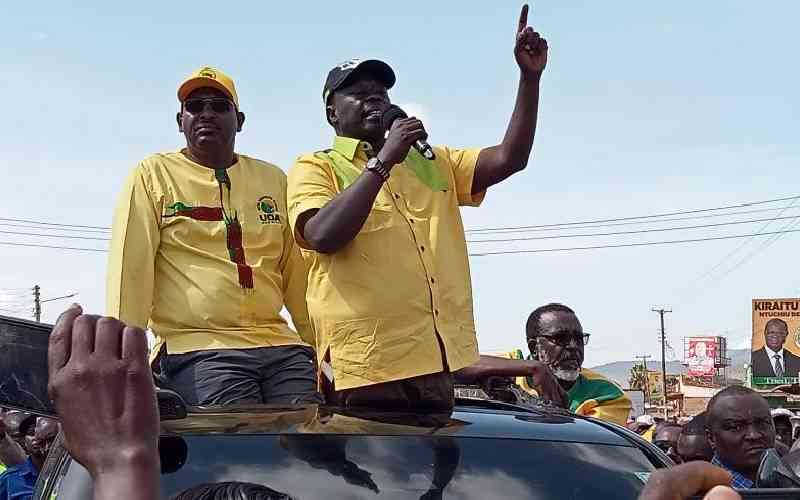 UDA presidential running mate Rigathi Gachagua says the Kenya Kwanza government will end what he calls the 'State capture' of the economy.
He says the reduction of prices of essential commodities will be a priority should the alliance form the next government.
In an interview with The Standard, Gachagua said prices of food and fuel were radically rising towards the end of President Uhuru Kenyatta's term because those holding critical positions in government were profiteering from them.
The Mathira MP, who is Deputy President William Ruto's running mate, was optimistic that eliminating conflict of interest by those in decision-making positions will see prices of commodities immediately fall.
"Most of the prices of common goods are as a result of State capture which has seen the skyrocketing cost of petroleum, gas, milk and other food items, the reason is clear. Those in power are making a killing," claimed Mr Gachagua.
The MP, who is a harsh critic of the Jubilee government, once served as President Kenyatta's Personal Assistant and ran his diary for five years after working with the former Head of Public Service Philip Mbithi.
The Mathira MP said he had never anticipated or envisioned that he could rise to be a running mate for in a presidential race.
"It is only God who knows why he elevated me this far, I had never had the vision to be this far. I am grateful to the Almighty and take it in strides that I am where I am now," said Gachagua.
He claimed that the President lost track of leadership after the Handshake with ODM leader Raila Odinga in 2018. He also accuses Uhuru of betraying Dr Ruto and his Jubilee brigade.
Gachagua described Kenya Kwanza as people-centered, saying their policies will be geared towards boosting the economic well-being of the public through agriculture and small businesses.
He claimed that State capture was entrenched after the handshake, and assured Kenyans that in two to three months, most goods would be affordable if Kenya Kwanza takes over power.
Gachagua further said they will re-look the taxation regime that has been blamed for stifling economic growth. He claimed that tax has been used to criminalise Kenyans.
"In 10 years, former President Mwai Kibaki grew revenue from Sh200 billion to Sh1 trillion. In that period, investments thrived and people had money in their pockets. Uhuru with all the good foundation from Kibaki has only managed to increase revenue to Sh1.6 trillion in his two terms," said Gachagua.
The UDA presidential running mate accused the President of allegedly using Kenya Revenue Authority (KRA) to hurt businesses, citing the closure of businessman Humprey Kariuki's Africa Spirits' liquor plant in Thika and Keroche Breweries.
"How do you raise taxes by killing the goose that lays the golden egg? Today, we have 5,000 jobless people after the close of the two businesses and KRA is not getting even a single shilling from the firms as well as the pay as your earn. Who loses in this case?" Posed the Mathira MP.
"Some of the businessmen KRA is frustrating, including by using GSU officers are supposed to be welcomed to their offices with a red carpet. If they were paying Sh50 million in tax when you close the business where does KRA get the Sh600 million that they would collect?" he posed.
Gachagua assured that a Kenya Kwanza government would value entrepreneurs and ensure a conducive environment for business to thrive and create more jobs.
To boost revenue, the MP said they will fully digitise tax collection but more importantly, build patriotism to get citizens to voluntarily pay what is due to the State to enhance service delivery.
As Dr Ruto prepares to unveil his manifesto on June 30, Gachagua said they will fully implement President Kenyatta's Big Four agenda. Pillars of the Big Four agenda were manufacturing and job creation, food security, affordable housing, and universal health care.
The UDA presidential running mate added that they will improve access to clean drinking water and ensure affordable credits to save Kenyans from the bondage of shylocks.
Gachagua promised that Kenya Kwanza government will ensure farmers enjoy guaranteed minimum returns on their produce, where whether one grows tea, coffee, cashew nuts, rice or maize, they would get between 20 and 35 per cent profit. He further said they plan make farming profitable through subsidies and expansion of markets.
"We will go into performance contracting with the envoys we will employ so that each has a role in securing new markets for our products. In countries like China, we could consider more than one ambassador because the Chinese market is huge," said Gachagua.
According to him, one one of the things they will do once they take over government is to re-look the budget and make it realistic and pragmatic.
By the time the next president comes in, the public debt will be at Sh8.6 trillion according to the Treasury projection. This leaves the new administration with a window of Sh1.4 trillion in the next five-year term unless they increase the debt ceiling past the Sh10 trillion that the Senate approved last week.
Yesterday, Gachagua assured that Kenya Kwanza will end the borrowing spree. He exuded confidence that he has what it takes to help Ruto run government if they take over power.
"I have 15 years' experience in public service where I rose from District Officer to PA to the Head of Public Service, another 15 years in private practice as a businessman and five in legislation as Mathira MP. This is 35 years' experience that I bring in," said Gachagua.
He promised to champion public sector reforms, including issues of career progression and promotions and well-being of workers.
The picking of Gachagua as Ruto's second in command caused jitters in UDA which has been lingering on in Mount Kenya region where the DP hopes to reap votes to propel him to power.
The Mathira MP acknowledged that there was 'a bit' of political discomfort after he was named UDA presidential running mate but all is well now.
"Obviously you would expect a bit of political jostling. But that is behind us now. We are now united and focused on the prize of forming the next pro-people government," said Mathira MP.
Related Topics