6 ways to get rid of fruit flies in your house
Your Home By
Esther Muchene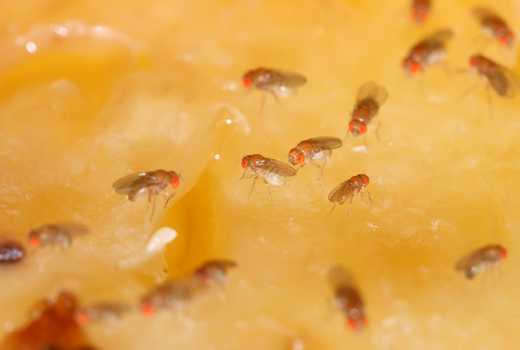 ALSO READ: Has my child been suffering from maggot infestation for six years?
There has been a strange infestation of fruit flies recently due to the high heat and there is no better word to describe them other than annoying. These little gnats become a nuisance flying across your face and feasting on your ripe fruits.
Fruit flies are tiny quick-reproducing flies that sneak into your house through minuscule window cracks. They tend to multiply so fast because they can grow from egg to adult in just over a week. And before you know it they have raided your kitchen feeding off any fermenting fruit and vegetable they can find.
To prevent them from ever infesting your home, ensure the kitchen counter is always clean with no drips or spills, empty the trash regularly and store fruits and vegetables away. In short, don't give them anything to eat.
However, once they have already infested your kitchen there are simple ways to banish them from your home altogether using natural remedies straight out of your kitchen.
Set up a fruit fly trap. Place juice, beer or wine in a jar and cover. Ensure the lid has small holes enough for them to enter but not to leave. Watch them get in one by one.
Take a bottle of apple cider vinegar when it is nearly empty and place a plastic paper over the top and fasten with a rubber band. Make tiny holes on the paper and since they can't resist the scent of vinegar, they will go in.
Use a combination of vinegar and dish soap. Pour the two in a bowl and let it sit. The soap cuts the surface tension of the apple cider vinegar so that they can't fly away and drown.
Another ingenious way is to put some vinegar and an over ripe fruit inside a jar. Fold a paper into a cone shape and place the narrow side facing down. The flies will be drawn in but can't fly out.
Gnats love the smell of wine. Place an almost empty bottle of red wine and leave it out. The flies will fly in but will be unable to fly out due to the skinny neck.
To kill them instantly by drowning, put a pint of milk, 4 ounces of raw sugar and 2 ounces of pepper in a sauce pan and simmer for 10 minutes. Pour in a shallow dish and watch the gnats drown.
Pour a bleach solution into your bathroom sinks. This will kill the eggs especially if they are breeding inside the drainage.