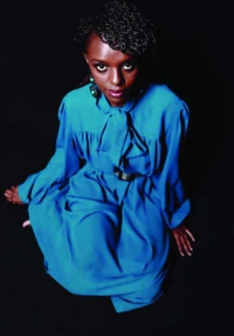 ALSO READ: Grimes unveils what baby name X Æ A-12 means after welcoming son with Tesla CEO Elon Musk
Njambi Koikai, who is popularly known as Faya Mama is recovering from a surgery she underwent in the States.
The lively presenter revealed on social media that she underwent a successful surgery due to Endometriosis.
For those who don't know, endometriosis is when the tissue that makes up the uterine lining (the lining of the womb) is present on other organs inside your body. Women with endometriosis often have lower abdominal pain, pain with periods, or pain with sexual intercourse, and may have a hard time getting pregnant.
Njambi's condition has affected her lungs and she has had to undergo surgery. On her social media page, Njambi told her fans that a tube has been removed from her right lung. Here's the message:
"Greetings fam. The tube has been removed from my right lung. I can't begin to tell you how grateful I am to God, my family and to all of you. So we finally found a doctor in the States that can remove the Endometriosis in my lungs which is referred to as Thoracic Endometriosis. I can't have another chest tube inserted because we have not been treating the root cause because we don't have gynaecologists trained to excise endometriosis in Kenya. I don't have medical insurance as you're all aware and my family have been meeting my hospital bills by the grace of God. I'm going home to chill but also embark on this journey to total healing that will see all the Endometriosis removed in my body. It's that time again I will need your help as I fundraise. The remaining surgeries are quite expensive and delicate. Once we have everything ready and the paybill set up I will need your help.
I'm happy I've got some relief. Thanks for your prayers and support." Njambi wrote.
The presenter also wrote a letter to herself to encourage her and other women who may be going through the same situation:
ALSO READ: Victoria Beckham's plastic surgery 'exposé' after claims she's 'never been tempted'
"Dear Jahmby;
You were a miracle child. To the woman who's life fitted Lauryn Hill's song Zion, she bore you as her gift. Later picked up and carried home by your late maternal grandmother, who you're named after. You were the miracle child. Uncles lifted you up in joy and prophesied of your greatness. You were raised in the midst of so many challenges in the toughest ghettoes but that sharpened your mind. Little Jahmby you were a genius from birth. Mama took you to nursery school on day one and Teacher Mary wondered if you'd make it because you only spoke your mother tongue. One semester later, you spoke all languages they taught you at school. You picked up every book and the teachers called mama and said, "Little Jahmby is too bright for pre-unit and class one. Straight to class 2".
Little Jahmby you amazed the teachers with your ingenuity, character and voice. But one other trait you had as a child: FIGHTER AND REBEL.
Mama always punished me for thinking and doing otherwise. To this day she reminds me of my fighting spirit. She reminds me that I'm here to REBEL against a condition that's ravaging my body. Mama reminds me that I've fought to protect my sister, my family and those that I love. More so I've fought to rebel and stand by what I believe in.
This day being the International day of the Girl Child, I celebrate all the women fighting and rebelling against a society that's putting us down because of our pain and a biological function that's menstruation yet they use these bodies for their pleasure.
Little Jahmby is winning this war and fighting hard."
ALSO READ: Vanessa Bryant wishes daughter Gianna happy 14th on her first birthday since crash
For More of This Stories Subscribe to the Standard Epaper to get a copy of Eve Woman in the Standard
Do not miss out on the latest news. Join the Eve Digital Telegram channel HERE.