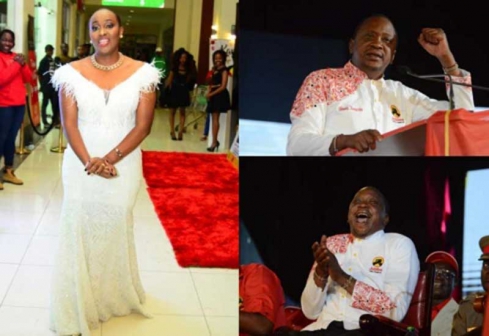 The President has a flashy youthful fashion that makes him look youthful and easy to approach
The Presidents designer, Carol Pulei, did a trial and error gamble when making the President a shirt as she had never met him and went by her visual judgment from images from him she saw on TV
Carol's big day came in January when Sonko opted to help her take the shirts to the President
From his now trademark college jacket and trendy cap to his flashy campaign shirts, President Uhuru Kenyatta has a youthful look that many Pulsers have tried to emulate. It also makes Uhuru look quite youthful and easy to approach.
One of the people behind this new phenomenon is Carol Pulei of Naneuleshan designs. In October 2016, she did a trial and error gamble of making Uhuru Kenyatta a shirt. Having never met him, she was to go by her visual judgement from the TV to get his measurements.
"I did not know the measurement of the president, but with what I saw on TV, he could be XL. He also looked taller and should, therefore, be a drop eight as average men are drop six. With this, I called my tailor and we got to work," she tells Pulse. The 37-year-old, who has been in business for the past 10 years, had no ties to any political party but her shop location enabled her to enjoy the luxury of well paying customers like politicians.
"I started my apparel shop over 10 years ago, and it is not devoted to any political party but I had a lot of politicians as clients that is how I started making polo shirts and t-shirts for them. They loved my work and I toyed with the possibility of dressing the president himself. "I intended to have a white shirt, with an Ankara print on the sleeve. This is a piece I collected during my travels to Istanbul, which was actually used to skirt a table. It inspired me for a shirt and since it was not common, it felt right," says a confident Carol. Having bought the fabric in Dubai, Carol was set her biggest gamble yet. She did the shirt that according to her, looked smaller. With all her cards on the table, she designed another one in the hope that it was the right size this time around.
In December, she started hounding the people she knew are connected to the president like Big Ted and Dennis Itumbi on social media. They liked the clothes but were unresponsive to her request.
Her sunny day came in January when Sonko decided to help her by offering to take the shirt to the president. Seeing that she had made two samples, she offered the smaller size to the vice president Willian Ruto. That is how she finally got dressing the president and started designing for him.
READ MORE
"So yes, I design for Uhuru," she concludes.