The Mirror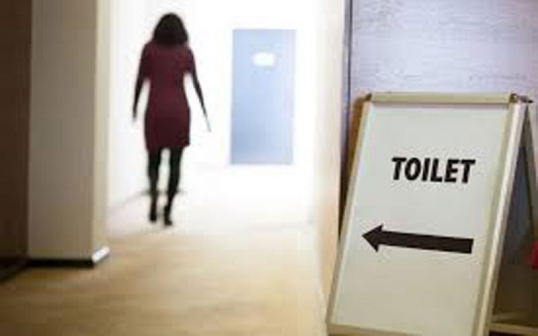 Feeling the urge to take a pee quite often?
Here's why it might be happening, and what to do about it.
You have an overactive bladder
Although it varies from person to person, the bladder can hold 300-400ml before it begins to feel full and sends signals to the brain that you need to go.
But if you have an overactive bladder, the muscles contract or squeeze before it's filled, meaning you get the need to go urgently.
It's not fully understood why this happens, but training the bladder to go longer between toilet visits can help, says Dr Marilyn Glenville .
Passing urine more frequently is a common symptom of type 2 diabetes.
"Begin by allowing one trip to the toilet every hour for a week and then the following week extend the time by half-an-hour. Continue until you can hold your urine for three hours.
"This teaches your bladder to hold more urine and become less ­sensitive when full. Don't be tempted to drink less, restricting your fluid intake will not stop the problem.
"In fact, it can make things worse by producing highly concentrated urine that can irritate the bladder."
You have undiagnosed type 2 diabetes
A common ­symptom of diabetes is excessive thirst and passing urine more frequently.
"At least three-quarters of people with type 2 diabetes will experience bladder problems to some degree," says Professor Merlin Thomas.
Some develop the symptoms of an overactive bladder while others might have an underactive bladder. "This means it's less able to contract and it can lead to incomplete emptying," says Professor Thomas.
"And if you can't empty your bladder fully, it takes less time to be completely full again. This means you have to go to the toilet again and again, through the day and night."
Symptoms of an underactive bladder include difficulty in starting to urinate or passing only a ­dribbling stream of urine that falls off quickly. While staying hydrated is important, you can drink more water than you need.
You're drinking too much
We all know that water is good for our bodies but if you're constantly dashing to the toilet, you may be overdoing it. The European Food Safety Authority recommends that men consume 2.5 litres of water and women 2 litres of water a day – but you don't need to obsess about drinking all of it.
EFSA says that 20-30% of this water intake should come from food – so fruits and veg also contribute. You'll know you're adequately hydrated if your wee is a pale straw colour (rather than a darker yellow or brown which indicates you need more liquids).
You have an infection
A urinary tract infection (UTI) occurs when harmful bacteria enter the urethra, bladder or kidneys.
Symptoms can include the need to wee frequently and a burning, painful sensation when you go. Your urine may also be cloudy or smell bad. See your GP for antibiotics to clear the infection.
You eat too much salt
Niggled by numerous night-time trips to the toilet? Researchers have discovered that lowering your salt intake can also lower your need to use the loo.
If you eat too much salt, your body produces more urine to get rid of it. The NHS recommends adults eat no more than 6g of salt a day.
Your body produces more urine as a mechanism to get rid of excess salt.
You have stress incontinence
If you leak when you cough, sneeze, laugh, jump or lift something heavy, you probably have stress incontinence. "These everyday ­activities can put pressure on the bladder and, if your pelvic floor muscles are unable to tighten enough, can cause accidental leaks," says Dr Ruth Maher.
Pelvic floor exercises can help. You can locate your pelvic floor muscles if you imagine trying to stop the flow of urine when you go to the toilet.
Sit and squeeze the muscles 10 times while breathing normally. Don't tighten your stomach, buttocks or thighs. "Men should feel the base of the penis draw in and the scrotum lift up," says Dr Maher.
Get into position...
"A UK study showed that when women hovered over the toilet seat – rather than sat on it – they retained 149% more urine," says Dr Maher. "This is because you need to relax your pelvic muscles to empty your bladder effectively, and hovering over a seat stops full relaxation."
The best position for bladder emptying? Sitting on the toilet, leaning forward, with elbows on your knees and feet flat on the floor.
You have an enlarged prostate
Men's prostate glands often grow with age. An enlarged prostate can put pressure on the bladder, resulting in the urge to wee more often.
If symptoms are severe, you can get medication to reduce the size of the prostate.
Too much tea or coffee
Caffeine in tea and coffee is a diuretic, which means it triggers increased urination. Try switching to decaffeinated varieties if you're going to the toilet excessively.