Tony Mochama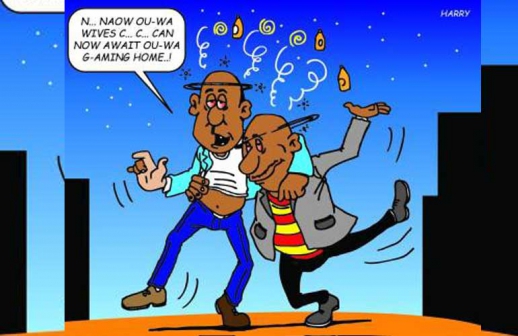 One Saturday a while back, I celebrated a hundred days of non-weekday drinking.
ALSO READ: Sickle cell anaemia: When pain can be eased by drinking enough water
When you drastically cut down on the drink, I discovered this year, what happens is you dramatically add weight. I have gone from 66 to 72 kgs in little more than three months, my friend.
At this rate, if we don't join a gym, we will soon be appearing on a screen near you as a participant in one of those 'slim' shows where fat folks try to lose weight in all sorts of ways.
In near two decades of drink, though, 'Men Only' learnt a thing or two about drinkers in this town.
The 6 to 8 pm drinker
These are the chaps who have made it a habit to have 'one or two' after work, often with their colleagues. They need to wind down and rewind the day with their mates, often workmates, before they can go home. They are the beer heirs of the advert: 'Baada ya kazi, jiburudishe, ni wakati wa Tusker.'
The 8 to 10pm drinker
These are the people whom we call 'family avoiders' because they want to get to the house after the kids are in bed and the wife asleep. They order meat at 8pm in the pub, watch the Prime Time news in the bar and only after it ends do they, reluctantly, slouch their way home – like Jesus going to Gethsemane to be nailed up like a calendar.
ALSO READ: Pregnancy: Alcohol 'drinking' babies on the rise
The 10pm – midnight drinker.
There is only one reason to be in a bar till midnight, and it happened this week.
To watch the European Champions' League – games like Barcelona versus Atletico Madrid and Paris St Germaine versus Man City – and not because you have placed a daft bet on one of the games.
Other 'Cinderella' drinkers in pubs till midnight tend to be either hardcore men and women with no clear plan for their time, as past-times consist of playing pool and blowing money on alcohol. Until the clock strikes midnight and they go to bed and pass out like turnips in a silo.
Midnight to 2am
I live opposite a fancy local and from my balcony, I occasionally see cars weaving their way out as these 'pub closers' leave the place. Often, you will see couples quarreling or on the odd occasion, bar brawlers.
So these type of drinkers are the 'lovers' and the querulous. And whenever you pick up the paper and read about lovers who left the bar then went to fall off balconies after a fight, it is this category of drinkers.
ALSO READ: Drinking beer could improve your concentration and reduce risk of dementia, study claims
2am to 4am
This type of drinker possesses a particular dark talent – that of spotting the weird and dingy dive that so happens to open when everything else in town has closed.
This type of drinker, clearly, is struggling with the devil that is alcohol, and they are often lost souls looking to drown secret sorrow in the bottle – and that is why they drink until tomorrow.