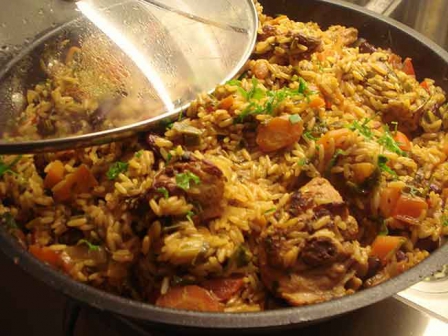 Pilau is one of the most popular dishes in Kenyan homes. A wedding without Pilau on the menu is a no no. It is a coastal dish served with Kachumbari. It can be cooked with beef, chicken, mutton, soya etc.
ALSO READ: Man's 'life-changing' carrot peeling hack proves we've all been doing it wrong
Serves 3-4
Prep Time: 10 mins
Cook Time: 36 mins
Ready In: 46 mins
Ingredients:
• 1 cup rice (500g)
• 2 large onions
ALSO READ: Seven ways to remove excess salt from food
• 1 clove crushed garlic
• 1 crushed ginger
• 20g pilau masala
• ¼ cup vegetable oil
• ½ kg cubed beef
• 1¾ cups cold water
• Salt to taste
ALSO READ: Ingredient of the week: Pumpkin
Directions:
In a cooking pot, fry onions until cooked (but not burnt – this give color to the end product), add garlic, ginger, salt, pilau masala, allow to cook for 2-3 mins, add meat and let cook until meat is cooked.
For More of This Stories Subscribe to the Standard Epaper to get a copy of Eve Woman in the Standard
Pour in the rice, stir to combine the meat with the rice, add the 1 ¾ cups water and bring to a boil over high heat with the cooking pot uncovered. Once the water level has gone down, lower the heat, cover with foil paper or brown kitchen paper and cook for a further 2-3 mins or until water has dried up. Turn of your heat, fluff the rice and set aside for about 5 mins.
Serve with Kachumbari.
Do not miss out on the latest news. Join the Eve Digital Telegram channel HERE.