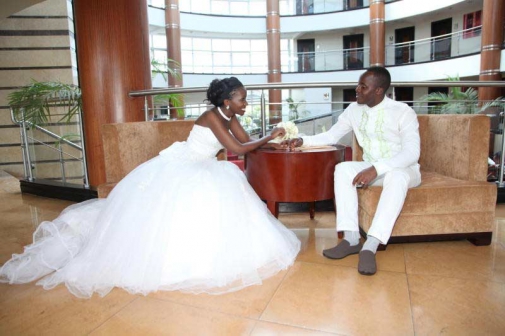 BRIDE: Damaris Ngina
GROOM: Patrick Makanda
DATE: November 28, 2015
GUESTS: 300
CEREMONY: Purpose Centre Church
RECEPTION: Moi Educational Centre
PHOTO SHOOT: The Boma Hotel
BUDGET: Sh800,000
FIRST DATE
Damaris: I met Patrick when he had visited our church, Purpose Centre.
Patrick: Prior to our first meeting, her name had come up several times - in a good way - in conversations with a friend of mine, with whom we were undertaking a project. I looked her up on social media and vowed to meet her the day I got to visit their church.
I soon forgot about that vow, even when I visited their church in February. She sat right in front of me, but left church early leaving her coat behind. I was unsure if to keep it for her for fear of being branded a thief. After all, I was a mere visitor. I decided to wait for her hoping she would return for her coat. To keep myself busy, I went in search of the visitor's tent.
I stopped the first lady I saw to ask for directions and lo and behold, there was Damaris. To confirm she was the one – since I had only seen photos of her on social media – I asked her if she knew my friend and admitted to having read and heard about her quite a bit, even congratulating her for her selfless and generous spirit.
Damaris: I showed him to the visitor's tent and later that night, I looked him up. I later messaged him on FB thanking him for recognising and appreciating my effort.
Patrick: In the process of our chats, I asked for her number, and two days later, I invited her for lunch in a hotel in the CBD. I had tagged along my best friend who I had come with from Diani.
I kept getting out of the lunch date to handle business, ending up leaving her with my best friend, who little did I know was representing me well, urging her on to give me an easy time. The lunch date went on for hours. A second date followed three days later, then I left for work back in Mombasa. Back at work, I could not keep her off my mind. As they say, the rest is history.
THE PROPOSAL
For More of This Stories Subscribe to the Standard Epaper to get a copy of Eve Woman in the Standard
Damaris: He proposed to me twice. The first time was while having childish fun at Diani beach after playing in the sand. He kept drawing and writing on the sand and then he was on bended knee, a proposal written on the sand.
The second time was during a surprise bridal shower that my friends had arranged for me while we were planning our wedding. He really had a rough time getting me to the shower venue without giving in on the secret.
Patrick: I proposed a second time, and would do it ten times over, because I wanted to assure her that I did not intend to be a no-show at my wedding as she had heard many stories of men pulling out at the last minute, and our relatives were putting undue pressure on us which had caused us to disagree unnecessarily. The second proposal which was in the midst of her friends and family was a reassurance that I am not going anywhere.
THE DRAMA
Patrick: I was going through our Facebook chat history in the course of our wedding planning, when I noticed that I had tried contacting her two years prior to our first meeting. At the time, I had admired her selflessness and had devoted to pray for such people as she.
I had asked for her prayer request, for which she gave me a list. I remember being shocked that we had connected way before our actual meeting.
There were some disagreements with some relatives who wanted to impose their ideas on us. Some felt that we were rushing into doing a wedding since we started planning three months following the proposal after dating for eight months.
Some felt that we should postpone the wedding till we had enough money. We reasoned that money will never be enough and went on with the plans knowing that it is our wedding and not theirs. It was also these disagreements that made me propose a second time.
Also, while I was against the idea of a committee, I was convinced to have one – not for myself – but for the sake of those involved to tap into my blessing and also learn something from it. So we ended up with a committee, but not the fundraising kind.
IN HINDSIGHT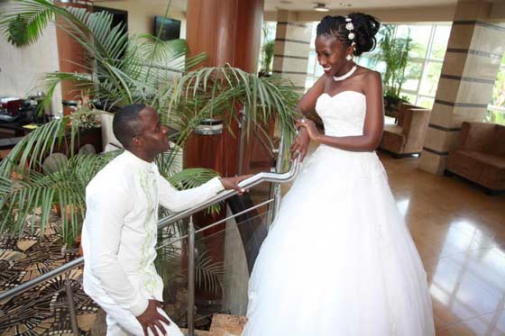 Damaris: We would have done nothing differently. Our advice to young couples planning a wedding would be to organise their finances in advance. Let friends and family make some additional support where they possibly can, not because you have given them no choice.
Patrick: When dealing with friends and family, define their space so that they do not come too close to jeopardise your plans or you do not keep them too far that they feel unwanted. Have mentors that can walk with you. Our pastors, Pastor Jane and Apostle Carace were a great source of inspiration and guidance for us during our journey. Our best couple too were instrumental in the journey. Most importantly, give Jesus the center stage. Allow Him to be the centre and watch Him spoil you with His blessings.
WORDS: Rose Kwamboka
PHOTOS: Wilberforce Okwiri
Do not miss out on the latest news. Join the Eve Digital Telegram channel HERE.