Linah Benyawa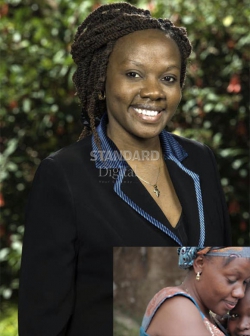 When Phyllis Omido's son tested positive for lead poisoning following direct exposures to chemicals by a smelting plant that was emitting fumes laden with lead, she decided to quit her job a senior manager at that firm despite pleas and threats by the company's directors.
ALSO READ: Zindzi Mandela: South Africa's former first lady, apartheid heroine dies at 59
On learning that her son had been affected by the lead fumes following reports from hospital that showed his blood had 27mg/dl lead, she decided to confront the directors who told her that she should have not gone with the child to work.
"After I discovered that my breast milk was making my then two-and-a-half-year-old son sick and I was also exposing him to dangerous chemicals after he tested positive for lead poisoning, I said to myself no job is worth my son's life I decided to quit and that's how I started active activism," recalls Omido.
The company paid her son's hospital bill in exchange for her silence. Omido was asked to sign a document that she will not reveal to the community that the smelter firm was emitting dangerous fumes and though she signed it, she could not keep quiet and instead started to spread the word to the community on the effects of the plant.
She explains that at some point, she was just doing to help the community most of whom are marginalized and were not that financial stable to get justice from the company that had been emitting poisonous chemicals.
Phyllis, the 2015 Goldman Foundation Environmental award recipient and the founder and Executive Director Centre for Justice Governance and Environment Action (CJGEA) galvanised the Owino Uhuru residents in Mombasa County who were the most affected by the emission of dangerous chemicals from the smelter plant, to shut down the factory.
In her fight, the 37-year-old Business Management graduate from the University of Nairobi has been arrested and spent a day in police cells. She has been threatened and almost killed and had to flee from her home in Mombasa to Kilifi County fearing for her dear life.
But that didn't deter her from continuing to fight for justice for Owino Uhuru residents. Her hard work earned her recognition by the Global Foundation as the 2015 Africa winner and the fourth Kenya to have won the award after the later Prof Wagari Maathai, Michael Werikhe and Ekal Angelei.
ALSO READ: Kenya's Amina Mohamed for WTO top job
She attributes the recognition to her persistence and human-based approach towards dealing with environmental issues.
"Part of my work at the smelter firm was to liaise with the National Environmental Management Authority (NEMA) to conduct an environmental assessment. We were supposed to get views from the community on the company that is when I realised the company was emitting heavy effluent that was seeping into the community that is when I knew that the residents' live were in danger. I had to take drastic action and quit my job," she says.
Omido says she tried to talk to the directors of the plant to address the issues because the community was highly affected but they would not hear of any of that.
After her son was discharged, she went back to the plant and tried to explain to the workers how they were consuming poisonous chemicals but they did not want to believe her and started accusing her of trying to hit back at the company since she had been sacked.
"A few months later, some of the workers called me to explain that they were now falling sick and passing out, one of them died and that's when they started to panic .They knew that something was wrong with the smelting firm because they were facing direct exposure to chemicals and they needed someone to help, in the course for justice and that's when I began environmental activism," she remembers.
The post-mortem was done and they managed to get the results and it was found that he died through the effects of lead poisoning; the lead content in his blood were too high. That is when they decided to write a letter to NEMA the smelter plant management, public health and told them that they highly suspected he could have died of lead poisoning.
"But Nema said they needed more proof and I managed to get the soil samples that were tested at the Government chemist, three children were also tested and they tested positive for lead poisoning. Women were experiencing miscarriages, children passing out and having skin disorders, we circulated the results to all the offices and requested for the closure of the firm," she says.
ALSO READ: KenGen MD Rebecca Miano joins World Bank Group's Advisory Council
Omido says she was doing activism just to help the community little did she know that it was a very a serious job until officials from the human rights watch and Frontline defenders called and explained to her how important her work was as an environmental activist and advised her to register a legal entity that is when CJGEA was formed.
After the registration of the organisation, she brought in experts who helped in the re-strategise. She got a lawyer who advised her to push for the formation of a law that will ban the export of lead in East Africa and it was gazetted in 2013.
"I circulated the gazette notice to Kenya Revenue Authority, NEMA and other concerned departments. And we started to use the law to force the various departments to implement it and that is when the smelter company was shut after the law was enforced since there was no market for lead since it could not be exported. When we get information that lead is about to be exported, we rush to the necessary offices and question them. We would at times involve the media and that is why we worn," she explains.
Although the smelter firm was shut in 2013, Omido says the poison is still there and the poison victims are still affected saying there is need for the government and other well-wishers to come through and help the residents by removing the soil in a process called remediation and also treat the people who have high levels of lead. She says those affected need drugs that to be imported and its very expensive.
"The Government is just giving calcium tablets for only 16 people yet about 3,000 residents have been affected by the dangerous chemicals. The calcium treatment is very slow and we might end up losing those affected if they are not treated soon," she says.
Her stubbornness to protect the locals and the environment made her win the international award which she says was an honour to have been recognized for her efforts.
She says the first time she was called by an official from the Goldman Foundation and was told that she was the 2015 award recipient, she thought it was a hoax and hung up the call.
"The man kept calling for a week and finally I decided to pick the call and have a conversation with him. That is when he said I was selected as the recipient and even asked for my email address where he sent information about the award and the organisation. I had to ask my guardian who studied the details carefully and said I should not be afraid and cooperate with the officials," she recalls.
She later realized that she had been nominated by Human Rights Watch and another organizsation. She says the experience was unbelievable as she was treated as a very important person during the award ceremonies in San Francisco and Washington DC respectively.
"The experience was out of the this world. I had been trained on how to present my speech so I was not that nervous and all I wanted was to put my message across. I had the opportunity I asked leaders to treat Owino Uhuru as a case study and try to make sure people live in a clean healthy environment because there are others places that are affected but have not been highlighted," she says.
Phyllis is also involved with the Miti kwa Vitukuu project which is aimed at stopping logging and promoting afforestation as a climate change mitigation. She is also involved with a network that conducts advocacy both in court and outside to raise awareness among policy makers against the country's laxity in environmental management issues.