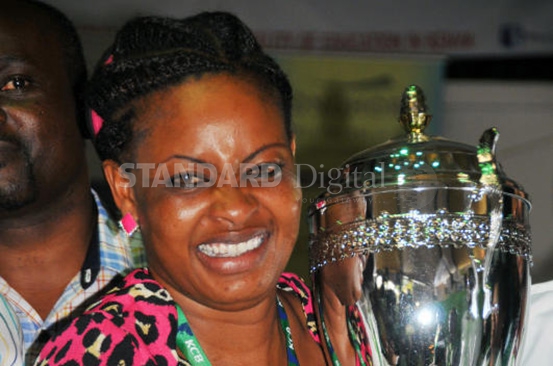 Teachers from Kitale schools, in Trans Nzoia County, bagged Principal of the Year (Poya) and Teacher of the Year (Toya) awards during the Heads of Schools conference that ended in Mombasa on Friday.
There was jubilation when the Teachers Service Commission (TSC) Chairlady Lydia Nzomo announced Peter Ouma Obwogo of St Joseph's High School, Kitale as the Poya winner at the Wild Water sports in Mombasa.
His colleagues, senior Kenya National Union of Teachers and TSC officials took photos with Ouma as he basked in glory while the cameras clicked.
He was carried shoulder high and at one time, the Masters of Ceremonies (MC) chided the Nzoia region contingent from where he hails for "over celebrating"
"Hold on Nzoia region. We know you have bagged both Poya and Toya," taunted the MC as Mr Obwogo was carried shoulder high by head teachers from Nzoia region singing and dancing to the famous Luhya song Mukangala.
The Toya award was bagged by Salyne Nyongesa, of St Anthony's High School also of Kitale, which emerged third overall in Rift Valley behind Kabarak High School and Kapsabet Boy's in last year's KCSE results.
The Standard on Saturday caught up with the Obwongo shortly afterwards: "I was overwhelmed when I heard my name. It is a crowning effort of my 28 years in the teaching profession, 23 serving as a principal. It was not easy beating all the competitors."
Obwogo said balancing between family and school matters was his greatest challenge.
"It is never easy balancing between family and school matters. Managing a school with 104 teachers has been equally challenging. But I thank my teachers who have been cooperative and easy to work with," he said.
He said listening to pleas from children from poor backgrounds requesting to stay in school can be draining, but he has learnt to listen and make judgement on when to retain a student and when to demand to see the parent.
Obwogo's 24-year experience that has seen him head schools in Turkana, Bungoma, Busia and now Trans Nzoia counties has helped him improve management skills.
The 53-year-old said discipline, hardwork, obedience and honesty, have helped him forge a work ethic with teachers.
He says his role model is Priscillah Were, a long serving educationist who taught at Lugulu Girls High School, Bunyore and other schools in Western region, and later served in TSC. "She always stressed that one can never go wrong with hardwork and discipline," he says.
And Ms Salyne Nyongesa, was also proud that she had been voted the best teacher in the country.
Flanked by St Anthony's High School Principal Cosmas Nabungolo, who was voted the second best Principal last year, she said she was proud of her students who made her emerge top.
The Kiswahili teacher who was joined by her colleagues in celebration said she always gives her best to students. "I love teaching and I will always strive to give my best to my students," said Nyongesa, 38. She has authoured four Kiswahili books on poetry, oral literature, grammar and literature. She is currently writing a book on Insha (essays).
Obwogo received cash rewards from Kenya Secondary School Heads Association and other sponsors, and an air ticket to attend Pan African Headteachers conference in South Africa.
Related Topics